The Trump-Macron Bromance Is Going Sour
The French leader's attempt to cozy up to the U.S. president has yielded few tangible results.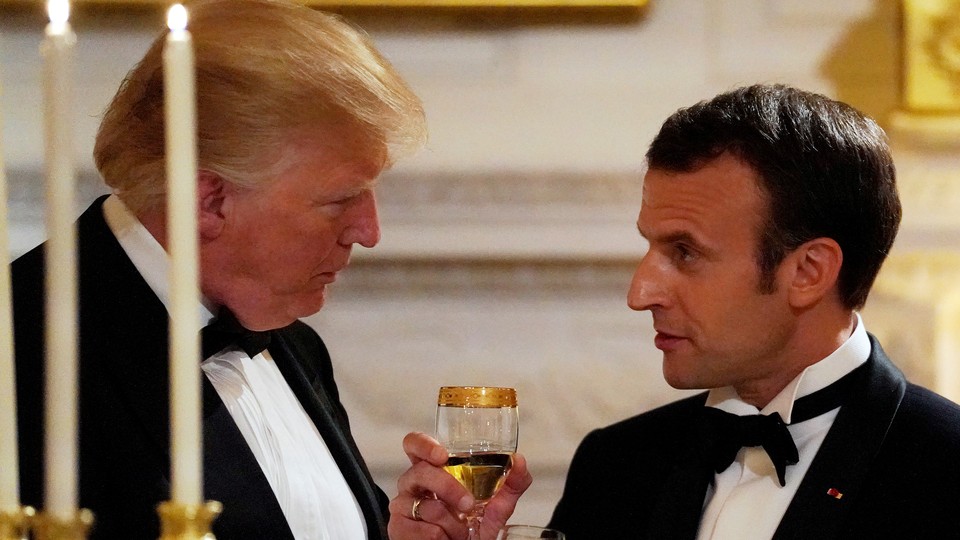 French President Emmanuel Macron, like several other world leaders, decided early on that it was better to flatter President Trump and remain on his good side than to end up like Angela Merkel, the German chancellor, whose relationship with the U.S. president is uncomfortable even on the best of days. Macron and Trump hugged, smiled, shook hands, and gazed deeply into each other's eyes. Trump even held his only state dinner, thus far, for the French leader.
The men's expression of their affection for each other reached new heights in April, when Macron said, "Mr. President, they're all saying what a great relationship we have, and they're actually correct. It's not fake news." Trump responded by reaching for Macron's shoulder: "In fact, I'll get that little piece of dandruff off; you have a little piece. We have to make him perfect. He is perfect."
Less than two months later, that "great  relationship" has turned "terrible," according to a CNN report of a phone call the two men had after Trump announced tariffs on steel and aluminum imports to the U.S.—levies that primarily affect Europe and Canada. The imposition of tariffs followed the U.S. decision to leave the nuclear deal with Iran, an agreement Macron personally tried to keep Trump invested in, as well as its decision last year to withdraw from the Paris climate accord.
Consider Macron's tweets Thursday after his arrival in Canada for a summit of the G7 nations—Canada, France, Germany, Italy, Japan, the U.K., and the U.S.—which comprise the world's seven most advanced economies. Leaders typically use such occasions to say how much they are looking forward to meeting their counterparts and signal the issues on which they hope to reach some agreement, and on which they sign a final communique. But Macron and other members of the G7 are smarting over the Trump administration's tariffs. Macron tweeted that the "will to have a [final] text signed by 7 countries must not be stronger than the content of that text. On principle, we must not rule out a 6+1 agreement." In other words, Macron was suggesting America's allies were happy to isolate it.
"The American President may not mind being isolated, but neither do we mind signing a 6 country agreement if need be," Macron tweeted in both French and English. "Because these 6 countries represent values, they represent an economic market which has the weight of history behind it and which is now a true international force."
Trump dispelled any doubts over how the U.S. would respond. He tweeted almost immediately after Macron's own tweets and the French leader's joint news conference with Justin Trudeau, the Canadian prime minister (who reached his own breaking point with Trump last week), accusing both countries of  "charging the U.S. massive tariffs and create non-monetary barriers" and later adding: "Take down your tariffs & barriers or we will more than match you!"
Trump has been consistent about one thing: He believes, despite economic evidence to the contrary, that the U.S. has lost on trade and is being taken advantage of by its trading partners. He pulled out of the Trans-Pacific Partnership, is renegotiating the North American Free Trade Agreement, and has reportedly sought tariffs on German luxury cars because he says it's unfair that Germans don't buy American cars. This may fly in the face of economic expertise from across the political spectrum, and it may not be what U.S. allies want to hear, but it is a message the president will likely continue to deliver to them at the G7.
On Friday, Trump provided more clues about what the tone of the summit would be. "Looking forward to straightening out unfair Trade Deals with the G-7 countries," he said on Twitter. "If it doesn't happen, we come out even better!" (He later told reporters that he favored letting Russia back into the grouping, adding more drama to what promises to be an already fractious meeting.)
It might be tempting to feel sorry for the other G7 leaders, especially Macron, and to a lesser extent Trudeau, U.K. Prime Minister Theresa May, and Japanese Prime Minister Shinzo Abe, who have tried to cozy up to Trump in the hopes his "America First" agenda includes them in some way. But it would be equally fair to say that they have brought this situation upon themselves. For far too long, the Western world has relied on the U.S. to pick up the slack on defense, diplomacy, and trade. And now that the U.S. appears to be rethinking its commitment to the world, America's allies have neither options for alliances—Russia remains a concern for them and China's trade practices are seen as unfair—nor a natural successor to the U.S.
Additionally, there is little evidence to suggest that flattering Trump, as Macron and others have done, actually yields results. My colleague Uri Friedman, who wrote about Abe's efforts to befriend Trump, pointed out that the Japanese leader, the first foreign dignitary to meet with President-elect Trump, placed a big bet after Trump's election: that befriending Trump "would serve his nation's interests better than antagonizing him, despite the fact that his new American counterpart had been describing Japan as a freeloading, bloodsucking ally since the 1980s."
It's far from clear that approach has worked. Abe, who met with Trump this week in Washington, is reportedly worried that the U.S. president's summit meeting in Singapore next week with Kim Jong Un, the North Korean leader, will not adequately address Japan's national-security interests. Trump's remarks that he was "very well prepared—I don't think I have to prepare very much" for the meeting with Kim probably did nothing to reassure Abe, who was standing right next to him as he spoke.
Trump says he wants to sign a bilateral trade agreement with Japan, but given the parlous status of discussions involving the U.S., Canada, and Mexico on NAFTA, an agreement that has existed since the 1990s, the path to a future treaty with Japan is rocky. Ditto for an agreement with the U.K., which, following its decision to leave the EU, is looking for ways to remain a dominant player in international trade. All of which leads to the question: What will European leaders do?
Having tried the embrace, they might be tempted to try the opposite approach. Macron suggested as much when he said: "We must try to be convincing and to keep the United States in the community of nations, but we must never sacrifice our interests or values." But pushing aside the U.S., the world's dominant economic and military power, is easier said than done. Macron's subsequent remarks Thursday might yield more clues to how the world will approach Trump going forward: "No leader is eternal," he said on Twitter. "We inherit commitments which are beyond us. We take them on. That is the life of nations."
It's a striking commentary for a leader who recently told reporters asking about his "terrible" phone call with Trump, "As Bismarck used to say, if we explained to people how sausages were made, it's unlikely they'd keep eating them." Macron suggested that he does not normally like to air private matters between world leaders in public. Apparently, these are not normal times.