The 10 Weirdest Moments of a Very Weird Summit
The historic meeting between Trump and Kim Jong Un was more spectacle than substance. But it was quite a spectacle.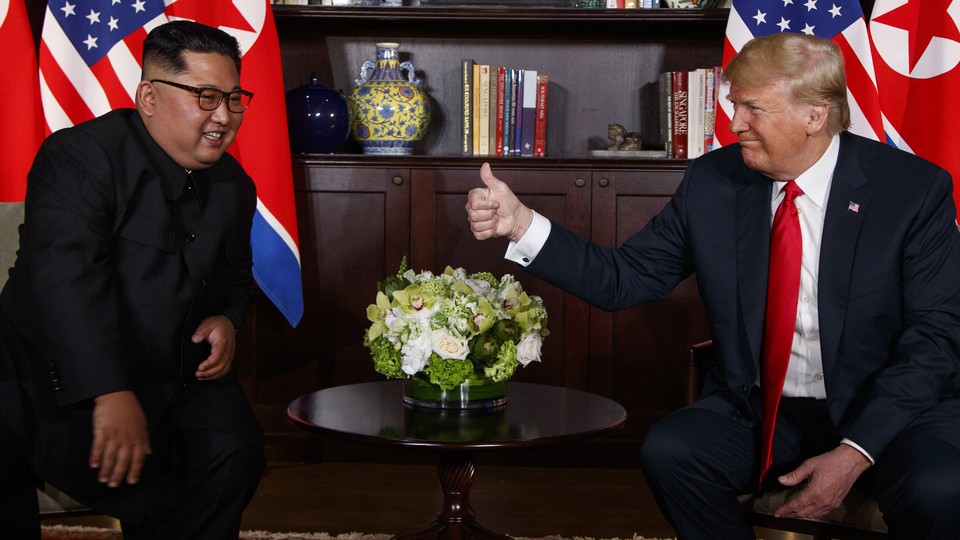 It was bound to be a spectacle. This would've been true even apart from the outsized figures—Donald Trump and Kim Jong Un—at the center of the Singapore summit; the fact of an American president meeting a North Korean leader was itself historic. This not long after an entirely different kind of spectacle, in the form of the fierce war of words between the two last summer, with Trump's "fire and fury" directed at "Little Rocket Man" and Kim's threat of an "enveloping strike on Guam" to punish a man he called a "dotard." There was then the theatrical announcement of the summit, followed by its theatrical cancellation, followed by the comparatively subdued announcement it was back on.
At last came the summit itself, which nearly matched the buildup for moments strange, telling, and disturbing.
1. From pariah to selfie partner. Kim ducked out of his Singapore hotel the night before the summit to play tourist, at one point ending up in a selfie with the foreign minister of Singapore and at another checking out a hotel roof pool. If there was something unsettling about one of the world's most notorious dictators engaged in "normal" sightseeing activities—given that his government holds an estimated tens of thousands of political prisoners, and that he is accused of murdering relatives by means including anti-aircraft guns and chemical weapons—Buzzfeed summed up the dissonance succinctly: "Kim Jong Un Posed for a Selfie. He's Also Probably Guilty of Crimes Against Humanity."
2. The handshake. For a moment with such buildup, it was, as my colleague Uri Friedman noted, unremarkable—it took less than half as long as Trump's famed handshake with French President Emmanuel Macron, but went considerably better than his first handshake with Germany's Angela Merkel (whose first request for a handshake with the president was, intentionally or not, snubbed).
3. "It's about attitude." Trump offered this before the summit by way of explanation for why, in his words, "I don't think I have to prepare very much." To describe the summit's attitude in one word: chummy. As it progressed, the two leaders were seen exchanging friendly pats on the back and effusive flattery, with Trump even going as far as to crack jokes about the pair appearing "young and handsome and thin and perfect" on camera. There was even the moment Trump gave Kim a tour of his presidential limousine, a $1.5 million armored Cadillac nicknamed "The Beast."
4. "Destiny Pictures presents..." Observers, including my colleague Krishnadev Calamur, argued that the summit as a whole offered a propaganda coup to Kim Jong Un, in part by legitimizing him on the world stage. But there was also the literal propaganda coup: a movie-trailer style video Trump said "we had … made up," depicting the two leaders as heroes determining the future. The four-minute clip features scenes of North Korea, the United States, sunsets, waterfalls, telephone wires, and so on, with an action-movie-style voice-over: "Two men. Two Leaders. One destiny."
5. The real-estate plug. During an hour-long news conference after the summit, Trump mused about the possibility of developing North Korea's coastline, where the North stages artillery drills. "They have great beaches," he said. "You see that whenever they're exploding their cannons into the ocean, right? I said, 'Boy, look at the view. Wouldn't that make a great condo behind?'"
6. Dennis Rodman. The former U.S. basketball star, who shares an unusual friendship with Kim, gave a teary interview on the sidelines of the summit, in which he took credit for predicting the summit would take place. "This is not about Dennis Rodman being the greatest person in the world, bringing the countries together," CNN quoted Rodman as saying, noting that his "trip to Singapore is being funded by Potcoin, a Marijuana cryptocurrency."
7. The security breach? A gift bag given to reporters included a suspicious item: a fan that plugs into a computer's USB port, presumably because it was hot in Singapore. Barton Gellman of The Washington Post issued this cybersecurity warning: "So um, summit journalists. Do not plug this in. Do not keep it. Drop it in a public trash can or send it to your friendly neighborhood security researcher."
8. The running bodyguards. Kim's army of body guards sprinted back into the spotlight Sunday as they were spotted running alongside the North Korean leader's limousine. The suited entourage, which made their international debut during the inter-Korean summit in April, serve as specially-selected human shields for the North Korean leader and, as the BBC reports, are among the few North Korean citizens permitted to carry arms around him.
9. The private bathroom. In addition to his bullet-proof limousine and body guards, Kim brought with him another essential: His own private bathroom. Lee Yun Keol, a former member of a North Korean Guard Command unit, told The Washington Post the extra cargo is more of a precaution than luxury. "The leader's excretions contain information about his health status so they can't be left behind," he said.
10. The Chinese (?) proverb. In a tweet posted on the eve of the summit, the president's daughter and adviser Ivanka Trump quoted what she called a Chinese proverb: "Those who say it can not be done, should not interrupt those doing it." The problem: The Chinese proverb may not be Chinese at all. While some have traced it to the early 20th century, others say it was simply made up. The jury is still out on this one.
Both Kim and Trump understand the value of showmanship. And now, both leaders are leveraging their surreal shared experienced to their own respective advantages. For Trump, it's about achieving what no president has ever done ("People thought this could never take place. It is now taking place," he said Tuesday during a press conference in Singapore). For Kim, it's about normalizing his position on the world stage.
Ultimately, though, the summit concluded with nothing more than a joint statement between the two leaders, in which Kim agreed to work toward the goal of denuclearizing the Korean peninsula and little else. For Trump as well as for Kim, perhaps, the spectacle was the substance.