How 'Sesame Street' Helps Traumatized Children
Resources are also geared toward migrant children at the U.S. border with Mexico.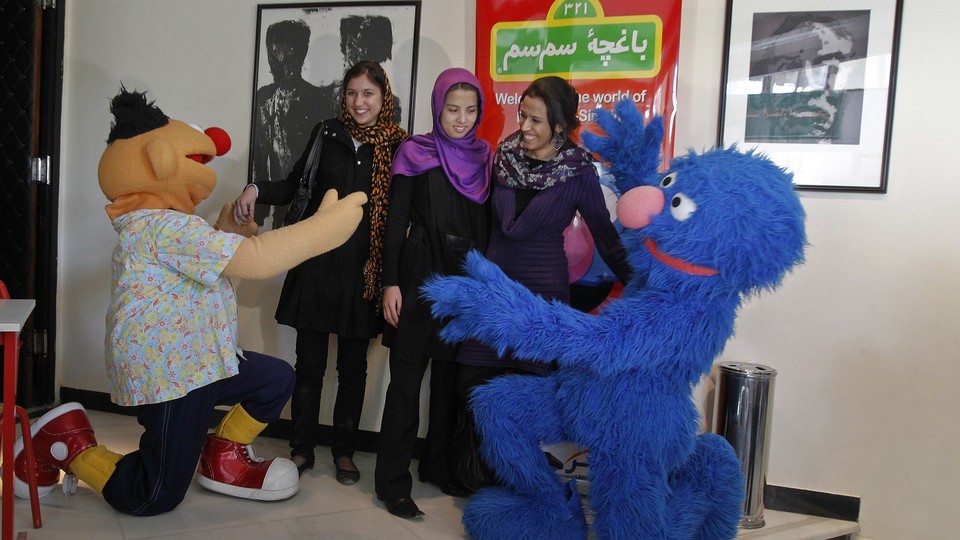 For years, Elmo and his buddies have been close friends to kids around the world. Now, as the U.S. struggles with stories of migrant families being separated at the border with Mexico, the residents of Sesame Street are being deployed again.
"We are already doing that," Sherrie Westin, president of global impact and philanthropy at Sesame Workshop, the nonprofit organization that produces Sesame Street, said Sunday at the Spotlight Health Festival, which is cohosted by The Aspen Institute and The Atlantic.
Westin said her organization has worked for years with immigrant communities and organizations in the U.S. to "help them help their children feel safe" through the use of bilingual resources. And because many poor immigrants are in the country illegally, Westin said the organization is "often doing its work under the radar because the families are worried about having attention called to them."
Since reports emerged of about 2,000 children being separated from their parents—the Trump administration has since reversed its policy and said it will reunite families—Sesame Workshop has been in talks with groups like the Robert Wood Johnson Foundation, the public-health philanthropy, Catholic Charities USA, and other partners to provide toolkits for caregivers who are taking care of the children. Many of these children are likely to be traumatized by the experience of fleeing their home countries in Central America, and the reception they have received in the U.S.
Sesame Street has long been used as a tool in poorer U.S. communities to provide children with a sense of belonging. It also has a significant international presence, with local versions of the show in Bangladesh, South Africa, India, Afghanistan. There is even a version aimed at the child victims of the Syrian civil war who are now living in refugee camps in Syria, Iraq, Lebanon, and Jordan. "We create global adaptations of the Sesame model," Westin said. "And what we're doing is" creating shows in different languages, showing different culture, that "reflect their reality."
In Afghanistan, for example, the show is called Baghch-e-Simsim, which in Pashto and Dari, the two languages spoken most widely in the country, means "Sesame Garden." The main character is a muppet named Zari, a six-year-old schoolgirl, who was introduced to the show in 2016 in a country that has struggled with surmounting cultural barriers to girls education. Zari wears a hijab along with her school uniform, and she loves to play sports. There are 5 million children under the age of five in Afghanistan, Westin said, and the show reaches 4 million of them. Sesame Workshop's research has found Zari is the favorite character not just of girls, but of boys as well. Last year, the show introduced Zari's 4-year-old brother, Zeerak. "We're showing little boys that it's OK for girls to go to school," Westin said.
She said that qualitative research conducted by the U.S. State Department found that the show had changed the minds of Afghan fathers, as well. "Fathers said time and again that the reason they changed their minds about permitting their daughters to go to school was watching Baghch-e-Simsim," she said.
Additionally, Sesame Workshop, working with the International Rescue Committee, received a $100-million grant from the MacArthur Foundation to create programming for the millions of children displaced by the Syrian civil war. The funding, Westin said, will help Sesame Workshop and the Committee "create the largest early-childhood intervention in the history of humanitarian response."