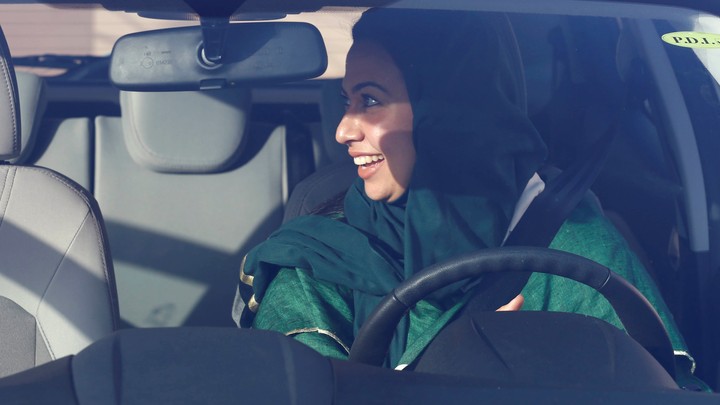 On a steamy evening in Riyadh, just after evening prayer, scores of Saudi women gathered outside one of the city's most popular malls. There, under pulsing searchlights and speakers blasting upbeat Arabic music, the women lined up to enter a parking lot that had been converted into an expo featuring an array of driving-related workshops. The festival, with the Arabic tagline Tawakli w Intalki, or "Have Confidence, and Get Out There!" began on June 21, with similar expos opening in several other Saudi cities, ahead of the end of the ban on women drivers in the Kingdom scheduled for June 24.  

At the expo, the guests, most clad in plain black abayas and niqabs, and a few in colorful robes, their hair uncovered, followed female guides from station to station, pausing for presentations on car maintenance, traffic etiquette, and basic technique. Some women recorded a tutorial on braking using their phones, while others snapped selfies next to a seatbelt exhibit. Most popular were the arcade-like driving simulators and the "application" station, where women could practice parking a real car. "That was the first time I ever sat in the driver's seat! It feels so good," said Zaineb al-Qubaishi, 30, after stepping out of a silver Hyundai she'd successfully moved from one parking spot to another. Nearby, Baraah Luhaid, one of the festival organizers, watched three sisters cheer their mother as she cautiously steered a virtual car around a track. "I'm so happy for these women. For us. Females, we already have the power, you know? But we want to help them feel they can use it."
The festival was organized by the Saudi Ministry of Interior as the latest demonstration of the government's ongoing balancing act: conveying a sense of controlled order while capitalizing on the goodwill many feel about the change. The new driving policy, first announced by King Salman in September 2017, comes amid sweeping reforms championed by the powerful Crown Prince Mohammad bin Salman and his ambitious "Vision 2030" program. Launched in April 2016, the program aims to improve Saudi Arabia's global image, loosen social restrictions, and establish the Kingdom as a "global investment powerhouse."
The end of the driving ban, long a unique symbol of gender oppression in the Kingdom, is expected to boost Saudi Arabia's reputation abroad and aid in attracting foreign investment. The increased mobility for women is also expected to help the government reach its goal of increasing women's employment to 30 percent by the year 2030. Yet the drastic, and largely welcome, social reforms have come alongside a series of disquieting displays of unilateral power by the Crown Prince, including the dramatic reshuffling of high-level government officials and a harsh crackdown on women's rights advocates that has sent a chill through Saudi's small activist community.
Rama Nassief, a 28-year-old restaurant owner in Jeddah, said driving will make running her business much easier. "There are always a hundred things to take care of," she said. "Now, if I need to pick up something or take care of an issue at one of the government offices, I'll be able to just grab my abaya and go." Allowing women to drive will also reduce the need for private drivers—currently, a nearly-$9-billion industry in the Kingdom. Yet the excitement that Saudi women feel also underscores the disadvantages they've endured under previous laws. "We should've been driving all along—right now, we're the only women in the world who can't drive. But after June 24th, I will have another degree of freedom, and that feels amazing," Nassief said. A 28-year-old graduate of Boston University, she had a difficult time after coming home after studying abroad. "I was really depressed … but I think the last year and a half have given us a lot of hope we didn't have before."
Raghad al-Marzouki, an energetic 31-year-old in Jeddah and co-owner of a new women's fitness studio, agreed. "It's happening so fast," she said of the government's swing towards reform. Wearing running shoes and an embroidered abaya, her giddiness made her seem younger than her 31 years. "Five years ago, I wouldn't have expected all this—even a year ago, after I heard all the government's promises, I was pretty pessimistic." Yet things have changed, she says, citing the waning power of the Kingdom's once-feared religious police, the growing acceptance of female employment, and the lifting of the driving ban as some key examples. "Now, it's like, you go to sleep at night and think, when I wake up, what new thing will I find? What will happen tomorrow?"
The surprise brought by these abrupt changes are all the more potent given the country's historic resistance to social change. Public protests are few and far between, and past campaigns in 1990 and 2013 for women's right to drive drew harsh punishments for the activists but scant political change. Yet with the advent of Vision 2030, social progress—with the government's endorsement—suddenly seems possible.
Yet others worry that Riyadh's aggressive reforms come at the cost of civil and human rights. Jamal Khashoggi, a Saudi journalist now in self-exile, said the government is deeply sensitive to criticism, jailing outspoken conservatives and liberals alike. "MBS wants to lead alone. There's no room for any other reformers, or any criticism of his policies—that's the message he's sending now." Last fall, just ahead of the driving ban announcement, more than two dozen religious figures and intellectuals were swept up in a mass arrest, presumably as a preemptive attempt to silence dissent about reform. More recently, beginning May 15, the government has jailed several prominent women's-rights activists, including Loujain al-Hathloul, Aziza al-Yousef, and Eman al-Nafjan, who remain in prison and face up to 20 years for charges of treason.
Hala al-Dosari spent years organizing alongside these detainees, but was abroad during the crackdown. "We knew we were pushing it with some of our activism, but we didn't think it would escalate to this level. … We feel very vulnerable now. Many of us feel the only way to continue to speak out is to go outside the country," she said. On the streets, however, these arrests appear to have had little impact. In dozens of interviews with Saudi men and women in several cities, only a handful admitted to knowing anything about the arrests. They suggested that these dissidents had likely done something egregious to warrant their arrest. A few expressed concern, but declined to comment further.

Meanwhile, Saudi driving schools and government offices around the country are booked solid with appointments by women eager to obtain their licenses. Roughly 20 percent of Saudi women—roughly 3 million—are expected to begin driving by 2020. Yet for some, the current cost remains prohibitive. Local media reported that the fees for women's driving schools were, on average, six times higher than similar services for men. One divorced mother of six said that although she's desperate to shed the expense of taxi fares, "there's no way I can find the money for me or my daughters to go to driving school."

Thousands of other women have expedited their applications—and avoided many of the requisite fees—by trading in their foreign driver's licenses for Saudi ones. On Twitter, photos of beaming women holding their black, green, and grey licenses proliferate, coupled with Arabic hashtags such as "Saudi Women Drive" "Yes You Can," and "My Country, My Roots." Earlier this month, when Sahar Nasief, a 64-year-old Jeddah native, posted a photo of herself holding her license, she attached another hashtag, in Arabic: "Saudi Women Demand The Fall of the Guardianship System." This slogan refers to an ongoing campaign to undo the Saudi male guardianship laws, which place a woman under the control of a male "custodian" throughout her life. "This campaign is even more important than the right to drive," Nasief said. Yet she was careful to add that her aim is to "work within the system," and credited the government, and Vision 2030, for recent reforms. "This is a new era," she says.
The guardianship system remains a controversial topic in the Kingdom, eliciting outbursts from some and nervous silence from others. Many of the detained activists, including al-Hathloul, al-Yousef, and al-Nafjan, also advocated for its end, and their arrests have silenced some of their fellow campaigners. Meanwhile, conservative women as well as men defend the practice on television and with their own counter-hashtags, including "My Guardian Knows Best."
Some women have also participated in the backlash against women driving, even going so far as to urge fellow females to stay at home. "A lot of women have internalized wrong ideas about themselves," Rama Nassief said. "Some really do believe they are less capable than men." She cited popular cartoons, memes, and jokes circulating online, making fun of women drivers and warning men to stay off the streets after June 24 "for their own safety." Some women fear that men may harass them on the road, and plan to wait several months before driving in order to, as one banker in Riyadh told me, "give society time to get used to us." Changing social attitudes towards women, Nassief said, will take much longer than changing laws. "But we can't let those prejudiced attitudes go on … We have to resist them, to call them out, and to show them that not only are we good drivers. We're going to be better drivers than they are."
Reporting for this article was funded by a grant from the Pulitzer Center on Crisis Reporting.
We want to hear what you think about this article. Submit a letter to the editor or write to letters@theatlantic.com.
Sarah Aziza
is a writer covering gender, geopolitics, and culture.