The Unraveling of Nicaragua
Amid the mass protests against the Ortega regime, the country is showing signs of democratic renewal.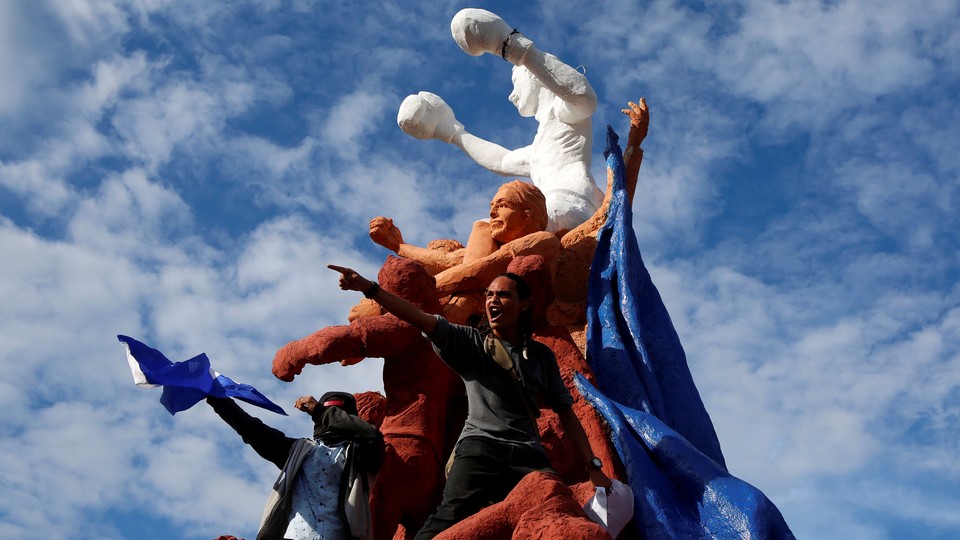 Nicaragua is showing all the symptoms of a failed state. At the center of the storm is the corrupt minority government of Daniel Ortega, the former revolutionary leader who now acts more like a cartel boss than a president. Over the past seven weeks, Ortega's police and paramilitaries have killed more than 120 people, mostly students and other young protesters who are demanding the president's ouster and a return to democracy, according to a human-rights group. Police hunt students like enemy combatants. Sandinista Youth paramilitaries, armed and paid by Ortega's party, drive around in pickup trucks attacking protesters. Gangs of masked men loot and burn shops with impunity. Cops wear civilian clothing, and some paramilitaries dress in police uniforms. "This is starting to look more like Syria than Caracas," one Nicaraguan business leader told me.
The asymmetrical fighting has claimed the lives of at least 120 people, including one U.S. citizen, and injured more than 1,000, according to the Nicaraguan Center for Human Rights (known by its Spanish acronym Cenidh). Most of the fatalities have reportedly been unarmed young people, including a 15-year-old shot in the neck for bringing water to student protesters. Hundreds more have been unlawfully detained, released days later with ghastly bruises and tales of cruelty behind bars. The ugliest day so far was May 30, Mother's Day in Nicaragua, when AK-47–toting police indiscriminately opened fire on a peaceful march to honor the dead. As police sprayed the crowd with bullets, government sharpshooters positioned on the roof of the national baseball stadium went headhunting with sniper rifles. Before the sun rose, 16 more Nicaraguans were dead, and another 88 were injured. "This is a terrorist state," the Cenidh president Vilma Núñez told me. "Being a young person protesting here is a crime that's punishable by death."
Nicaragua is now in the throes of a mass uprising against Ortega's murderous regime. It's a dangerous endeavor for an unarmed population, especially after the collapse of peace talks last week. But there's no going back. Nicaragua has experienced a national awakening.
The protests against the connubial dictatorship of President Daniel Ortega and his wife, Vice President Rosario Murillo, began on April 12 when hundreds of university students took to the streets to march in defense of Nicaragua's Indio Maíz Biological Reserve. Six days later, the protest grew to thousands of people, as students joined a larger pushback against Ortega's attempt to increase social-security taxes and reduce pension benefits for the elderly.
The Ortega regime, with its long-running zero-tolerance policy towards any type of street demonstration, did not take well to the mounting unrest. Police and the Sandinista paramilitaries, a group of indoctrinated young people that Ortega uses as a shock force, responded with rabid and disproportionate force, firing rubber bullets and tear gas at students, then switching to live ammunition. "We weren't ready for the massacres," Valeska Valle, a 22-year-old student leader, told me. "We never thought the government was going to kill us. We never thought being a university student would be a crime in Nicaragua."
The images of state repression were captured on cellphone videos, shocking a nation still haunted by the specters of past dictatorship and civil war. Nicaragua suffered for four decades under the brutal U.S.-backed Somoza dictatorship, which the Sandinista Revolution ousted in 1979, leading to another decade of U.S.-funded counterrevolutionary "contra" war. "None of our martyrs will be forgotten," the student leader Fernando Sánchez told me. "For them, for their families, and for all Nicaraguans, we cannot stop. We cannot allow this unscrupulous person to continue in the presidency."
The government denies all responsibility for the violence and for the existence of the paramilitaries. Ortega has blamed the bloodshed on foreign agitators, gangs, organized crime, and drug cartels. But they're not fooling anyone. The Inter-American Commission on Human Rights has called on the Nicaraguan government "to immediately end the repression" and "urgently adopt adequate measures to end the violence," including the dismantling of all paramilitary groups.
As Ortega's police attack protesters, beleaguered citizens are digging up the streets to barricade and defend their neighborhoods. At the roadblocks, those suspected of being government loyalists are sometimes stripped, humiliated, and beaten. The broken state is also curbing access to basic services. Public schools have closed in areas of heavy fighting. The state health-care system is also in tatters, as public hospitals are turning away injured protesters. "We are treating injured people here in the church because we can't take them to the public hospitals anymore," Edwin Román, a Masaya priest, told 100% Noticias.
Nighttime is hell. In Masaya, the city that has bore the brunt of state repression in recent weeks, frightened citizens lie in bed or on the floor in fear of stray bullets, listening to the fighting and chaos in the street and praying it won't come through their front door. "I made some alcohol chili mace and some other medieval shit to keep in a spray bottle by my front door, just in case they try to get it," said one North American expat, whose street in neighboring Granada has become a nighttime battlefield over the past month.
---
Nicaragua's unraveling seemed to come out of nowhere. Yet, democracy and rule of law died here a long time ago.
Two months ago, Nicaragua was a popular and friendly tourism destination with the fastest-growing economy in Central America, a poster child for foreign investment and citizen security in a region known for gangs and unrest. But behind the facade of peace and stability, Ortega's systematic dismantling of Nicaragua's institutional democracy was corrosive. After returning to power in 2007, he sidestepped the constitution to get himself reelected in 2011. He then completed his palace coup by assuming full control of all four branches of government, state institutions, the military, and police. He banned opposition parties, rewrote the constitution, and turned Nicaragua into his personal fiefdom, which he rules from inside the walls of his stolen compound, a concrete fortress he rarely leaves.
Ortega got away with all this for years with the help of political sycophants and private-sector enablers, thanks to an alliance between the government and COSEP, the country's council of business chambers. While the economy was growing, many well-off Nicaraguans were too busy plucking the fruits of the harvest to worry about Ortega poisoning the fields. But the good times ended two months ago, when he violated the arrangement by unilaterally overhauling the social-security tax system without consulting the business leaders and workers who were going to foot the bill. COSEP President José Adán Aguerri told me in an interview in Managua last month that Ortega killed their decade-old working relationship on April 18. It has been chaos ever since.
Now the economy is crumbling, with total losses estimated somewhere north of $600 million, according to COSEP. That's more than Hugo Chávez, the former ruler of Venezuela, was giving Ortega at the height of his annual Venezuelan allowance—the one that allowed Ortega's family to climb the ranks of the Nicaraguan oligarchy.
Nicaragua's economic tailspin is hurting small businesses the most. Looters have ransacked more than 200 small businesses across the country during the past seven weeks, punishing the pinched working class. Meanwhile, roadblocks have paralyzed commerce and transit throughout the country, restaurants are shuttering, and tourists are fleeing.
If there is any bright spot for Nicaragua, it's the student-led movement. Their bravery, solidarity, and leadership in the nationwide push for justice and democracy has inspired a nation. And despite the death and destruction, it's a movement fueled by optimism—the burning hope that Nicaragua can become a democracy and that better days lie ahead. It may seem like a distant fantasy in a season of turmoil and destruction, but it's the hope that keeps people in the streets. "We're optimistic because our hope is that Nicaragua will once again be a free republic," says Valle, the student leader. "Of course there's hope; the people have united."
If Ortega has provided the tyrants of the world with a blueprint for how to destroy a democracy, the youth of Nicaragua are offering an example of how to get it back. "We Nicaraguans are tenacious and strong. We're fighters, but we're very good people," says Sánchez, the other student leader. "We're going to make history once again in our country so we can have a society that's democratic and egalitarian."