The Power of Mo Salah's Goal-Scoring Ritual
Liverpool F.C.'s star player is emerging as England's—and arguably the world's—most visible Muslim sports icon.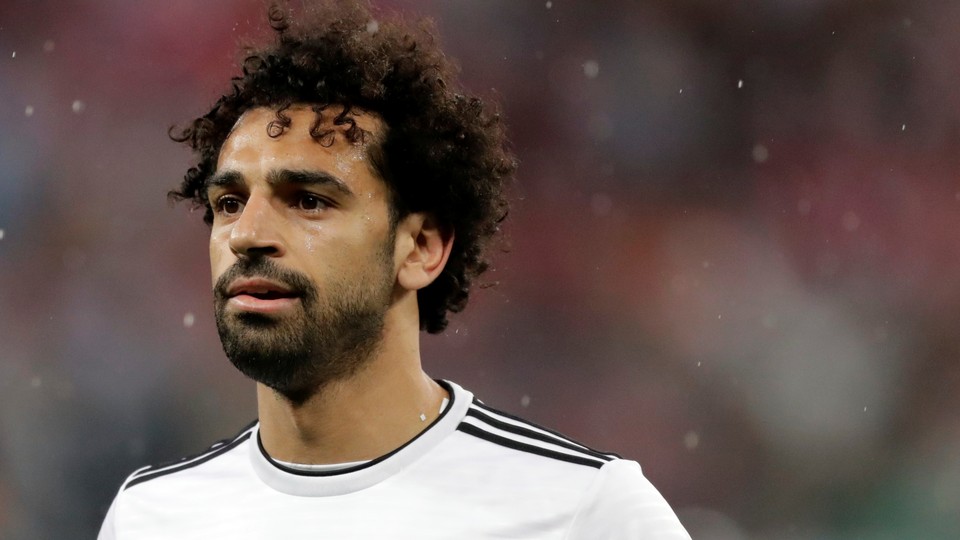 Egypt suffered a disappointing loss to Uruguay during its first World Cup match last week, and this week proved no better. In their second-match loss to Russia on Tuesday, the Pharaohs effectively bid farewell to any hopes of advancing to the tournament's final knockout stage. But they didn't leave the field completely empty-handed: Their beloved star player Mohamed "Mo" Salah had returned from a shoulder injury to deliver the country's first World Cup goal in 28 years. The "Egyptian King," as he is affectionately known to fans, had returned.
Salah's illustrious reputation precedes his World Cup debut in Saint Petersburg. The 26-year-old became one of global soccer's breakout stars in 2018, quickly emerging as a force within his club team, Liverpool F.C. He helped propel the English club into a resurgence that would take it all the way to last month's Champions League final (it was during this 3-1 loss to Real Madrid that Salah dislocated his shoulder, forcing him to sit out Egypt's first World Cup match). And he's collected a string of accolades along the way: He broke the English Premier League scoring record in a single season. He was named one of the top 10 goal-scorers in Europe. The Professional Footballers' Association crowned him player of the year.
But it's not just his athleticism that's drawing attention to him. Salah is also emerging as England's—and arguably the world's—most visible Muslim sports icon. His faith, after all, is at its most widely visible when he's on the field. For every goal he scores, Salah's first move, like most players, is to embrace his teammates. But then he does something different: He kneels down and bows his head to the floor in an act of prostration that Muslims call sujood. "It's like praying, or thanking God for what I have received," Salah told CNN's Becky Anderson last month. "I've always done that, since I was young."
This public display of faith by an Egyptian-born soccer star is no small thing in Britain, where "hostile environment" immigration policies coincide with rising Islamophobia. England has suffered a spike in anti-Muslim hate crimes in the aftermath of last year's fatal terrorist attacks in London and Manchester. London, which elected its first Muslim mayor in 2016, also witnessed a 40-percent increase in anti-Muslim hate crimes in the year that followed. "We'd grown a little bit despondent because there has been a lot of resources and efforts expended on trying to improve relations between Muslims and non-Muslims, on trying to deal with Islamophobia and hate crimes," Mohammed Khaliel, the founder of community-relations organization Islamix, told me, noting that "all this hard work is achieving small successes."
Salah, he says, sparked a serious shift. "We find that Islamophobia and hate crimes against Muslims are rife in the north of the country," where Salah's Liverpool club is located, Khaliel said. "Now, in those very parts, supporters are chanting, 'If it's good enough for Mo Salah, it's good enough for me' and 'If he scores another few, we'll be Muslim too' and things like that. What a difference one person has come and made, and what a positive difference."
Liverpool fans have crafted a number of cheers supporting Salah, though none has become more popular—or more viral—than the one celebrating his Muslim faith. Set to the tune of the 1996 song "Good Enough"  by the English band Dodgy, it goes, "Mo Salah-la-la-la-la-la-la-la-la-la / If he's good enough for you, he's good enough for me / If he scores another few, then I'll be Muslim too / If he's good enough for you, he's good enough for me / Sitting in the mosque, that's where I wanna be." The cheer seems to convey a similar message to that of Liverpool's official anthem: "You'll Never Walk Alone."
Anwar Uddin, a retired English soccer player and the Football Supporters' Federation's diversity and campaigns manager, told me that fans' focus on Salah's faith was intentional. "They didn't come up with the song ad hoc on a Tuesday night in Anfield," he said in reference to Liverpool's home stadium. "They actually sat there and thought about the fact that they have a superstar who is Muslim and they want to celebrate that, and we were involved in the initial discussions because parts of those groups were conscious that it might offend people, and that's not what they wanted to do."
Though these chants offer a symbolic celebration and acceptance of Salah's faith, Khaliel and Uddin conceded that it's still a far cry from rooting out Islamophobia in the country entirely. After all, how much can one person—even one as larger-than-life as Mo Salah—do to shift negative perceptions of a world religion? Is it too much to expect an athlete to change the way fans see his faith, simply by being himself?
When I posed these questions to Khaliel and Uddin, they told me Salah already has made a difference—even if it's just an incremental one. "As much as I can campaign and go across the country doing talks and seminars and events, I don't think it has as much of an impact as someone like a Mo Salah," Uddin said. "Islam has a stigma attached to it in the U.K., and it's fantastic that we have someone who is adored by not just Liverpool fans, but by everyone."
"Even if we had a million Mo Salahs, there would still be plenty of more work to continue," Khaliel said, before adding: "But he has made a massive difference, and long may that continue."
Salah certainly isn't the only Muslim soccer player playing for club teams in the U.K. and Europe, let alone at the World Cup. What appears to set him apart has as much to do with his performance on the pitch as it does off. Salah has been lauded for his prolific charitable giving. Much of that giving goes toward his native Egypt, where he has even taken part in an Egyptian government anti-drug campaign that reportedly prompted a surge in calls to drug rehabilitation hotlines. He has done all of this without being overtly political—an attribute that has undoubtedly helped make him a unifying force for Egyptians and Britons alike.
"He has stayed away from the things that are polarizing and he's transcended politics," Afshin Molavi, a senior fellow at Johns Hopkins University's Foreign Policy Institute, told me. But he noted that Salah's exceptional image could also present a sort of paradox. "The danger is that people will separate him from what they think of as those 'other Muslims' and that they will see him as exceptional," he said. "And then in the event there's a terror attack in London, we may go back to some of those same broad-brushstroke stereotypes and broad-brushstroke discrimination. But Mo Salah will be siloed."
The risk Molavi describes is evident elsewhere. When the undocumented Malian migrant Mamoudou Gassama was awarded French citizenship last month for rapidly scaling a four-story building to rescue a child dangling from a balcony (a feat that earned him the nickname "Spiderman"), some observers highlighted the "good immigrant, bad immigrant" binary at play. "The bar for being a good immigrant is so high that you literally have to leap tall buildings in a single bound to meet it," Guardian columnist Nesrine Malik wrote of the rescue in the New Statesman. "In a political climate where immigration in Europe is sending millions to the polls to vote for far-right parties, it is hard even for a migrant to do a good deed without it being used to perpetuate the polarization of the discussion."
Mo Salah has captured the world's attention despite all this. People admire him largely for the same reason great football players are emulated worldwide—because he is a spectacular athlete. He's one who just so happens to be Muslim.