The Outrage Cycle, Italian Style
The country's hard-line interior minister keeps stoking uproar with his inflammatory rhetoric—and it only makes him more popular.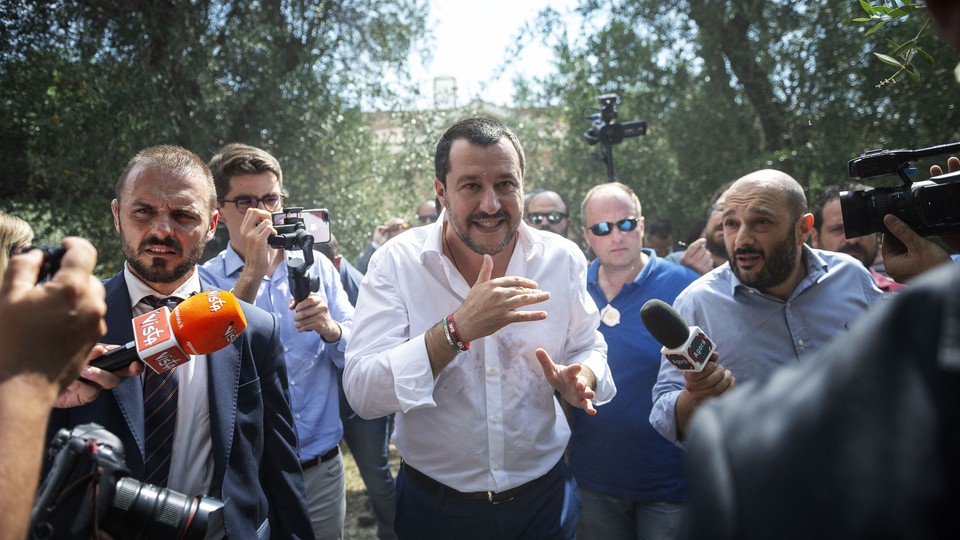 PARIS—What does Matteo Salvini, Italy's new right-wing, hard-liner interior minister want? He's called for a census of Roma who don't have Italian citizenship then slightly backtracked because, well, it would likely be challenged in court, but anyway then he's said he wants to turn "words into actions" and expel some of them because "unfortunately we have to keep the Italian Roma"—the ones that have citizenship. He's taken to Trump-like fits of anger and unpredictability—he may or may not demand that Italy's weak prime minister, Giuseppe Conte, boycott an upcoming European Union meeting on migration policy.
On television Thursday he suggested that maybe the state should stop paying for 24-hour-a-day security for Roberto Saviano, the journalist and public figure. Saviano has been under police protection for more than decade after his book on the Neapolitan Camorra won him death threats along with the accolades that have made him one of Italy's most prominent public intellectuals and television personalities—and one of this new government's harshest critics. Last week, when he was just warming up, Salvini refused to allow Italy to rescue a ship with more than 600 migrants, causing it to sail on to Spain, and has now asked Spain to take any other such ships that had been headed for Italian shores.
Here's what the 45-year-old interior minister and leader of the right-wing League party wants: attention. Here's what he also wants: to splinter his coalition partner, the Five Star Movement, an amalgam of voters of both right and left which started out chameleonic and whose left flank has now become squirmy. While Salvini has been on the offensive, the leader of the Five Star Movement, Luigi Di Maio, and Conte, the prime minister chosen by Di Maio and Salvini to lead their shaky coalition government, have been on the defensive. Both have distanced themselves from Salvini's anti-immigrant tirades. Prompting the next question: How long will this government last?
Salvini's rhetoric—especially his calls for a census by ethnicity—has echoes of fascism in the country that invented it, and of course led to a widespread outcry and criticism in Italy and from abroad. The president of Italy's union of Jewish communities said it recalled Mussolini's racial laws. The front pages of Italy's decreasingly influential daily newspapers had commentaries decrying Salvini, and saying Italy's "buonismo," a tendency to be do-gooders, was being eclipsed by "cattivismo," or simply being mean. Paolo Gentiloni, the center-left prime minister until Italy's March elections, tweeted: "Yesterday the refugees, today the Roma, tomorrow guns for all; it's hard being so mean." Leaders of the Roma community are calling for a meeting with Salvini, Di Maio, and Conte to try to see where this government actually stands, beyond Salvini's rhetoric.
But all this creates another dynamic: It only seems to embolden Salvini further and make his far-right League party perform better in polls. It's now polling at around 29 percent of the electorate, tied with the Five Star Movement, having polled just around 18 percent in the elections. Salvini will push and push until there are new elections, which he hopes the right-wing will win with enough votes to govern without forming a coalition.
Salvini may admire Hungary's Viktor Orbán, but when it comes to taking all the oxygen in the room, he seems inspired by Trump, with some Silvio Berlusconi thrown in. It's the vicious circle: We in the press can't not write about what Salvini says because he's basically running the country, but the more we cover him, the more he thrives on lambasting the mainstream media for reporting on him and on criticism of him.
Saviano, the journalist and commentator and longstanding Salvini critic, is the best known of the almost 200 journalists living under police escort in Italy. In a message, he told me he wasn't afraid of Salvini—and didn't want to fall into Salvini's trap. Italy has so many journalists under protection because of organized crime. "Instead of freeing journalists from the dangers they face, Matteo Salvini, the interior minister, threatens them," Saviano wrote me. Salvini had mentioned lifting the police protection to save money, to which Saviano responded that the League had some questions to answer about its own finances, after its bank accounts were frozen in an investigation into illegal party financing.
Saviano said he was grateful for the hashtags that popped up on social media—#savianononsitocca, or #noonetouchessaviano—but that it wasn't the point. "Thank you for the support, but I would like to make clear that I am only a means Salvini is using to destroy the rule of law," he wrote. "We have to talk today, we have to discuss the situation. But not with Salvini. He is a buffoon and talking with buffoons is a waste of time."
In an essay published on Thursday in Le Monde, Saviano made many more-sophisticated points—including that the interior minister under Italy's previous center-left government, Marco Minniti, a former spy chief who struck an agreement with Libya to block migrants from coming to Italy, had also called for Italy closing its ports to NGOs on ships with migrants, and had also played up fears of insecurity. It's a dynamic similar to the one playing out now in the United States, in which policies in place under previous administrations are now coming to the fore under Trump—and thanks to social media, as my colleague Alexis Madrigal pointed out.
Italy has been in campaign mode since 2013, Saviano wrote in Le Monde, and both the far-right League party and the Five Star Movement came to power thanks to their use of social media to tap into discontent, something they did far better than Italy's flagging centrist parties. "That means that those who talk about migrants as a flow that must be stopped get more visibility, especially if they've won credibility among people who consider themselves of the left," Saviano wrote, referring to a part of the Five Star Movement's left-wing electorate. "That also means that those who talk about Europe as a failed utopia and a perfidious system are considered realists, compared to those who talk about Europe as a common project to build and improve."
And here we are, the mainstream media, reporting on Salvini and his increasingly aggressive rhetoric. Sure, it's news—but it's also playing on his terms. And in that sense Salvini is already getting what he wants.