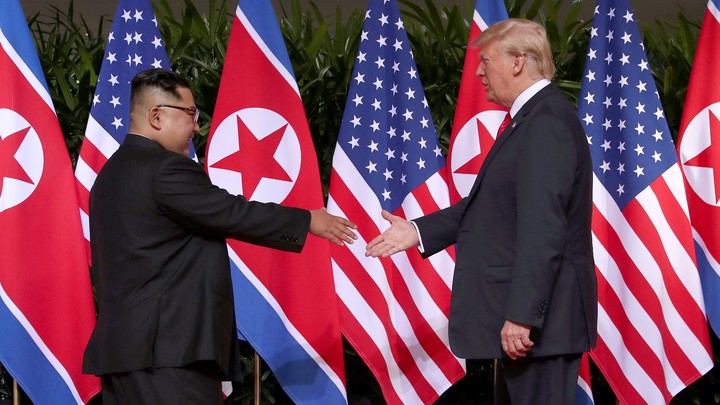 "It was not easy to get here," Kim Jong Un said shortly after meeting Donald Trump on Tuesday morning in Singapore. This, after the ravages of the Korean War, decades of violent flare-ups in a conflict that never really ended, 25 years of failed nuclear negotiations, and many months of Trump and Kim threatening each other with nuclear armageddon, was quite the understatement.
What was perhaps most remarkable about the first ever encounter between the leaders of the United States and North Korea was … how unremarkable it felt. Their initial handshake—on a red carpet, set against a simple backdrop of North Korean and American flags at Singapore's Capella hotel—was so fleeting as to seem routine. Instead of delivering rousing introductory remarks or parading around to the beat of a brass band, the two men walked along a colonnade and headed inside with their translators, where they sat and smiled in a manner reminiscent of how Trump welcomes visiting foreign leaders in the Oval Office.
Trump, who had previously predicted that he would know whether Kim was serious about giving up his nuclear weapons "within the first minute" of meeting him based on his "touch" and "feel," said within the first minutes of gripping and grinning with Kim Jong Un: "It will be tremendously successful … and we will have a terrific relationship."
Former U.S. Secretary of State Madeleine Albright once compared nuclear talks with North Korea to climbing Korea's rugged mountains. "We would reach the top of one, only to find another and then another peak still towering ahead," she said. And yet, throughout Bill Clinton's, George W. Bush's, and Barack Obama's administrations, U.S. officials considered this the more prudent path. When, for example, a high-level North Korean official visited the United States in 2000 and delivered an invitation to Clinton to meet with Kim Jong Un's father, Kim Jong Il, Clinton declined because his advisers felt nuclear and missile negotiations weren't advanced enough to warrant a presidential summit. ("They were not at all happy that Clinton did not accept immediately—a dictator thinks he has to deal with the president of a country," recalled Albright, who traveled to North Korea instead but never managed to seal the deal.)
Trump has yet to secure serious commitments from North Korea to roll back its nuclear-weapons program. But what he has managed to do is overturn the well-worn process of negotiating with the North Koreans. On Tuesday, he headed straight for the summit of the highest mountain. As a senior Trump-administration official told reporters in March, when the president first announced that he would meet with his North Korean counterpart: "Kim Jong Un is the one person who is able to make decisions under their uniquely ... totalitarian system."
"For 30 years, they've been trying to pound a round peg in a square hole," James Risch, the Republican senator who just four months ago was warning that a "biblical" conflict might soon erupt between the U.S. and North Korea, told me and several other journalists on Monday. "Things need to be done differently."
Risch, a senior member of the Senate Intelligence and Foreign Relations Committees, has met with the president, the vice president, and other top administration officials about North Korea numerous times in recent weeks. "There is nobody going into this with rose-colored glasses on," he said. "We have been taken by the North Koreans at least a couple of times [in previous rounds of negotiations], and that's not going to happen again. And not only that, but the North Koreans act as if they know that we know where they have been."
Risch expected Trump and Kim to arrive at a "very general objective" on North Korea's nuclear program, and for the Trump administration to not offer any concessions in exchange for mere North Korean promises of denuclearization, as has occurred in the past. "We're [not] at a point right now where they say, 'Okay, we're going to denuclearize the peninsula,' and then the president says, 'Well, okay, we're going to lift the sanctions.' That is not going to happen. The president has been very, very clear that there is going to have to be positive, doable, ongoing things that are happening before anything happens from our side."
The summit in Singapore, Risch suggested, will function as a litmus test. Trump, he explained, "believes he knows good faith when he sees good faith."
We want to hear what you think about this article. Submit a letter to the editor or write to letters@theatlantic.com.
Uri Friedman
is the managing editor at the Atlantic Council and a contributing writer at
The Atlantic
. He was previously a staff writer and the Global editor at
The Atlantic
, and the deputy managing editor at
Foreign Policy
magazine.