A Warning to Kim Jong Un
The G7 fiasco reinforced what was becoming clear about Trump: For him, loyalty is a one-way street.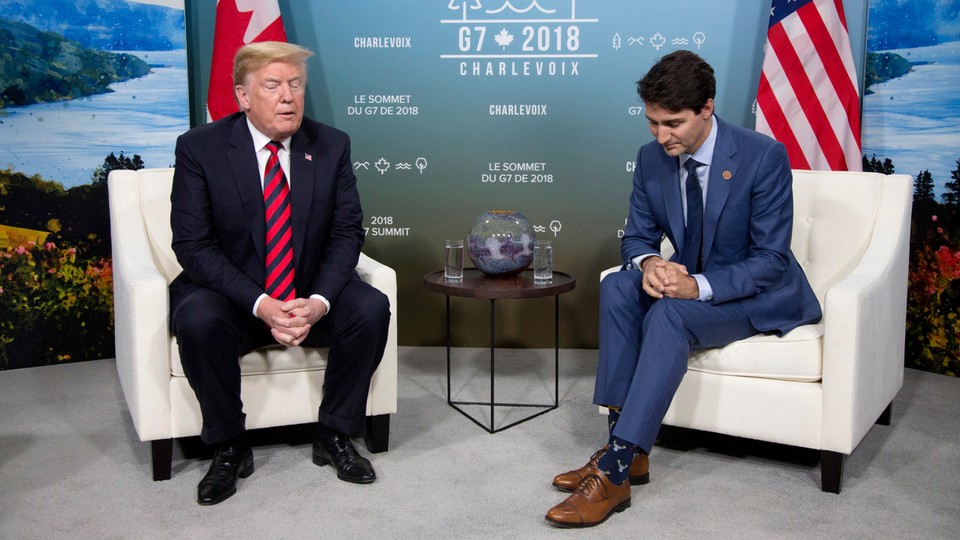 At the risk of adopting Donald Trump's own Manichaean worldview, there are two basic options for anyone dealing with the president: Cozy up or keep your distance. This is true in both domestic politics and international affairs. Stateside, the dangers—reputational as well as legal—of closeness with Trump have become clear, and the past weekend showed the perils for world leaders who tried to get on the president's good side.
As the Trump administration kicked off, numerous aspiring Washington operatives had to choose whether to work for Trump. For some, the question was whether they should take a once-in-a-lifetime chance to work in the White House, at the risk of working for an unpredictable administration. For others, the choice was whether to swallow one's reservations about the president himself and try to control the damage from inside the administration. In the first days of the Trump presidency, my colleague David Frum advised prospective staffers to stay away.
By and large, that advice has been vindicated. Almost no one who has gotten close to Trump has come away unscathed by the encounter. John Kelly had capped a career as a decorated Marine general. Now he works in a "miserable" office for a president who routinely berates him; meanwhile, Kelly has outed himself as an apologist for Confederates and domestic abusers with a tendency toward pejorative statements about Hispanics and African Americans. Rex Tillerson had a successful business career before becoming secretary of state; in that role, he was routinely embarrassed by the president, then reportedly fired while on the toilet. H.R. McMaster was viewed as an uncommonly smart and honest general; as national-security adviser, he squandered his credibility, lost on nearly every major policy battle, and then was unceremoniously forced from office without ever attaining a fourth star. Ronny Jackson was a widely respected White House doctor before being nominated to lead the Department of Veterans Affairs; now, after a disastrous and poorly considered Cabinet nomination, Jackson is not veterans-affairs secretary, nor a White House doctor, nor widely respected.
A slew of Trump aides have been indicted, have pleaded guilty, or are expected to be charged with crimes. Beyond perhaps Secretary of Defense James Mattis (so far) and former deputy national-security adviser Dina Powell, it's hard to think of a Trump administration staffer who has come out looking better for the experience.
Yet the dilemma was not just one for Americans—foreign leaders had a similar choice to make. Simply ignoring the United States was not really an option, especially for longstanding American allies, but some leaders opted to keep Trump at something like arm's reach. Britain's Theresa May has sharply reprimanded the president for comments about terrorism. German Chancellor Angela Merkel has kept a businesslike, Teutonic aloofness, and been met with a similar coolness from Trump.
Some of their peers took a different approach. Canadian Prime Minister Justin Trudeau is in many ways an anti-Trump—young, liberal, performatively woke—but he made nice with Trump and yukked it up with him during their meetings. Japan's Shinzo Abe also cultivated Trump, hitting the links with him. France's Emmanuel Macron, though like Trudeau ill-matched ideologically to Trump, went the farthest, and became his fastest friend on the international stage. He treated Trump to a military parade in Paris—inspiring the American president to order his own back home—and became the guest of honor at Trump's first State Dinner. Trudeau, Abe, and Macron made a bet: Because Trump wasn't really an ideologue, personal relationships would make all the difference, and the political disagreements would melt away.
But all three have seen that bet go south. Abe was shut out of Trump's summit with North Korea, to the consternation of Japan, though he tried to mitigate that exclusion with a visit to Washington last week. Macron and Trudeau both saw their countries hit with tariffs by the U.S. At the G7, they hoped to talk Trump out of that, but as it turned out, they had no better luck than Merkel or May. Trump left the summit in Charlevoix, Quebec, early. Then, after seeing statements from Trudeau that were critical of the tariffs, he threw a fit and decided not to sign on to the group statement, to which he'd previously assented. He then unspooled a series of tweets harshly assailing both Canada and Trudeau himself.
Macron, Trudeau, and Abe were right that Trump is not an ideologue, at least in the traditional sense, though trade is one of the few areas where he seems to have a deep-seated and immovable conviction. It is also true that Trump has shown himself to be a pushover who almost always folds. But they have now learned the lesson that so many Trump associates, from Roy Cohn to Michael Cohen to Paul Manafort to Jeff Sessions, have already learned: Loyalty is a one-way street for Trump. He demands it absolutely, but offers nothing in return.
All three men took significant domestic risks by cozying up to Trump. The president is deeply unpopular in France, Canada, and Japan. Macron, Trudeau, and Abe must have imagined that by making nice with Trump, they were taking a short-term domestic hit for a long-term international gain. In fact, they now seem to have been taking a short-term hit for a long-term hit. In the immediate term, Trudeau's tough talk on tariffs seems to have actually gotten Canadians to rally around him. The other two are not so lucky. Abe is in a politically precarious position at home. Macron is also deeply unpopular domestically.
One interpretation of Trump's recent moves is that he tends to shun democratic allies and revere autocratic foes. While this is partly true, it doesn't mean that autocratic leaders necessarily have better luck. Russia's Vladimir Putin placed a great deal of weight behind Trump's presidential run—with an associate of his even telling Trump's associates the Kremlin backed him, according to emails released by Donald Trump Jr.—in the hopes of U.S.-Russian rapprochement. But while Trump continues to act strangely about Russia, including calling for its readmission into the G7, he also insists he is "Russia's worst nightmare." Whatever Trump's intentions, the results are clear: Ties between the two countries remain at a low, much to Putin's frustration. Even for an autocrat, relying on Trump didn't work out.
These examples serve as a warning to Kim Jong Un as he prepares to meet with Trump Tuesday in Singapore—Monday night Washington time. Trump economic adviser Larry Kudlow acknowledged that the feud with Canada was in part designed to telegraph toughness ahead of the summit, but the North Koreans might easily take away a different message: There's little point in appeasing Trump or trying to be friendly with him. North Korea's foremost concern is said to be security—the regime fears giving up nuclear weapons, and then being overthrown later. The basic tradeoff that Trump can offer in Singapore is that in return for denuclearization, he can offer a hand of friendship and a guarantee of security. Having seen the way Trump treats the leaders who have worked hardest to flatter and ingratiate themselves with him, however, why should Kim have any faith that the American president will follow through?