It's the Right Wing's Italy Now
The new interior minister is calling for more deportations of migrants.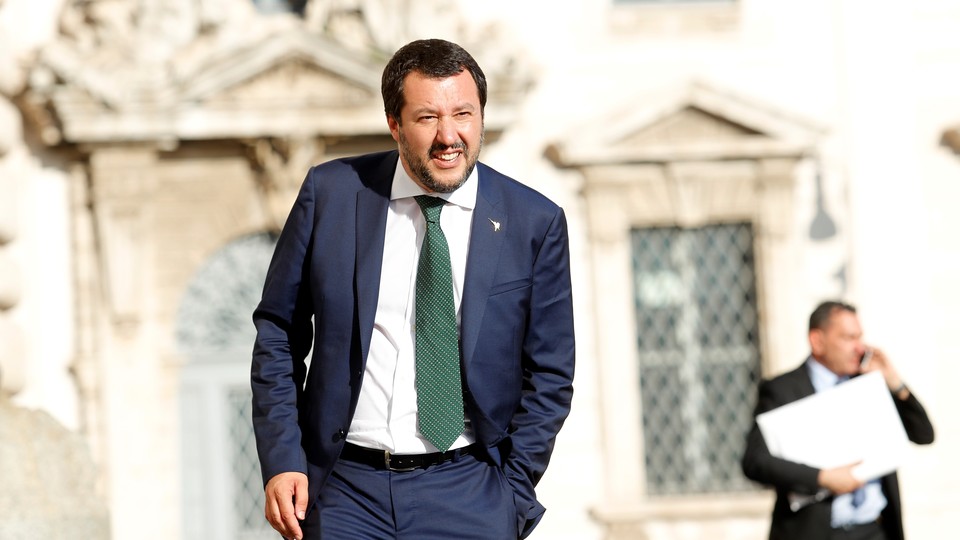 PARIS—In his first trip after becoming pope in 2013, Francis visited Lampedusa, the tiny Italian island off Sicily that had become the first point of arrival in Europe for hundreds of thousands of migrants, and called for a "reawakening of consciences" to their plight. In his first trip since he was named Italy's new interior minister, Matteo Salvini, the leader of the right-wing League party, went to Sicily and called for more deportations.
"Seven thousand deportations seems too few. At that rate we'll solve the problem in 80 years," Salvini said. "We need to keep these desperate people in their countries of origin through an economic collaboration that blocks their departure." He also caused a diplomatic crisis between Italy and Tunisia after he said Tunisia was sending criminals to Italy by boat.
A new populist government came to power in Italy this week, and the right is calling the shots. It swept in on a wave of anxiety about immigration and the economy. On the economy, certain European rules could prevent Italy from going totally off the rails. When it comes to immigration, things could get rough—at least in rhetoric. In 88 days of coalition talks, Salvini, known for his strident attacks on immigrants as a threat to Italian safety, grew emboldened by the League's rising popularity in the polls, and in the 11th-hour negotiations to forge a government, he appears to have outmaneuvered Luigi di Maio, the head of the anti-establishment Five-Star Movement, which won twice as many votes as the League in Italy's March 4 elections.
Immigration (and Russia) were at the heart of Giuseppe Conte's first address as prime minister on Tuesday, in which he called on Europe to revise its immigration policies to offer a more coordinated European response, rather than placing the handling of illegal arrivals on the first country where immigrants land, a system that's left Italy struggling to contend with 500,000 arrivals in recent years. "The burden should have been shared," Conte said. (His government is now formally installed, having passed confidence votes in the Senate and Lower House this week.)
In his speech to the Senate, Conte said Italy wanted clearer standards for determining refugee status and processing new arrivals, "to guarantee their rights more efficiently and not to leave them in uncertainty." He added that he'd raised that in a conversation with German Chancellor Angela Merkel and been heartened by her response, which she gave in an interview last weekend with a German newspaper, saying she thought the European Union should work toward common standards for asylum seekers. (The interview was a belated response to proposals advanced by French President Emmanuel Macron.)
Faced with the existential threat of right-wing parties gaining momentum—Steve Bannon has been touring Europe in a flurry of alt-right evangelism—maybe the European Union will begin to commit to more burden-sharing on immigration. George Soros, the Hungarian-born billionaire philanthropist, wrote this week that the European Union should consider why a majority of Italian voters backed anti-establishment parties, noting that in 2015, France and Austria closed their borders, leaving immigrants stranded in Italy. (Soros has been accused by Hungary's Viktor Orbán of unleashing waves of Muslim immigrants into Europe.)
But while the European Union moves slowly, resentments move quickly. In his speech to the Italian Senate, Conte said, "We aren't racists and will never be." That he felt the need to add this phrase says a lot about Italy's new government.
Conte's efforts to soften the government's tone seemed only to underscore Salvini's efforts to amp things up. Conte, a previously unknown law professor, will likely struggle to hold together the inherently contradictory forces inside the government because he has no independent authority and is completely beholden to Salvini and di Maio, the Five-Star Movement's leader. Maurizio Crozza, one of Italy's best satirists, has already skewered Conte, depicting him as the protagonist of Servant of Two Masters, a classic 18th-century play.
Liliana Segre, an 87-year-old member of the Italian Senate, received a standing ovation in the Senate Tuesday when she recounted how she had survived Auschwitz as a child, and said she would oppose a proposal that would separate Roma children from their parents if the children were found not to be attending school, while Italian families would only incur fines in similar situations. She would not abide by any "special laws," she said, and would abstain from voting confidence in Italy's new government. In response, Salvini told her there wouldn't be any special laws.
In an interview in Italy's La Repubblica daily on Wednesday, Segre, who is not a politician and was appointed to the Senate in an honorary capacity, was asked if she trusted Salvini. "We know what the League is like," she said. "But the Five-Star Movement, I don't know. They say so many things … but since I didn't support the confidence vote I can't say I have confidence. But let's wait and see before we judge."
The clearest response yet to Salvini's rhetoric came from one illustrious Italian: Mario Balotelli, the Ghanain-Italian soccer star and member of Italy's national team, has emerged as Salvini's sharpest critic. Balotelli was born in Italy to Ghanaian parents but could only apply for Italian citizenship at age 18. This week he spoke about the racism he encountered growing up in Italy, where he was raised by foster parents. He called on Salvini to change Italian law to a so-called "Ius Soli," or right of the soil, that would grant citizenship to anyone born on Italian soil, including children of immigrants.
Salvini responded on Twitter: "Dear Mario, the 'Ius Soli' isn't my priority or that of Italians. Work well and have fun—behind the ball." He added a smiley face emoticon, and used the informal "you" form to refer to the footballer. Later, a video-journalist caught up with Balotelli and asked if he'd play next on an Italian team or abroad. Balotelli flashed a smile and ironically replied, "Wherever Salvini wants."