Iran's People Keep Getting Poorer
The country has been hit by a perfect storm of a currency in free fall, economic mismanagement, and impending U.S. sanctions—driving shopkeepers into the streets.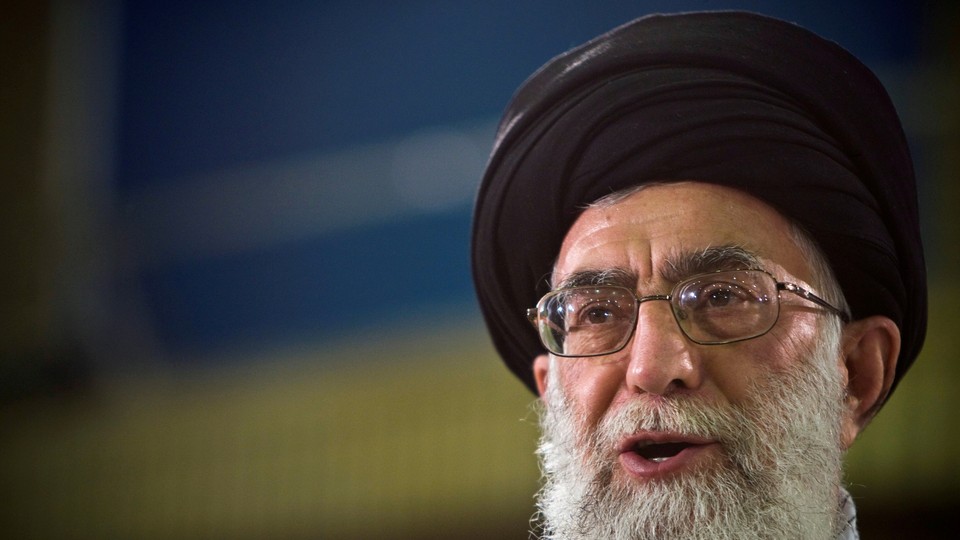 A perfect storm of a currency in free fall, soaring prices, economic mismanagement and corruption, and impending U.S. sanctions have sent Tehran's shop owners to the streets in perhaps the largest anti-government demonstrations in the Iranian capital in recent years.
Businesses in Tehran's Grand Bazaar were closed Monday and Tuesday, as traders protested outside parliament against the decline of the rial, which has lost about half its value in recent months against the U.S. dollar. It is being traded in the black market at about 85,000 rials to the dollar. In late 2017, $1 was worth about 43,000 rials. On Tuesday, Iran's parliament urged President Hassan Rouhani to change his economic team in order to minimize the impact on the Iranian public. And on Wednesday, Iran's Supreme Leader, Ayatollah Ali Khamenei, urged the "judiciary [to] … confront those who disrupt economic security."
The protests in Tehran follow mass demonstrations in several other Iranian cities late last year. The government responded to those protests by killing about two dozen demonstrators. In the months that followed, however, protests continued against rising prices, the mandated wearing of hijabs, and  widespread corruption. Videos on Twitter showed people in those demonstrations, as well as those protesting in Tehran this week, chanting "death to the dictator" and "death to Khamenei and Rouhani." They also chanted this week against Iran's involvement in the wars in Syria and elsewhere.
"People feel that the political system is failing them, especially its foreign policy. … People are really tired of that and they feel the resources should be spent on them," Saeed Ghasseminejad, a research fellow at the Foundation for Defense of Democracies who focuses on Iran, told me.
The slide of the rial has had a cascading effect on the Iranian economy as Iranians suddenly find their salaries worth less than what they were even a week ago. "People are basically getting poorer and poorer, especially people who are on fixed wage," Ghasseminejad said. When a currency depreciates, it makes imported goods much more expensive; the prices of foodstuffs, cars, and electronics have all spiked in Iran in recent months, portending inflation. This can—and in the case of Iran, almost certainly will—result in a significant economic contraction because consumers will buy fewer goods, and, as a consequence, merchants won't stock up on products to sell.
Indeed, transactions in Iran's markets have slowed dramatically because of fears that cash exchanged during commercial transactions could lose value before it is deposited in a bank account. The Iranian central bank's recent decision to lower rates may not have helped to keep money in accounts, either. Reuters reported that Iranians were moving away from cash and putting their money into assets such as gold, real estate, and the stock market—all of which have risen in value in recent weeks. Iran's government tried to intervene in April to prevent the rial's slide by setting an official rate of 42,000 rials to the dollar, and prohibiting trading at any other rate. But that move did little to curb currency speculation in the black market, and instead resulted in the continued slide of the Iranian currency. Mahmoud Vaezi, Iranian President Hassan Rouhani's spokesman, recently said that traders bought imported goods at the government-set exchange rate, but sold them in the market at the black-market rate.
The government has also taken steps to ban the import of more than 1,300 items that can be made domestically, including textiles and footwear. The move, which is expected to save $10 billion in foreign currency, is believed to be preparation for what Khamenei calls the "resistance economy," which, among other things, prioritizes domestic industries and conserves foreign reserves. It has also targeted foreign travel in order to conserve foreign reserves. Such moves, Ghasseminejad said, could have broad consequences for the Iranian government.
"Which kind of people do foreign travel? Which kind of people uses luxury goods? These are upper middle class. The regime has a pact with this upper middle class," he said. "The regime sells the oil, and part of the oil dollars goes to this upper middle class: the merchants, doctors, engineers, university professors, artists, and people like that. [But] the regime can't keep the promises that it has made. It's not going to keep these promises. It is attacking the lifestyle of these people. If you have economic sanctions that will cut the inflow of the money … that would put pressure on the upper middle class, too."
And, he added: "If you have the upper middle class join the lower-income class … I think that's very dangerous for the regime."
The Iranian government's steps foreshadow the impact of U.S. sanctions that will go into effect as a result of President Trump's withdrawal last month from the nuclear deal with Iran. On Tuesday, the Trump administration said it expected all countries that buy oil from Iran, which has some of the world's largest oil reserves, to wind down their purchases to zero by November 4 or face U.S. sanctions. If the Trump administrations follow through, it will further damage Iran's economy, which is heavily reliant on the oil trade.
"As I have said before, it should surprise no one that protests continue in Iran," Mike Pompeo, the U.S. secretary of state, said Wednesday in a statement. "The Iranian people are demanding their leaders share the country's wealth and respond to their legitimate needs."
Barbara Slavin, director of the Future of Iran Initiative at the Atlantic Council, told me the U.S. had declared "a completely unjustified economic war" on Iran. She said the U.S. wanted to "simply … weaken Iran, to destabilize Iran, to make it less of factor in the region, to collapse the economy."
"If that leads to violence, and instability, and civil war, that's an extra benefit as far as this administration is concerned," she said.
But there are other reasons for the protests, as well. The promised economic benefits from the nuclear deal didn't materialize at the pace at which Iranians had hoped. At the same time, the government moved to remove subsidies, pruned welfare rolls, and spent billions on the war in Syria. Rouhani's attempts to address the structural problems with Iran's economy ran into roadblocks—the most significant of which was the U.S. decision to withdraw from the JCPOA. The U.S. says it wants Iran to be a "normal" country, which, in the administration's view, includes stopping Iran's support for militant groups across the region, its activities in Syria and Yemen, and its continued opposition to Israel. Economic malaise and outside pressure from the U.S. are changing "the whole calculation of different classes in Iran," Ghasseminejad said. "So a combination of people being deeply disappointed in what the regime can deliver and the pressure from outside—I think that's what we're seeing."
Still, the overall Iranian economy will be able, at least for the short term, to protect itself against the worst consequences of U.S. sanctions. Its foreign-exchange reserves are robust and there are indications that some countries—especially its largest clients for energy supplies—will continue buying Iranian oil and paying for it with a currency other than the U.S. dollar. In the wake of the protests, the government will undoubtedly take steps intended to bolster the economy as it prepares for difficult times. It is another matter whether any of that will stop—or slow—the resentment being felt by Iranian citizens fed up with rising prices, mismanagement, and what now looks almost certainly to be another period of economic retrenchment.
Slavin said Iran's economic imbalances will get worse, but the regime will be able to "feed their people and keep the lights on." But, she added: "It'll weaken Rouhani, obviously, [and] strengthen the hardline faction."