Migration Is Down, Crime Is Low, but Merkel Is in Trouble
But she may have received an unexpected—if inadvertent—boost from President Trump.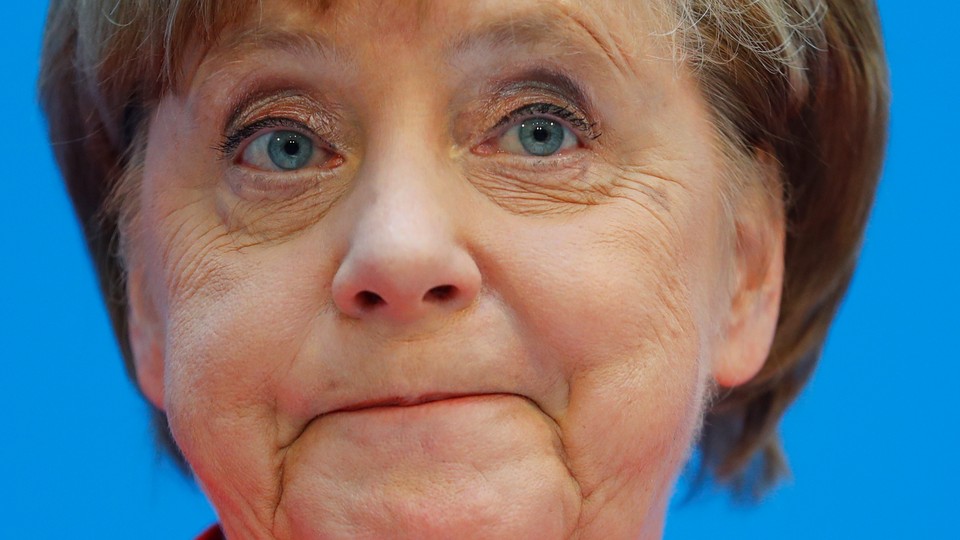 Asylum applications are sharply down in Germany. So is crime. Yet Chancellor Angela Merkel's hold on power is again under threat over the issue of migration—one which has upended politics throughout Europe and across the Atlantic.
On Friday, Merkel clashed with her political allies in the Christian Social Union in Bavaria, and appeared on the verge of losing her coalition and potentially stepping down. Horst Seehofer, her CSU interior minister and a critic of her policy welcoming refugees, had proposed unilateral border controls to stem what many Germans see as uncontrolled migration into their country. Then, on Monday, Seehofer said he would give Merkel until June 28, the start of a two-day summit of EU leaders, to come up with a solution. There, Merkel hopes to forge an agreement on migrants with fellow EU leaders—though it is unclear how she can persuade them to embrace a common policy on an issue that has invigorated populist movements and anti-immigrant parties across Europe. Hungary and Poland have long opposed the EU's policy toward migrants, and now have allies in both Austria and Italy.
At a news conference Monday in Berlin, Merkel said her party, the Christian Democratic Union, and the CSU, its longtime ally, both wanted to reduce immigration, but added there would be "no automatism" if an agreement with the EU proved unworkable—which is to say Germany will not unilaterally close its borders to some migrants. That almost guarantees a clash with Seehofer, who vowed Monday that if the EU failed to reach an agreement, Germany would start turning migrants back at the border. If Merkel, as chancellor, overrules that action, Seehofer would essentially resign, imperiling Merkel's coalition government and plunging Germany into the kind of political chaos it has so far avoided.
At issue are the Dublin regulations, which govern how EU member states examine asylum applications. Under those rules, the country where the migrant entered is legally supposed to deal with the claim. Germany suspended the rule in 2015, sending hundreds of thousands of asylum seekers to its borders. This had the effect of European countries buckling under the strain of the migrants marching through their territory en route to Germany.
Under Seehofer's "master plan" on migration, migrants who have already registered in an another EU country would be turned away at the border. Merkel fears that if every European country does the same thing—and there are indications that many will—then Greece and Italy, especially, will be overwhelmed by migrants. Hence, her support for an EU-wide solution to the crisis.
Migration has remained a contentious matter in Germany and across Europe, with the Syrian civil war spawning the world's worst refugee crisis since World War II. Although the vast majority of refugees live in the countries surrounding Syria, the numbers entering Germany soared in 2015 after Merkel announced her open-door policy toward Syrian refugees. The following year, more than 1 million refugees entered Germany, mostly through Bavaria. Initial enthusiasm for the newcomers gave way to anger and fear amid the rising numbers, as well as reports, sometimes erroneous, of crimes, including rape, committed by migrants. Statistics do not bear out those fears.
In fact, both crime and asylum applications in Europe are at a low, and overall crime in Germany is at its lowest level since 1992. It fell 10 percent in 2017 compared to the previous year. Crimes committed by non-Germans fell 22 percent in that period, official data show. In addition, the number of people claiming asylum in Germany, and across Europe, have both declined dramatically. The EU's asylum office said Monday that asylum applications declined by almost half in 2017 across Europe from the prior year; in Germany, the number of applications dropped by more than two-thirds over the same period. Yet even with the decline, more than 200,000 people sought asylum in Germany in 2017, down from a high of 890,000 in 2015. The backlog remains high, however. About 443,640 people are still awaiting a decision on their asylum application in Germany. (The number for all of Europe is 954,100.) At least part of that decline can be attributed to an agreement EU countries worked out with Turkey and Libya, which, in exchange for money, tightened restrictions on migrants fleeing to Europe from their territory.
Still, those numbers are unlikely to provide consolation to Germans reading news reports about crimes committed by asylum seekers such as the Iraqi man accused of raping and murdering a 14-year-old girl in western Germany, or of self-professed ISIS members who have carried out attacks inside the country. Nor are the data about a decline is asylum seekers likely to dissuade them from their belief that Germany's asylum process is, itself, flawed. The scandal at Germany's Federal Office for Migration and Refugees, in which a regional office is said to have improperly approved the asylum applications of nearly 1,000 people between 2013 and 2016, has also shaken faith in the system. Seehofer fired the agency's head last week over the scandal.
Amid all this, Merkel, who has been chancellor since 2005, has argued that only a common European policy can address migration in a humane way. Amid the criticism she is facing in Germany, the chancellor may have received an unexpected—if inadvertent—boost Monday when President Donald Trump sought to use Germany as an example of what happens when immigration is, in his view, unfettered.
The people of Germany are turning against their leadership as migration is rocking the already tenuous Berlin coalition. Crime in Germany is way up. Big mistake made all over Europe in allowing millions of people in who have so strongly and violently changed their culture!

— Donald J. Trump (@realDonaldTrump) June 18, 2018
We don't want what is happening with immigration in Europe to happen with us!

— Donald J. Trump (@realDonaldTrump) June 18, 2018
Although the relatively open immigration policies of Germany and other European countries have long irritated Trump, his public commentary amid an internal political battle in what is ostensibly an allied nation is a remarkable departure from previous U.S. presidents. (President Obama's remarks about Brexit ahead of the vote in the U.K. were similarly widely criticized.)
Merkel's approval rating, even amid a political crisis that could cost her her job, stands at 50 percent, well above other German politicians. Trump is deeply unpopular in the country. As Matthieu von Rohr, the deputy head of the foreign desk at Der Spiegel, the German newsmagazine, said on Twitter: "Nothing rallies German public opinion in Merkel's favor like a tweet attack from Donald Trump."