Germany's World Cup Loss, Europe's Schadenfreude
The geopolitical metaphors practically write themselves.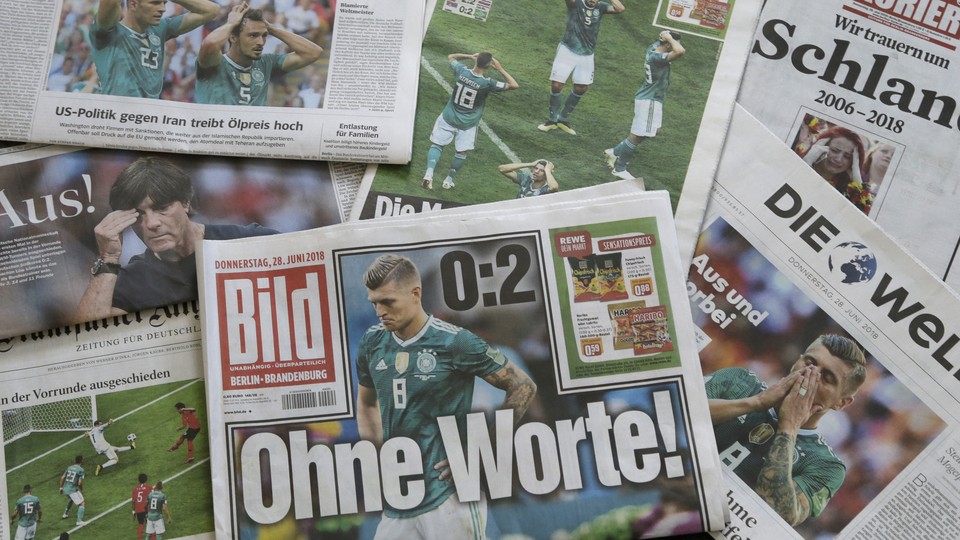 PARIS—When some countries place out of the World Cup, the news barely registers. When others do, it prompts shock, comparisons to geopolitics, and bad jokes. That's what happened after Germany's 2-0 loss on Wednesday to South Korea, which sent the 2014 champions packing and immediately inspired dramatic headlines, comparisons to the state of Chancellor Angela Merkel's government, and soul-searching about what the loss says about Germany and its possibly hidebound approach to management.
The British tabloid The Sun ran with "Schadenfreude: noun (from the German): Pleasure derived from another person's misfortune," since Germany, well, isn't everyone's favorite country in Europe. (In some corners, like the U.K., this is partly because of echoes of the Second World War, and in Southern Europe largely because of a German-dominated European Union's troubled handling of the debt crisis.) "A Myth Is Shattered," ran a headline in Frankfurter Allgemeine Zeitung. France's sports daily, L'Équipe, showed a photo of the German player Thomas Müller in tears with the headline "La Bérézina," a French shorthand for disaster that refers to the Berezina river in Belarus where, in 1812, the French suffered a defeat during Napoleon's conquest of Russia.
Politics are always present at the World Cup, and this year's tournament in Russia is no exception. "WorldCup2018 fulfilling every geopolitical cliché," The Economist's Anshel Pfeffer wrote on Twitter. "USA absent from the world stage. Germany suddenly weak & isolated. Russia resurgent. Ineffectual Arab states. Britain & Belgium (Brussels) locked in combat. Iran valiantly failing. Balkan hatreds bubblin." As for the Balkans, he was referring to the most overtly political incident of this year's tournament: Last week, two ethnic Albanian players for the Swiss national team were fined for celebrating goals against Serbia by moving their hands in the shape of the double-headed Eagle on the Albanian flag. The players come from Kosovar families that fled Serbian ethnic cleansing. Serbia has not recognized Kosovo, which declared independence in 2008.
But it was Germany's defeat, in which South Korea managed to score not one but two goals against the German team, including one in the 92nd minute of play, that prompted the biggest conversations—about Germany's place in the tournament, and in the world, and whether the German coach, a stand-in for the country's leadership capacities, knew how to deploy his team's resources wisely. Reuters's post-game recap ascribed the defeat to "a combination of over-confidence, stubbornness, and recklessness" that "turned into a toxic mix," resulting in the team's winning only one in three matches in the first round. The metaphor practically writes itself.
In the Financial Times, Simon Kuper wrote about how the German coach, Joachim Löw, "did what no coach should ever do, and picked his players based on past rather than on expected performance. Perhaps partly for emotional reasons, he continued to rely on the generation that had brought him glory." A friend wrote me from Germany that one of her colleagues, a big soccer fan, ascribed the defeat to "a generational difference in the players, old and new," with the old players lacking the drive of their younger mates. Another German friend thinks Löw should have left after Germany won the last World Cup in 2014 "since it was clear then that new coaching trends were going to dominate thereafter."
Still, it was hard not to read it as a broader commentary on Germany's challenges adapting to new realities—demographic, economic, global—or as a stand-in for the challenges facing Merkel, whose coalition government is as weak as it's ever been. She faces a constant drumbeat of criticism by her Bavarian interior minister, Horst Seehofer, who takes a tougher stance on immigration. Merkel, a devoted soccer fan, didn't attend Wednesday's match in Kazan, Russia. She has other things to handle. On Thursday, ahead of a EU summit on immigration, she said migration would "determine the fate of the European Union."
During Germany's decades of de-Nazification after the Second World War, rooting for Germany's national team was one of the only acceptable forms of nationalism in Germany. But today, there are alternatives. The far-right Alternativ für Deutschland party has been gaining ground, and Seehofer's Bavarian conservatives are tacking rightward as a response. If Germans have taken a hit to their national pride in recent days, they can find plenty of other ways to express it. Soccer is still a better one.