The Meaning of a U.S.-Russia Summit in Helsinki
Donald Trump and Vladimir Putin will meet in the capital of Finland, a place with a long history as a site of pivotal encounters between their countries.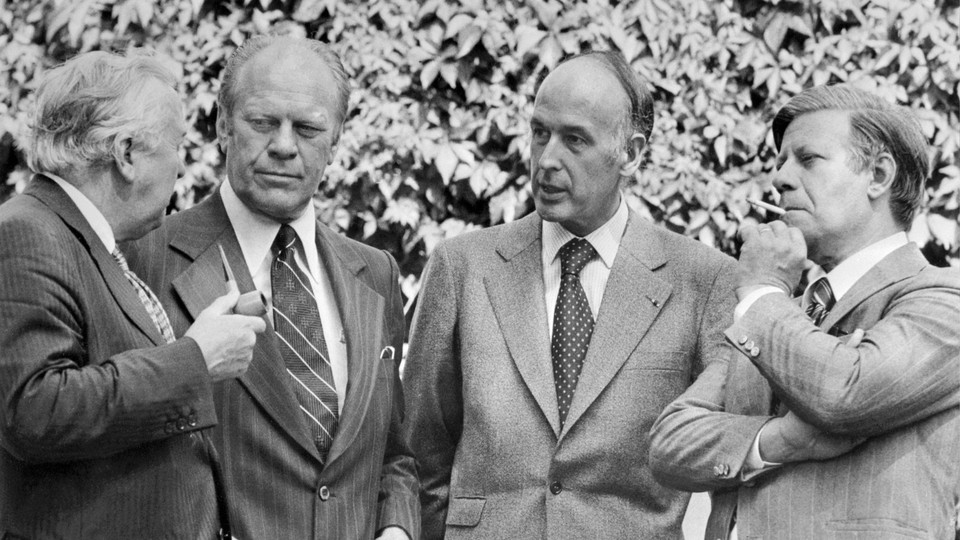 HELSINKI—In 1975, representatives from the United States, Soviet Union, and 33 other nations gathered in the capital of Finland to help defuse mounting tensions over nuclear weapons, human rights, and military posturing. The summit was the brainchild of Urho Kekkonen, then the president of Finland, who had successfully toed the narrow line between the East and the West. The Helsinki Final Act, the product of the summit, would prove pivotal in not only improving relations between the United States and the Soviet Union: It made a lasting impact on the architecture of the European security framework.
History has a way of repeating itself. On Thursday, the White House and the Kremlin announced Helsinki would be the host for a star-crossed summit on July 16 between U.S. President Donald Trump and Vladimir Putin, the president of Russia. But unlike the 1975 summit, which brought together world leaders with clear goals about cooperation, no one knows quite what to expect this time. "It seems like this is almost the antithesis of what happened in 1975," Hannu Himanen, a former Finnish ambassador to Moscow, told me. "Putin is trying to rearrange the security order in Europe and Trump has inserted a massive amount of instability to the continent."
Moscow and Washington's relationship now sits at its lowest point since the Cold War. The war in Ukraine and Moscow's intervention in Syria have seen relations deteriorate rapidly, which have been further scarred by Moscow's meddling in the 2016 U.S. presidential election, the poisoning of a former Russian spy in Britain that sparked massive diplomatic expulsions, and the looming shadow of Robert Mueller's ongoing investigations into connections between Trump's 2016 campaign and Russia. Adding to the intrigue ahead of the summit is concerns about Trump himself, who first raised meeting Putin during a congratulatory phone call in March. Anxiety has grown in European capitals that Trump's eager-to-please attitude toward Putin could undo efforts among allies to isolate Russia for its destabilizing activities across the continent. All this has led the White House to lower expectations for the talks, with Trump's national-security adviser John Bolton telling reporters in Moscow on Wednesday that he did not anticipate any specific outcomes from the summit. "The fact that the summit will take place in Helsinki is very positive for Finland," Himanen said, "but it needs to be clear that we are not as we were in the Cold War."
While the upcoming summit harkens back to Finland's roots as a Cold War–era meeting point between East and West, its government is keen to show the world that, today, the country stands firmly with the West. "This is perhaps the single greatest issue for Finland in organizing this," Charly Salonius-Pasternak, a senior research fellow at the Finnish Institute of International Affairs, told me. "This summit should be a way for the world to recognize how Finland has changed and that the old lines about neutrality are gone."
At first glance, such distinctions might not seem entirely clear or necessary. In step with his predecessors, Sauli Niinistö, the president of Finland, has pushed for dialogue between the American and Russian presidents as tensions have escalated in recent years. In September 2017, Helsinki welcomed American and Russian diplomats for talks and also brought together top military advisors from the two countries in June. Niinistö has likewise cultivated relations with Putin and regularly met with his Russian counterpart despite the wider chill with the West. But the Finnish president has also deepened ties with Washington, meeting Trump in August 2017 and diligently enforcing European sanctions against Moscow. Finland, along with fellow non-NATO member Sweden, has also moved closer to the alliance in recent years as Moscow has flexed its military muscles around the Baltic Sea. "We aren't a bridge to Russia, but maybe we can be a looking glass," Salonius-Pasternak said. "You can still have a working relationship with Russia and not be blind about them."
After fighting two bloody wars with Russia, Finland became neutral during the Cold War, allowing it to integrate with Europe while preserving its relationship with Moscow—a policy dubbed "Finlandization" by West German politicians as a derisive term for a seemingly independent country kowtowing to Russia. Finnish politicians humorously characterized the policy behind closed doors as the art of bowing to the East without mooning the West. In reality, the policy was far more nuanced, involving tough behind-the-scenes talks with Soviet leaders (some of them taking place in a sauna) to keep Finland independent and outside the Warsaw Pact, earning Kekkonen credit for leading Finland's emergence in the postwar years.
This balancing act also helped make Finland a go-to host for major international summits. In addition to the 1975 summit, Helsinki welcomed President George H. W. Bush and Soviet President Mikhail Gorbachev in 1990 to discuss how to handle an increasingly aggressive Saddam Hussein, and later hosted a wheelchair-bound Bill Clinton and an ailing Boris Yeltsin in 1997 to discuss arms control and iron out the kinks of their post–Cold War relationship.
Since the collapse of the Soviet Union, Finland has increasingly turned westward, joining the European Union in 1995 and adopting the euro in 1999. But it has not forgotten the role it played during the Cold War. Alpo Rusi, who worked on the 1997 summit as former president Martti Ahtisaari's foreign-policy adviser, told me that hosting such gatherings is how a small country like Finland can have a role on the global stage and improve its own situation in the process. "We are fully aware that by having these types of summits that we are also strengthening our own security," Rusi said.
This leaves Finland treading familiar territory as host for the Trump-Putin summit in July. "Finland has credibility with both sides," Anna Wieslander, the director for northern Europe at the Atlantic Council think tank, told me. "That's what made Helsinki a smart choice." Speaking to journalists on Thursday, Niinistö touted Finland's organizational prowess in hosting high-level meetings, saying that his country's longstanding track record made it an appealing, known commodity to both Moscow and Washington. The main concern, Wieslander said, is less to do with the host and more about what happens between the American and Russian presidents. While many European governments see the logic in sitting down with Putin, there's less confidence that Trump will hold the West's line during the talks.
"Finland can't control what Trump does or says," Wieslander said. "All they can really do is remind the world where they stand."