U.S. Allies Are Helping Trump Undermine Global Trade
If America won't follow the rules of the system it helped build, why should Europe?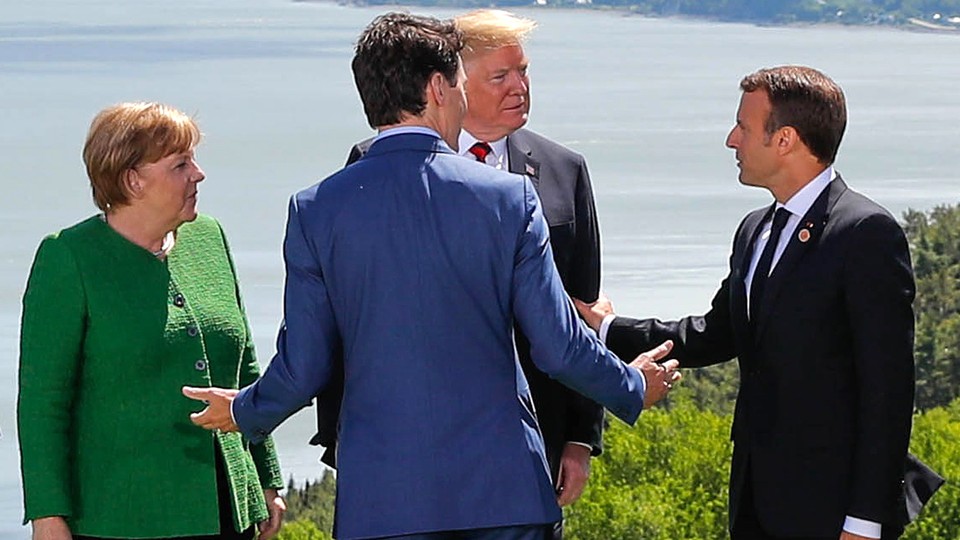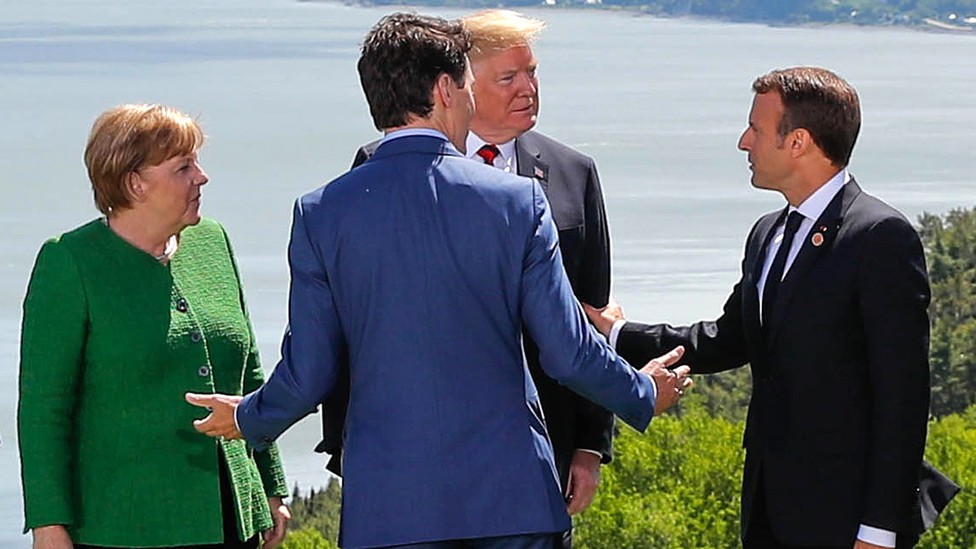 If it's a trade war Donald Trump wants, U.S. allies have warned, it's a trade war he'll get. In response to the American president's recent decision to impose steep tariffs on aluminum and steel imports from Europe, Mexico, and Canada, leaders from all three have challenged the tariffs at the World Trade Organization (WTO). They have also announced their own retaliatory levies on American goods. On Saturday, Canada's Prime Minister Justin Trudeau declared that Canada would not "be pushed around" on trade by the Americans.
The first decision didn't come as a surprise. In fact, the European Union, Mexico, and Canada warned in advance that they would confront the U.S. at the international trade body if the metal tariffs were imposed, calling into question Washington's national-security rationale for imposing levies on its allies. Trudeau, the Canadian premier, appeared to take it personally; Canada, he noted, has fought alongside America in numerous wars, and he dubbed it "inconceivable" that Canada could pose a national-security threat to its neighbor. Cecilia Malmström, the EU trade commissioner, said the bloc, as both friends and allies, is "deeply offended by this."
The timing of their retaliation, however, was somewhat unexpected. The current global trading system—designed in no small part by the United States—is set up in large part to slow down trade disputes like this. Typically, if a country feels a trade action is unjustified, it can file a challenge with the WTO—which functions as a kind of international arbiter—to decide whether the action was in violation of WTO rules and if proportional retaliation is warranted. The idea is to ensure an orderly process to enforce the rules of global trade. But in this case, the EU, Mexico, and Canada seem to be skipping this step and retaliating ahead of a WTO ruling—effectively taking trade justice into their own hands. Mexico's tariffs, which target just over 1 percent of U.S. exports to the country (including products such as pork, apples, potatoes, and bourbon), went into effect last week. Tariffs from the EU and Canada, which are expected to target similar products, are due to be imposed next month.
When I spoke to André Sapir, a senior fellow at the economic think tank Bruegel and a former economic adviser to the president of the European Commission, in March, he told me it's unusual for countries to short-circuit the process this way. When the U.S. attempted to impose steel tariffs in 2002 under then-President George W. Bush, the EU held off moving to impose retaliatory tariffs until the WTO ruled in its favor in 2003. The trade organization's authorization, Sapir told me in March, "gave the green light to the EU and other parties to take countermeasures."
This time around, the EU and its partners won't be waiting. "They are acting out of frustration," Sapir told me this week. "They've never faced such a situation, so they are reacting in an unusual manner to an unusual set of circumstances."
Matthew Oxenford, a researcher on transatlantic economic relations at Chatham House in London, told me that U.S. trading partners may be opting not to follow the rules because they don't believe Trump will either. In that case, what's the point? "The difference is the last time they had to do this was in 2002 with the Bush tariffs—then they did go through the WTO process, they got a favorable ruling, and they were prepared to implement it and then Bush backed off and let the tariffs expire," he said of the EU, adding: "If Trump receives an unfavorable WTO ruling, that in itself isn't going to put anymore pressure on him to withdraw from the tariffs that he has implemented than actually having retaliatory tariffs implemented on themselves would."
Trump has made no secret of his disregard for global trade rules. He has accused the WTO of being biased against the U.S., arguing that its adjudication is "set up. You can't win." His administration has exercised its power to block nominations of judges to fill vacant seats of the WTO's seven-person appellate body, which adjudicates disputes between countries (it is currently down to its last four judges, one of whose terms will expire in September). He has even threatened to pull the U.S. out of the trade body altogether. But the EU and others' decision to base their reaction on Trump's apparent indifference to the global trading order could end up doing more harm to it than good. By opting to retaliate before a WTO consideration, they could be unintentionally helping to undermine the very system they are trying to protect.
"The WTO works insofar as it does because every country knows that a full blown trade war will not be in anybody's interest," Oxenford said. "They want to make sure that there's a set of rules that everybody follows and that those rules are enforced in a proportionate way so that rule breakers receive some sort of sanction for their action. … That sort of architecture no longer makes sense when somebody is willing to blow right through it—especially a country as large as the United States."
Though a full-blown trade war between the EU and the U.S. is still far off, it's not inconceivable. "We need to show that if you're violating the rules of the global trading system, it has consequences," Malmström, the EU trade commissioner, told CNN's Christiane Amanpour last week. "I wouldn't say that we are in a trade war, but we are in a very difficult situation that could escalate. … There are no winners in this, so we definitely hope this is something that does not materialize."
Trump doesn't appear to see it that way. The Group of Seven summit that took place over the weekend in Charlevoix, Quebec ended with the president reneging on his commitment to the joint communique calling for "free, fair, and mutually beneficial trade." He also vowed to push ahead with the steel and aluminum tariffs, though not before calling his Canadian counterpart Trudeau "meek and mild" and "dishonest & weak" for criticizing the tariffs in the first place. "Sorry, we cannot let our friends, or enemies, take advantage of us on Trade anymore," Trump said in a tweet Sunday. "We must put the American worker first!"
It's unclear whether Trump considers U.S. allies friends—or enemies—when it comes to trade. For the EU, Canada, and Mexico, that may no longer matter. "They have to make a judgement between not undermining the system and dealing with Trump," Sapir said. "One pulls in one direction, and the other pulls in the opposite direction."