Turks Have Voted Away Their Democracy
Erdoğan's election victory advances his vision of absolute control.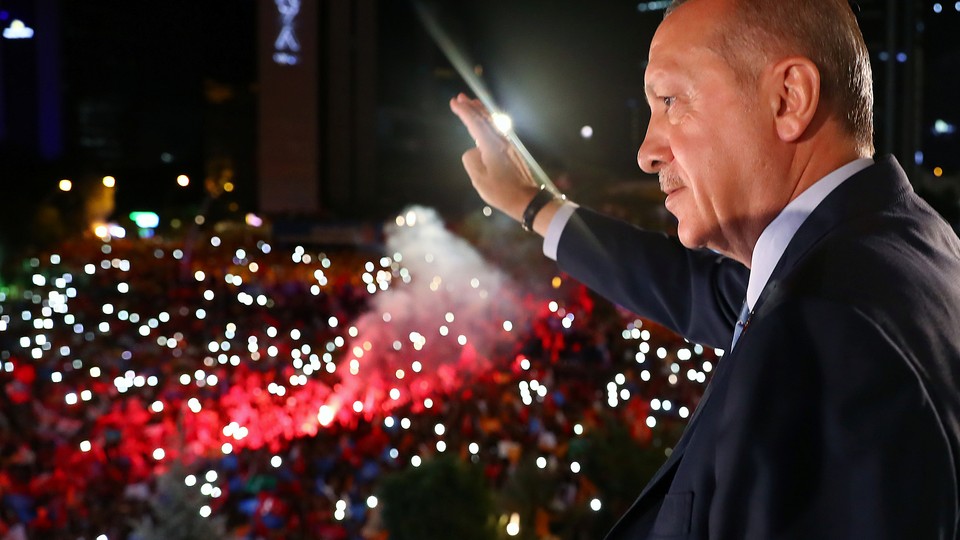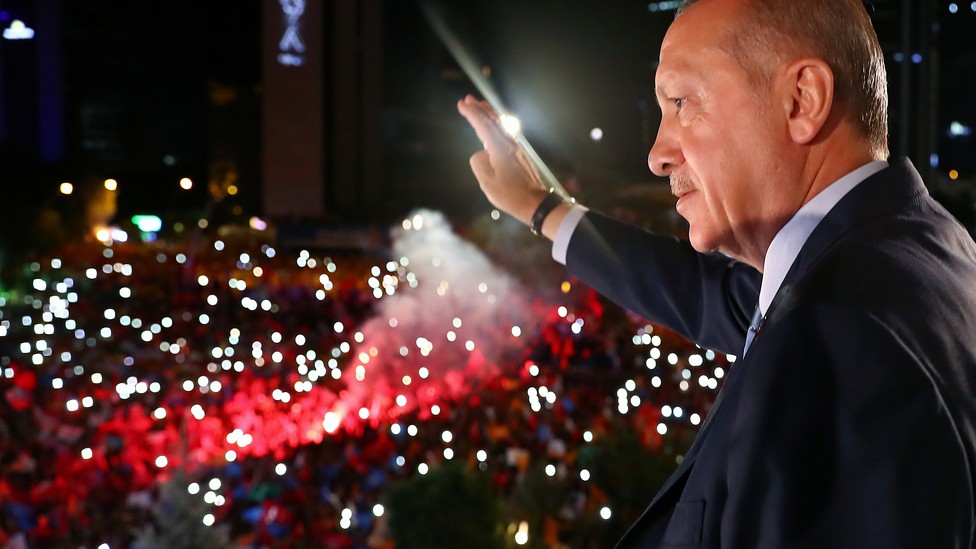 First they ignored him. Then they laughed at him. Then they jailed him. Then he became perhaps Turkey's most powerful leader in 80 years.
Last night, Recep Tayyip Erdoğan extended his 16-year dominance over Turkey with a victory in the first round of the country's snap elections, winning 52.5 percent of the vote. In the eyes of his roughly 26 million supporters, it was a resounding victory for the powerless, the infuriated majority of a polarized world split between the comfortable and those who simply must muddle through misfortune. "The winner is Turkey, the Turkish nation. The winner is all the aggrieved people in our region, all the oppressed in the world," Erdoğan told the crowd of supporters that gathered last night at the headquarters of his Justice and Development Party (AKP) in Ankara to celebrate.
But it's not just the economically "oppressed" and marginalized classes that flock to Erdoğan. Many of his supporters come from the middle class, or are rich business owners who felt voiceless before Erdoğan's arrival. "The fault lines in the country are so clear," Ziya Meral, a resident fellow at the British Army's Centre for Historical Analysis and Conflict Research, told me. When voters follow those fault lines to the polling station, elections benefit the "religious, conservative nationalists, because a substantial portion of Turkey is religious, conservative, and nationalist. We have to accept that fact."
The problem is that such victories for Turkey's supposedly oppressed classes can feel like oppression for the other half of the country's voters, who just missed their best chance to date to unseat a leader with very real staying power. Last year, Erdoğan achieved his dream of an executive presidency, winning a referendum that will allow him to appoint judges and cabinet members, form and regulate ministries, draft budgets, and appoint or remove senior civil servants, mostly without parliamentary approval. The president will also be able to dissolve parliament, which would then trigger new elections. With yesterday's victory, Erdoğan is poised to rule Turkey for up to three more terms with consolidated governing powers—what his opponents call "one man rule." Turks have, in essence, voted away their democracy.
Erdoğan's supporters handed him this array of powers because they believe he is one of them, and therefore will never betray them. Though he now spends much of his time in the 1,150-room presidential palace he built in Ankara, before his rise, he cast himself as a pious Turk from a working-class neighborhood in Istanbul. He still embraces that image every time he picks up a microphone—which he does often: Multiple channels air his speeches almost daily, and 90 percent of mainstream media is pro-government in Turkey. This can feel like oppression for those who don't vote for him. The fact the elections took place under a state of emergency, in place since the failed coup of 2016, can also feel unjust.
Erdoğan's opponents are, as a result, increasingly debating his legitimacy. While initial polling remains marred by allegations of fraud and voter intimidation, the incumbent's 10-million-vote margin was enough for his main challenger to concede defeat this afternoon. "Have they stolen votes? Yes, they have," Muharrem İnce of the Republican People's Party (CHP) told reporters at a press conference in Ankara. "Have they stolen 10 million votes? No. I accept the results of the elections."
Going forward, Erdoğan's agenda will surely be influenced by the Nationalist Movement Party, which formed a coalition with the AKP for the elections, helping it attain a parliamentary majority. Turkey's minority-focused, left-leaning Peoples' Democratic Party, meanwhile, surpassed the 10 percent threshold required to remain in parliament, despite state efforts to suppress and intimidate its supporters in the nation's Kurdish-majority southeast. Erdoğan will now govern with one of the most diverse parliaments in Turkey's history.
Depending on how the new parliament asserts itself, Turkey's democratic principles might prove more resilient than they may currently appear, Meral said. "What Erdoğan will do from now on is pretty much what he's been doing, which is worrying … but there was 87 percent voter turnout, and the people of Turkey displayed ownership of their electoral politics," Meral said. "That's a sign this is a country that you can't really brush off as what a particular political actor might want," he added.