A Battle Over Migration Is Threatening to Topple Angela Merkel
Germany's government is fraught with infighting.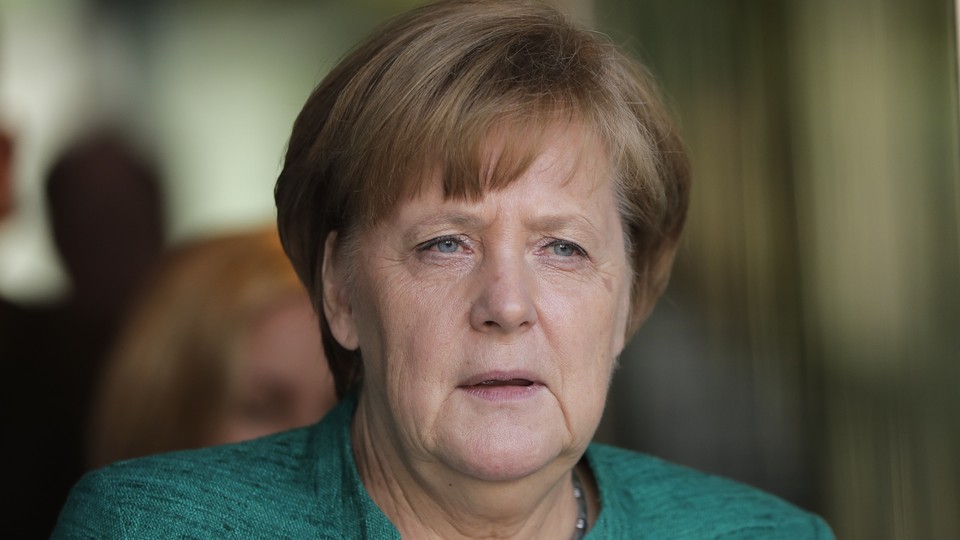 German Chancellor Angela Merkel has so far withstood the battle over migration that has convulsed politics across Europe, most recently in Italy. But now, infighting threatens to tear apart her government just three months after it was formed.
The CSU, a center-right party in the German state of Bavaria and a sister party of Merkel's, sparked the latest round of fighting. The party's leader, Interior Minister Horst Seehofer, had crafted a migration plan that would enable Germany to turn back refugees at its border if they've already applied for asylum in other EU countries. Merkel refused to implement this plan, and Seehofer is now pushing back against her refusal.
This dispute dates back to 2015 and 2016—the peak of the refugee crisis in Europe—and Merkel's landmark decision to open Germany's borders to the influx of refugees coming from war-torn Syria. The move was, and continues to be, a vexed one for Germany, which maintains its open-door policy even as some of its European neighbors move to slam their doors shut.
"I see illegal immigration as one of the major challenges of the European Union," Merkel told reporters Thursday, adding that Germany "should not act unilaterally, or without consultation, and at the expense of third parties." She continues to advocate for an EU solution to what is ultimately an EU-wide problem. But her colleagues in the CSU don't see it that way. Facing an upcoming October election in Bavaria, the party isn't thinking long term. It's keen on proving to its voters that it takes immigration seriously and that it's a better option than the far-right Alternative for Germany (AfD), the anti-migrant party that has emerged as the CSU's main competitor in a state long considered a CSU stronghold. "We must finally secure our borders effectively," Markus Söder, a CSU lawmaker and the state premier of Bavaria, said Thursday, adding that "Germany cannot wait endlessly for Europe, but must act independently."
The Italian government, for one, might find it a bit rich to hear this rhetoric coming out of Germany now. "For the longest time, Germans completely shied away from responding to calls of the Italians in particular, who were saying, 'Look, we have this [migrant] problem here in Italy and it should be dealt with at the European level—we are most affected by this and other EU countries need to help us,'" Almut Möller, the head of the European Council on Foreign Relations' Berlin office, told me. Italy's new right-wing populist government just this week acted on its hardline immigration stance, sparking a major diplomatic dispute when it refused to allow a boat carrying 600 migrants to dock in the country's ports.
Möller noted that under the EU's Dublin Regulation, the responsibility for processing a migrant's asylum claim falls to the country where the migrant first arrives. This burden invariably fell most heavily on countries like Italy and Greece, which served as the main points of entry for those coming by boat from the Middle East and North Africa. Through her open-door policy, Merkel tried to address this disparity. "She decided to allow for refugees to register for their asylum request to be dealt with in Germany, which meant essentially breaking with what the formal Dublin arrangement says," Möller said. "It was seen as an act of solidarity with more vulnerable countries that were not able to deal with the huge inflow of people who need our help."
Burden-sharing isn't the only factor in Merkel's calculus. The chancellor also fears that if Germany shuts its doors, it could prompt other European countries to do the same—a prospect that threatens to hasten the collapse of the bloc's internal open-borders system, which allows freedom of movement between EU countries. "Apart from the humanitarian argument, she also argued that we have to try to strengthen the EU's external border security … to be able to keep our free movement of capital and goods in place," Möller said. "That was her argument and continues to be her argument."
Now, Merkel is playing for time in the hopes that this issue can be tabled—and her government sustained—until agreements with other EU member states can be made at the bloc's summit later this month. Until then, her party's members have reaffirmed their intent to stand behind their chancellor.
Seehofer, on the other hand, has threatened to defy Merkel and push forward with his migrant policy. Such a challenge to Merkel's authority could prompt her to acquiesce (an unlikely scenario, given the blow to her authority this would entail), overrule him, or fire him—a move that would almost certainly bring the government down and trigger new elections. Seehofer and the CSU's decision is expected to be made Monday.
Observers predicted that Merkel would meet her end as chancellor after Germany's last general election in September, and again in November when coalition talks collapsed. Now, as then, such predictions seem premature. "The CSU are trying to take a tough line on immigration to appeal to voters, and they have a strong incentive to do that," Marcel Dirsus, a political scientist at the University of Kiel, told me. "But they don't have a strong incentive to topple their own chancellor—especially because she continues to be very popular."