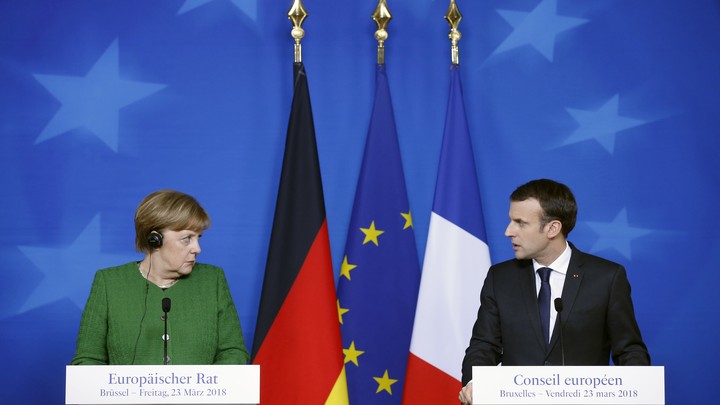 In a move to derail an agreement he has frequently dubbed "insane," "horrible," and "the worst," President Trump announced Tuesday that he is withdrawing the U.S. from the Iran nuclear deal, known as the Joint Comprehensive Plan of Action (JCPOA). Trump said the U.S. will reinstate sanctions it had waived as part of the deal, adding that "any nation that helps Iran in its quest for nuclear weapons could also be strongly sanctioned by the United States." The move puts the U.S. in direct violation of the agreement, and raises the question of what, if anything, Europe can do to salvage it.
The U.S. and Iran are not the only parties to the deal. France, Germany, the United Kingdom, China, and Russia are also signatories, which means that even if the U.S. withdraws, the agreement doesn't necessarily go away entirely—it depends on how the Iranians respond. The Europeans, for example, could attempt to salvage the deal by continuing to do business with Iran; in exchange, Iran could continue to observe the limits set by the nuclear deal. Both sides, however, could then be at risk of being targeted by U.S. sanctions.
Trump's decision to quit the 2015 accord, under which Iran accepted strict limits on its nuclear program in exchange for sanctions relief, comes days before a May 12 deadline by which the president has to decide whether to extend a waiver on Iranian oil sanctions. These sanctions, first imposed by the Obama administration in 2012, cut Iran's oil exports in half and were eventually waived under the JCPOA. Trump's decision to withdraw from the deal and impose nuclear-related sanctions has consequences for companies doing business in Iran. John Bolton, Trump's national-security adviser, told reporters that new contracts with Iran will be banned, while existing ones will be given a wind-down period, which for oil amounts to 180 days.
The decision also puts the U.S. at odds once more with its traditional allies. While Trump has remained steadfast in his quest to rip up the Iran deal, which he has criticized for not imposing more permanent limits on the country's uranium-enrichment and missile programs, China, Russia, and the EU remain committed to the accord. It's unclear, however, what Iran plans to do next. Iranian President Hassan Rouhani said in response to Trump's announcement Tuesday that Tehran would remain in the nuclear agreement without Washington for now, but reserved the right to resume enriching uranium if negotiations fell apart.  
The EU has gone to great lengths to ensure the agreement's survival. It fought hard to keep the U.S. invested in the accord ahead of Trump's final decision, going so far as to dispatch French President Emmanuel Macron, German Chancellor Angela Merkel, and British Foreign Secretary Boris Johnson to Washington in back-to-back efforts to preserve U.S. participation. And while all parties left empty-handed, there's little indication the EU will fold on the issue so easily. Contrary to Macron's claim during his visit to Washington that there is no "plan B" if the U.S. were to withdraw from the accord, the European Union has pledged to preserve the JCPOA, even if it means doing so without Washington.
The easiest way for Europe to achieve this would be by convincing Trump to agree to a "soft exit" from the deal, in which the U.S. would pull out of the agreement but delay implementing secondary sanctions that would target international firms conducting business with Iran in violation of the U.S. sanctions. Without an exemption to these sanctions, European and other international companies with business interests in Iran and the U.S. would effectively be cut off from the U.S. financial system, pushing them to disengage from Tehran.
Though the White House confirmed in a statement Tuesday that the U.S. would grant businesses a grace period to conclude business in or with Iran, a complete exemption from sanctions seems unlikely for Trump, who would almost certainly take issue with imposing sanctions on Iran only to let Europe undermine them. The president has proven through his imposition of aluminum and steel tariffs that he is uninterested in forgoing his own policy goals for the sake of appeasing longtime U.S. allies.
Another option Europe could consider is to introduce a blocking regulation—a countermeasure that effectively gives European businesses legal cover not to comply with the sanctions. That would not be unprecedented: The EU first imposed a blocking regulation in 1996 after the Clinton administration passed sanctions prohibiting certain kinds of trade with Libya, Iran, and Cuba. Clinton eventually approved waivers limiting the impact of these sanctions on European companies. Still, a blocking regulation would be extreme and would be unlikely to compel risk-averse companies with interests in the U.S. to invest in Iran.
"Already Iran has been deprived of most of the economic benefits of this deal because of the uncertainty over U.S. policy," Barbara Slavin, the director of the Atlantic Council's Future of Iran Initiative, told me. She added that Iran has yet to attain the level of trade and investment it had hoped it would get as a result of the JCPOA.
This hasn't helped the agreement's popularity. A January poll by the Center for International and Security Studies at Maryland and IranPoll found that just 26 percent of Iranians surveyed strongly approve of the agreement, down from 42.7 percent in 2015. When asked if Iran should commit to the deal in the event that only the U.S. withdraws from the agreement, more than half of respondents said Iran should also withdraw. Perhaps most tellingly, 67 percent of those surveyed said the country's experience in the JCPOA proves that concessions are not worthwhile "because Iran cannot have confidence that if it makes a concession world powers will honor their side of an agreement."
This bodes poorly for Trump's statement Tuesday that Iran is "going to want to make a new and lasting deal, one that benefits all of Iran and the Iranian people—when they do, I am ready, willing, and able." But it portends even worse for Europe, which can hardly hope to keep the nuclear agreement afloat if it can't persuade Iran to continue its commitment to it. The U.S.'s violation of the agreement is at risk of being seized by Iranian hardliners as evidence that the U.S. cannot be trusted, leaving Iran with no choice but to abandon the deal or resume its enrichment program. Slavin said leaders like Rouhani and others identified with the deal "are under a lot of pressure and are facing a great deal of criticism for being naive for trusting the United States."
When I asked Slavin whether Iran will feel it can trust the EU, she said,"I think the chances are small. Europe will try, but I don't know what they can do to compensate Iran. … I'm just not sure Europe has the political will to do what might be required to convince Iran that it's worth its while staying in the deal."
We want to hear what you think about this article. Submit a letter to the editor or write to letters@theatlantic.com.