Former South Korean National-Security Adviser: The U.S. May Have to Withdraw Some Troops
Breaking with his fellow conservatives, Chun Yung Woo says "there will be no solution" to the North Korean nuclear crisis without willingness to compromise on the U.S. alliance.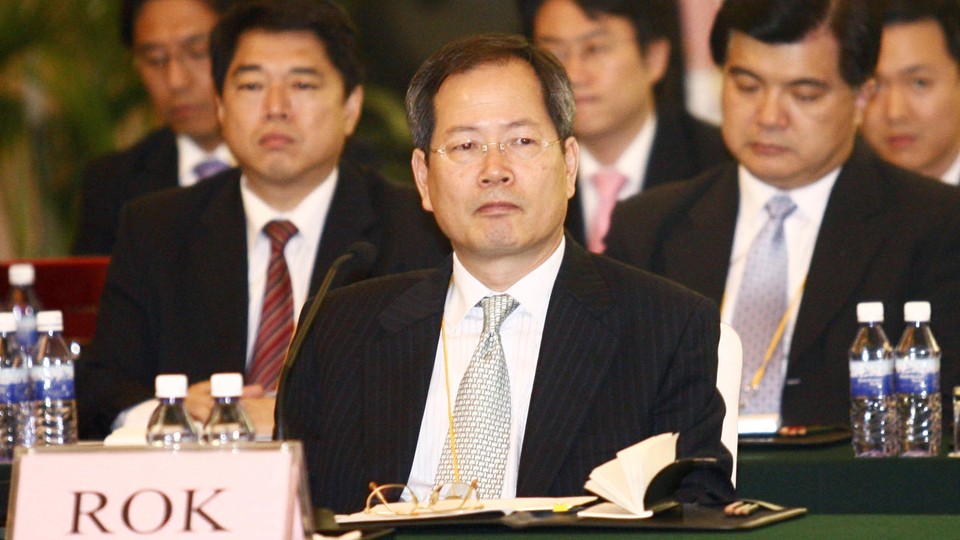 SEOUL, South Korea—In a striking challenge to his fellow conservatives ahead of nuclear talks between Donald Trump and Kim Jong Un, a top aide to former South Korean President Lee Myung Bak told me that South Koreans will "have to live with" a reduction in American forces in Korea "if that's necessary and there's no other way to denuclearize North Korea."
"If we can make a deal with the U.S. on the basis of partial withdrawal—a drawdown of U.S. troops—that's something I think we should discuss seriously," said Chun Yung Woo, who served as national-security adviser to Lee—a conservative hard-liner on North Korea and champion of the U.S.–South Korea alliance—from 2010 to 2013.
Discussion over the status of U.S. forces in South Korea is so touchy that, when a New York Times report suggested that the Pentagon might draft plans for a drawdown, it prompted furious denials from the Trump administration. When an adviser to President Moon Jae In speculated that a peace agreement with North Korea would generate public debate about the rationale for an ongoing American military presence in Korea, it produced an outcry in South Korea. Chun, whose conservative brethren tend to be uncompromising on the need for the U.S. alliance, said of his own remarks, "All Korean conservatives will try to crucify me."
"If you ask most Korean conservative academics or politicians, they will say that U.S. troops shouldn't be withdrawn under any circumstances," even in the unlikely event that North Korea agrees to give up all its nuclear weapons and fissile material but makes the continued presence of American forces in South Korea a "make-or-break issue" to close the deal, Chun told me recently in Seoul. (Chun has dealt directly with the North Koreans on the nuclear issue. From 2006 to 2008 he led the South Korean delegation to the six-party talks, the ultimately unsuccessful multilateral effort to constrain the North's nuclear program.) "But I'm wondering whether Korea will be … more secure with a nuclear-armed North Korea [and] with U.S. troops staying in South Korea."
"We have to find ways for the U.S. to fulfill its alliance commitments [to help defend South Korea] … credibly" that don't require the United States to maintain its current military footprint in South Korea, he contended, without specifying what those alternatives could look like. (The last time the United States fully withdrew its forces from Korea, in 1949, North Korea invaded South Korea, prompting the U.S. military to return to the peninsula to fight the Korean War. But the United States has repeatedly modified its military presence there. George H. W. Bush, for example, withdrew U.S. tactical nuclear weapons from South Korean territory in 1991. The number of American troops in Korea has declined from over 75,000 after the Korean War in 1955 to 28,500 today. )
There has been speculation that not only would Kim demand an end to or transformation of the U.S.–South Korea alliance as part of a grand bargain, but that an alliance-skeptical Trump would oblige. Trump, in fact, has eagerly enticed Kim with "protections" in exchange for disarmament. For their part, South Korean conservatives have been vigorously defending the alliance as essential to South Korea's security. The liberal administration of South Korean President Moon Jae In has insisted that the future of the 65-year-old alliance will be decided through deliberations between the United States and South Korea, not in negotiations with North Korea. But many conservatives are concerned that the Moon government, in its zeal to engage North Korea and achieve inter-Korean peace, could support scaling back or scrapping the security partnership with America as reconciliation with the North proceeds.
The sensitivity of the issue has left liberals like Chung In Moon, a foreign-policy adviser to the South Korean president, on the defensive against conservative outrage. After telling The Atlantic recently that he hopes South Korea will eventually transition away from the U.S. alliance once North Korea is no longer an enemy, for example, Moon moved to quiet the controversy by stressing that he was not calling for the withdrawal of U.S. troops or the end of the "indispensable" U.S. alliance in the foreseeable future.
Chun, however, suggested that conservatives shouldn't be so quick to shut down debate about the painful compromises that denuclearizing North Korea may require. "In terms of our security interests, I think" a partial U.S. troop withdrawal is something that "we have to be prepared to live with," he said. "If Korean conservatives camp on their existing comfort zone, I think there will be no solution" to the North Korean nuclear crisis.
Given his involvement in the six-party talks, which collapsed in 2009, Chun is well aware of how elusive a solution has been. But he's also not willing to consider a drawdown of U.S. troops for just any solution. He told me, for instance, that he would not support a pact in which the United States and South Korea trade a partial withdrawal of American forces for only a partial dismantling of North Korea's nuclear-weapons arsenal.
Chun is skeptical that Kim Jong Un is truly committed to doing away with his nuclear weapons. What Chun has learned over decades of dealing with North Korea is that the North speaks of a nuclear-free Korean peninsula the way nuclear-weapons powers including the United States speak about a nuclear-free world—as "a long-term, distant aspiration of humanity," he said. Kim "will try to hold as much [of his] nuclear arsenal as possible for as long as possible," he told me. (Trump, by contrast, said this week that he would prefer North Korea denuclearize "over a very short period of time," though he notably did not insist on such an approach.)
Still, Kim's interest in receiving massive assistance to develop the North Korean economy might motivate him to make surprisingly big concessions, Chun reasoned, if only because he's now confident that he will retain the scientific and industrial know-how to rebuild his advanced nuclear arsenal in short order even if he gives up all his nuclear bombs and enrichment capabilities. (If Kim, a young ruler for life, decides to reconstitute the nuclear program in 10 years, when the term-limited President Trump and President Moon are long out of office, he'd be doing so while presiding over a country that could be "10 times stronger than now economically," Chun mused. "It's a piece of cake!") Chun expects North Korea to also seek security guarantees that would reverse what it perceives as America's "hostile policy": a nonaggression pact, the normalization of relations between the United States and North Korea, a peace treaty, and potentially the withdrawal of U.S. forces from South Korea, though the North might refrain from this last demand and let "anti-American elements in South Korea ... take care of this problem" by driving out the U.S. military in the euphoric wake of a peace accord.
Chun claimed that many of Moon's advisers are "uncomfortable with" the U.S. alliance and "built up their careers as anti-American activists," though their views "may have evolved over time," citing as an example Moon's chief of staff, who was once imprisoned for helping a fellow student activist make an unauthorized visit to North Korea in 1989. But he acknowledged that Moon has emphasized the importance of the U.S. alliance and dismissed talk of removing U.S. forces. "The best scenario for Moon Jae In," if a troop withdrawal has to happen, "is that Trump makes the decision and it looks as if [Trump's] decision is forced on" Moon, which makes it "easier to sell it to the Korean public," Chun said. On Tuesday, during a meeting with Trump at the White House, Moon attached an array of high hopes to the U.S. president's negotiations with Kim Jong Un: not just denuclearization, but also ending the Korean War, establishing diplomatic ties between the U.S. and North Korea, and establishing a "permanent peace regime." The "fate and the future of the Korean peninsula hinge on this," Moon said.
Imagine, Chun continued, that "everything is resolved in negotiations between Trump and Kim Jong Un except U.S. troops in South Korea. This remains the last obstacle in an historic deal. And Trump will find his place in history only if he promises to withdraw all U.S. troops from South Korea," or at least draw them down. "Trump asks Moon Jae In: 'Okay, Jae In, if only you agree to withdraw U.S. troops, everything is resolved. There will be no more nuclear weapons in North Korea. Would you prefer a nuclear-armed North Korea with U.S. troops in South Korea or a denuclearized North Korea without U.S. troops in South Korea?'"
"It will be a very embarrassing question for Moon Jae In to answer," Chun told me. Trump might on his own come to the conclusion that a withdrawal of U.S. troops in exchange for denuclearization will make the U.S. safer. In which case, Chun noted, "I don't think Moon Jae In will ferociously object to that. … Even though he is excited about that, he could say [to Trump], 'I will reluctantly take your advice.'"