Turkey's Dangerous Game of 'Hostage Diplomacy'
How an American pastor became a political pawn for Erdogan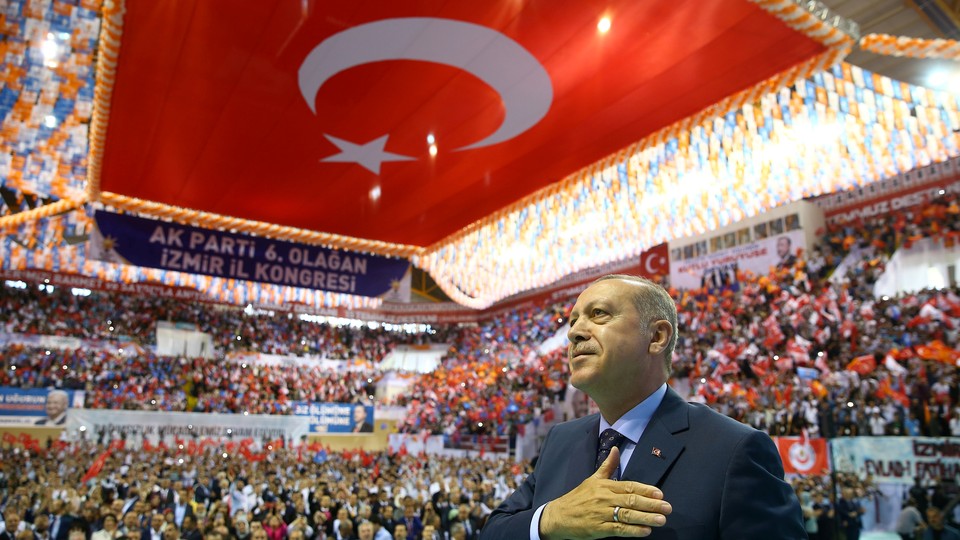 On October 7, 2016, Andrew Brunson, a 50-year-old American pastor working as a missionary in Turkey, received a call from the police requesting that he come in for a visit. Since 1995, Brunson had lived in the city of Izmir in western Turkey, serving as a Presbyterian pastor. When the police got in touch, he had been awaiting the renewal of his residence permit, and figured it might be ready. Instead, the police detained him on suspicions of collaborating with terrorists, and imprisoned him without charges for the next year and a half. Expectations for a quick dismissal or deportation order diminished, as Brunson was moved from one jail to another. At times, he shared a cell made for eight prisoners with 21 others, his lawyer, Ismail Cem Halavurt, told me.
A few weeks before April 16 of this year, the start of Brunson's trial, he finally learned of the charges against him: espionage and committing crimes on behalf of terrorist organizations. These terrorist groups include the Kurdistan Workers' Party (PKK), which has been waging a decades-long separatist insurgency in Turkey, and the followers of Fethullah Gulen, an Islamist cleric living in Pennsylvania who the Turkish government blames for orchestrating a failed coup in 2016. Brunson's trial ended with the judge upholding a judicial order that he remain behind bars until May 7, his next court date. If found guilty, Brunson could face 35 years in prison—a common fate for state dissidents and those suspected of taking part in the attempted coup, which sparked a wave of mass purges and arrests by the state that have implicated more than 150,000 people.
Last August, Brunson's 20-year-old daughter, Jacqueline Furnari, visited him in prison. By that point, he had lost 50 pounds. "He looked different, he sounded different. … It was really hard to see my dad like that," she told me when we spoke on the phone. "I know he didn't like having me see him like that. Kind of weak and broken and desperate."
For Recep Tayyip Erdogan, the president of Turkey, Brunson's case offered a chance to engage in a sort of hostage diplomacy. In a speech last fall, Erdogan appeared to link Brunson's release to his demands for the extradition of Gulen by the Trump administration. (U.S. officials claim they have yet to receive adequate evidence to fulfill the request.) "'Give us the pastor back,' they say. You have one pastor as well. Give him to us," Erdogan said, referring to Gulen. "Then we will try him [Brunson] and give him to you."
Brunson's ongoing incarceration also serves a clear political purpose for Erdogan. On April 18, his government called for snap elections, which are scheduled for June 24. Erdogan, who has led Turkey since 2002, seeks to capitalize on nationalist enthusiasm spurred by his recent military operations against Kurdish militants in northeastern Syria. He also hopes to further consolidate his power following last year's constitutional referendum, which will concentrate governing powers under the presidency.
Erdogan may also need a convincing win at the ballot box before Turkey's glum economic forecasts can incite a backlash among his supporters. With so much at stake, he knows he can rally the base by provoking Washington—and Brunson's case gives him the means to do so. Standing up to the United States "is politically positive for any Turkish leader," Howard Eissenstat, a nonresident senior fellow at POMED, a Washington-based think tank, told me. "The fact that the U.S. is outraged, the fact that there's discussion of sanctions … reinforces the very things that many Turks find attractive about Erdogan."
Relations between Ankara and Washington began to falter when the United States started arming Kurdish militants in operations against the Islamic State in Syria. President Donald Trump's decision to move the U.S. embassy in Israel to Jerusalem didn't help the relationship. Then came the trial in New York of Mehmet Hakan Atilla, a Turkish banker convicted of helping Iran skirt international sanctions. In the coming months, U.S. authorities may impose sanctions on Turkish banks for their alleged role in facilitating Atilla's maneuvers. They may also move to restrict the travel of Turkish officials they hold responsible for detaining roughly a dozen U.S. citizens currently held in Turkish prisons, including Brunson.
Turkey is also in the process of buying Russian-made S-400 anti-aircraft missiles. These missiles are incompatible with NATO-bloc defense systems, meaning that missile systems already installed in Turkey under the NATO umbrella would be unable to communicate with Russian-made systems. The purchase may heighten tensions between Turkey and Western allies, potentially leading to another round of sanctions. Additionally, U.S. senators have revived talks of blocking the transfer of more than 100 F-35 warplanes to Turkey—some of which Turkey has already paid for. Those talks originally began in response to a street brawl involving Erdogan's security detail in Washington last May.
While the effort to block the transfer has been dropped, the incident on U.S. soil tainted Erdogan's image in Washington. This past Friday, Congress released a defense bill that included a measure to temporarily halt weapons sales to Turkey, potentially jeopardizing the F-35 sale once again. Any future sanctions or actions to halt trade or weapons sale with Turkey will be harsher and "more pointed," Aaron Stein, a senior resident fellow at the Atlantic Council, a Washington-based think tank, told me. "You do have a Congress that's very upset with Turkey and wants to do something, and Brunson is a galvanizing factor" to take harsher action against Ankara.
---
In Brunson's first court appearance on April 16, witnesses for the prosecution testified through video monitors that distorted their faces and voices in order to conceal their identities. One claimed the pastor was part of a CIA-backed network of Christian missionaries trying to convert PKK militants in order to help them divide the Turkish state. "In Turkey, if there's an investigation that lacks evidence, it's kind of the custom now to fortify the case with secret witnesses that have no credibility, no link to reality," Halavurt, Brunson's lawyer, told me. He said the charges against Brunson spawned from his humanitarian work in southeastern Turkey in 2014, when he brought members of his congregation to aid Kurdish and Arab refugees fleeing Syria during the siege of Kobani. Other international-aid organizations operating in Turkey have come under similar scrutiny.
Additional accusations against Brunson include that he met with high-ranking officials of the Gulen movement and that he has links to Izmir-based Mormon missionaries, on whose computers Turkish police allegedly recovered confidential government files, Halavurt said. He also said that the files in question were lists of Turkish railroad employees and that the information within them was attained through Google searches. The Turkish Ministry of Interior did not respond to requests for comment on the charges against Brunson.
Recently, North Carolina Senator Thom Tillis visited Brunson, one of his constituents, and co-authored a bipartisan letter signed by 66 U.S. senators pressing Erdogan to release him. Tillis attended the 12-hour trial, and described what he saw as a "kangaroo court." "There is no way that the charges levied against him would have kept somebody in jail in the United States for more than a day," Tillis told me.
Brunson founded several churches in Izmir, including the Resurrection Church, a nondenominational congregation where he often preached. The church operates out of an unremarkable one-and-a-half story pastel-yellow building located on a small side street in the city center. On the door hangs a poster indicating the church's hours of operation. Above it, there is a gold-colored sign with a black cross on it reading Diriliş Kilisesi, or Resurrection Church.
On a recent Sunday, the small building, big enough for no more than 50 to 60 people, was nearly packed. Roughly half were Turks and half foreigners, all of whom prayed for Brunson's release. Umut Dogan, chair of the Resurrected Churches Association, converted to Christianity 12 years ago and now delivers the occasional sermon at the church. He said Brunson played an integral role in his understanding of the faith. "For me, it was a privilege to get to know him and develop a close relationship. He will always be in my life," Dogan said, praising Trump for tweeting about Brunson. "We love [Brunson] and his family. Everyone knows that he made sacrifices to develop and improve the lives of people in his community."
Brunson is the only American citizen on the prisoners of conscience list issued by the U.S. Commission on International Religious Freedom, which monitors religious-freedom violations and raises awareness for persecuted faith leaders around the globe. The commission's vice chair, Sandra Jolley, met Brunson during a visit last October, and said she was shocked by his condition. He was in distress and seemed to struggle to formulate words in English. "As we proceeded … he expressed his fears of dying alone there. Not being able to see his children in his country again. His deepest fear was that he would be abandoned at some point and that the world would actually believe the charges that had been fabricated against him," she added. She plans to attend the May 7 proceedings.
Apart from consular and legal visits, Brunson is allowed weekly visits from his wife, Norine, who has stayed in Izmir to support him. He has been prescribed anti-depressants and is currently sharing a cell with one other prisoner in Kiriklar prison, who he gets along with, according to Halavurt.
Halavurt said a new witness is expected to testify on May 7. Evidence presented in the new testimony could prolong the trial. Halavurt said that one of the witnesses, whose identity remains concealed, is believed to be a former member of Brunson's congregation who had a falling out with the Christian community in Izmir. "I want to stay hopeful, and I am hopeful he might be released. But in cases like this, it's not all law here," Halavurt said. "There are other things that are in play."
Back in North Carolina, Brunson's daughter Jacqueline also waits for a verdict. She recently married and is postponing the wedding ceremony so her father can "walk her down the aisle." Yet considering the events her family has endured since October 2016, she wondered if they would ever again achieve a sense of normalcy. "Being locked up in a prison on false charges for a year and a half, it changes someone," she said. "I don't think my dad will ever be the same person that he was before all of this. This has definitely changed him and it's left a mark."