Trump's Pick to Lead Refugee Efforts Is a Critic of Immigration
"To put somebody in charge whose track record consists of writing about how much he despises immigrants is just unfathomable."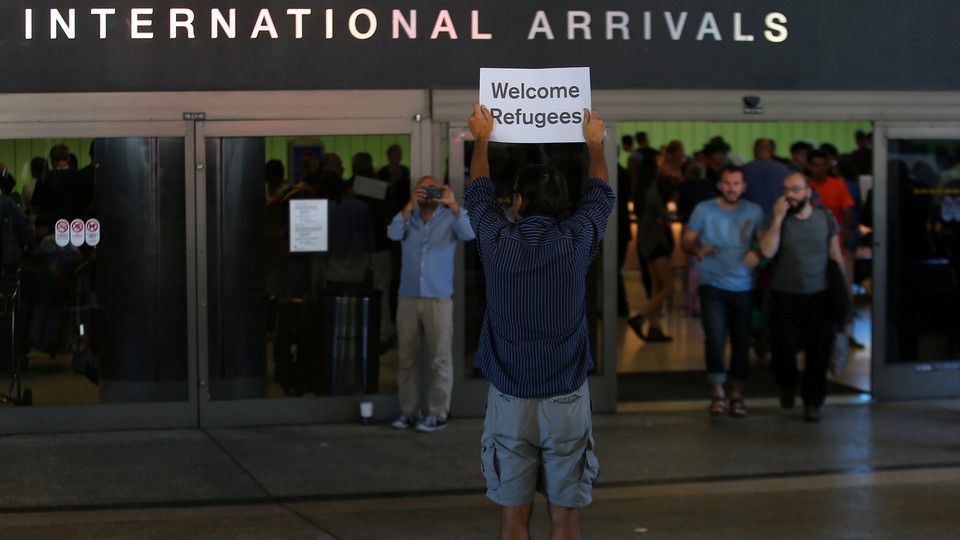 When President Trump picked Ronald Mortensen to head the State Department office that coordinates the U.S. response to global refugee crises, he listed the nominee's credentials that make him suitable for the job: Mortensen, a statement issued last week said, was a retired foreign service officer who had served in France, Australia, Mauritania, and Chad. For the past 15 years, he had worked with the U.S. Agency for International Development, responding to the crises in Iraq, Syria, the Democratic Republic of the Congo, and other places. In other words, Mortensen was an ideal candidate for the job.
What the Trump administration did not mention is Mortensen's views on immigration, which he chronicled liberally in blog posts between  June 2009 and October 2017 for the Center for Immigration Studies, a Washington think tank that supports reduced immigration to the United States; Mortensen is listed as a fellow at CIS. In those posts, Mortensen linked illegal immigration to ID theft and higher crime rates; railed against Dreamers, who were brought to the country as children without documentation; criticized efforts at reforming the nation's immigration system; and specifically targeted Senators John McCain and Marco Rubio, the Mormon church, and evangelical leaders for their support of those efforts. It's worth noting, however, that Mortensen's blog posts were restricted almost exclusively to those who are in the U.S. illegally. I did not find any post in which Mortensen criticized the asylum process that he will soon oversee if he is confirmed by the Senate, or the global refugee architecture to which the U.S. is still the largest single financial contributor.
"I think it's alarming to have people put forward who are so strongly anti-immigrant when the job requires building bridges to other countries and working to help people in need around the world," Anne Richard, who served from 2012 to 2017 as the Assistant Secretary of State for Population, Refugees, and Migration (PRM), the post Mortensen has been nominated to, told me. "And so you can't be hostile to foreign-born people; in terms of running a refugee-resettlement program, it's very important that the person appreciate the American tradition of being a home for refugees and immigrants and wanting to make that work as opposed to tear it down."
Richard's remarks are indicative of the widespread criticism directed at Mortensen's nomination from individuals and groups advocating for refugees in the United States. Eric Schwartz, the president of Refugees International who headed PRM between 2009 and 2011, urged the U.S. Senate in a statement to reject the nomination. Senator Jeff Flake, the Arizona Republican who sits on the panel, has already said he will vote against Mortensen. Rubio, the Florida Republican whom Mortensen called "either exceptionally gullible or just plain dishonest" for his support of immigration overhaul, is also on the panel, but hasn't yet publicly said how he will vote. Democratic senators have expressed reservations about the nomination.
But other than those blog posts, little is known about Mortensen, who spent years in government service and created few ripples. Jeremy Konyndyk led USAID's  Office of Foreign Disaster Assistance from 2013 to 2017, overseeing the U.S. response to international disasters. That's where, he said, he came across Mortensen. Konyndyk, who is now a senior policy fellow at the Center for Global Development, told me Mortensen was on OFDA's surge roster, a team of personnel sent in emergency situations to various countries. He said USAID dispatched Mortensen occasionally "when we couldn't cover the staffing needs from within the normal staff." Konyndyk said Mortensen's expertise was in administrative support for large deployment; Trump's nominee would manage staffing and get hotel rooms booked, among other tasks. Mortensen, Konyndyk said, also deployed on rotations to Iraq as a team leader while the office was recruiting for a permanent position for that job.
"I never talked immigration with him, obviously," Konyndyk said. "In my dealings with him as a professional, he was competent in the roles we gave him. He was a pleasant guy to work with in my experience. I certainly never saw anything of this fire-breathing, anti-immigrant zealot, and I didn't learn of any of that until I left government. But I was pretty shocked when I read some of his blog posts. It seemed very different from the guy I had known and worked with. Clearly he had a side that he didn't show at work."
Mortensen's nomination is part of a larger pattern of the Trump administration relying on critics of immigration to staff its immigration-related functions. Andrew Veprek, who is seen as skeptical of the U.S. refugee program, is now the deputy assistant secretary in the bureau that Mortensen has been nominated to lead. Veprek, a foreign service officer, was previously at the White House where he worked closely with Stephen Miller, Trump's senior adviser, who supports lower immigration to the U.S. Jon Feere, who also worked at CIS, is now a senior adviser to Thomas Homan, who is the director of the bureau of Immigration and Customs Enforcement. The administration has also nominated Ken Isaacs, the vice president of Samaritan's Purse, a Christian charity group, to head the United Nation's International Organization for Migration. Isaacs has made remarks criticizing Islam.
As a presidential candidate, Donald Trump called for a ban on all Muslims entering the United States and for a total ban on Syrian refugees. His travel ban includes mostly Muslim countries (though the vast majority of the world's Muslims can still enter the U.S.) and, so far this year, only 11 Syrian refugees have been admitted into the U.S., according to the most recent data. Trump's administration has set a ceiling of 45,000 refugees for this fiscal year—the lowest in decades.
"Their goal is to break the system. It's to make it so that the U.S. is no longer the leading country for refugee resettlement," an expert on refugee-related issues, who requested anonymity out of a fear of retribution from the Trump administration, told me.
"They [the Trump administration] are succeeding on all fronts," the expert said. "But unfortunately that success is undermining the mission of the Bureau of Population, Refugees, and Migration, and it's undermining leadership of the United States in refugee protection."
The U.S. leadership in refugee affairs has been forged over decades through bipartisan consensus. Since President Reagan signed the Refugee Act in 1980, successive U.S. presidents have, on average, set a ceiling of 95,000 refugees per fiscal year. The U.S. is the single largest financial donor to the world's refugee crisis, and has traditionally been generous about accepting refugees as well, though the numbers fell after the attacks of September 11, 2001. But Trump, as he said in September 2017, wants to resettle refugees near the countries from which they are displaced. Many of these nations are sometimes as impoverished or unstable as the places from which they are fleeing.
"The entire Trump administration is a departure from years and decades of bipartisan cooperation to bring refugees to the Unites States," Richard, who is now a professor at Georgetown University's School of Foreign Service, told me. "This wasn't a hallmark of previous Republican administrations."
Indeed, the immigration expert called Mortensen's nomination "a provocation by the administration. … To put somebody in charge whose track record consists of writing about how much he despises immigrants is just unfathomable."
Konyndyk said the White House statement's focus on Mortensen's work at USAID suggested that's why he was being picked for the job, but "to my mind, it's very clear that's not why he's being nominated for this post." He said while Mortensen was competent, that word also described about 100 other people who were on the surge roster alongside the president's nominee.
"None of them, I would say, were being actively considered for this post. There's nothing in what I saw, nothing at his work at USAID that would naturally incline one to say this guy would make a great assistant secretary for refugees at the State Department," Konyndyk said. "And I think it's pretty clear what sets him apart is not the work he did at USAID, it's the blogging he did at CIS, and given the broader context of this administration, it's pretty clear that's why he has been nominated."