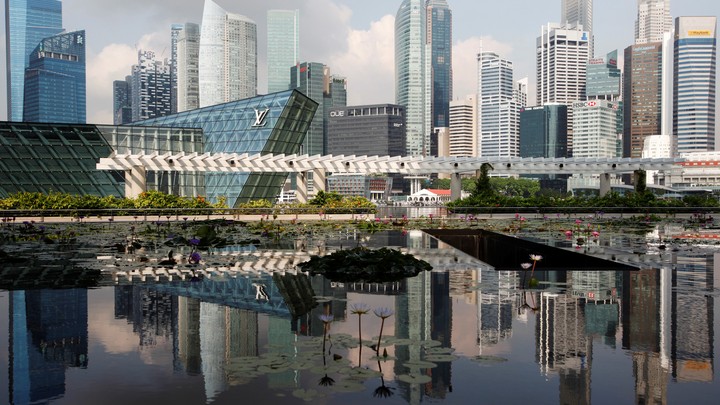 SEOUL—Lee Kuan Yew, the founding father of Singapore, was often described as a big man on a small stage. Now that small stage will need to accommodate two big men. On Thursday, Donald Trump announced that he will hold nuclear negotiations with Kim Jong Un—the first encounter between a U.S. president and North Korean leader—on June 12 in the Southeast Asian city-state.
It's a safe choice over a symbolic one. Singapore has no special connection to the Korean conflict or the North Korean nuclear crisis. But it does have the distinction of maintaining relatively good relations with both the United States and North Korea, and thus serves as neutral territory. The "more Representative, Important and Lasting site," as Trump himself put it in a tweet several days ago, would have been the Panmunjom truce village at the border between North and South Korea, where the 1953 Armistice suspending the Korean War was signed, where that conflict's unresolved hostilities have repeatedly flared up, and where Kim just held a historic meeting with South Korean President Moon Jae In last month.
But that symbolism may have ultimately looked more forbidding than appealing to U.S. officials—and not just because Trump, with his affinity for show business, probably wasn't thrilled about simply repeating the pageantry of the inter-Korean summit.
In Seoul this week, the North Korean defector Jung Gwang Il told me that a Trump-Kim summit at Panmunjom could have played into North Korean propaganda. North Korean media would probably report "how the Americans knelt down to their great leader and surrendered to him," he predicted.
Kim Jiyoon, a senior fellow at the Seoul-based Asan Institute for Policy Studies, said that while a U.S.-North Korea summit in Singapore could focus solely on North Korea's nuclear-weapons program, a meeting in a place like Panmunjom or the North Korean capital of Pyongyang would suggest something different. It would draw attention not just to denuclearization but also to "the peace process on the Korean peninsula and … America's [military] presence in Northeast Asia." The United States and North Korea may not be prepared to have the latter conversation yet.
Then's there's the thorny matter of history. In explaining why he supported a Trump-Kim summit at Panmunjom, Moon Chung In, a foreign-policy adviser to South Korea's president, noted that American military officers had divided up the Korean peninsula between the United States and the Soviet Union at the end of World War II, with the border shifting a bit as a result of the Korean War to the contemporary Demilitarized Zone. "If Trump comes to the site, that means that Americans recognize past mistakes. And it's a commitment not to repeat the same mistake," he told me before the U.S. president announced the location of the meeting. The "Korean division, Korean War, and the continuing, protracted conflict on the Korean peninsula ... primarily is [North Korea's] fault, but America is partly blamed for" it. Moon imagined Trump meeting Kim at the DMZ and then inviting South Korea's president to join them for talks on finally declaring an end to the Korean War.
The United States and North Korea have sidestepped all these issues by agreeing to convene in a place that is happily without baggage. But as John Delury, a Korea expert at Yonsei University in Seoul, told me on Thursday, that also means the summit may lack some of the daring diplomacy that characterized the U.S. opening to China in the 1970s. Nixon, he pointed out, "didn't go to Singapore."
We want to hear what you think about this article. Submit a letter to the editor or write to letters@theatlantic.com.