North Korea's Dangerous Game of Telephone With the United States
Kim Jong Un "has been playing a high-risk, high-return game. And he has never lost a bet thus far."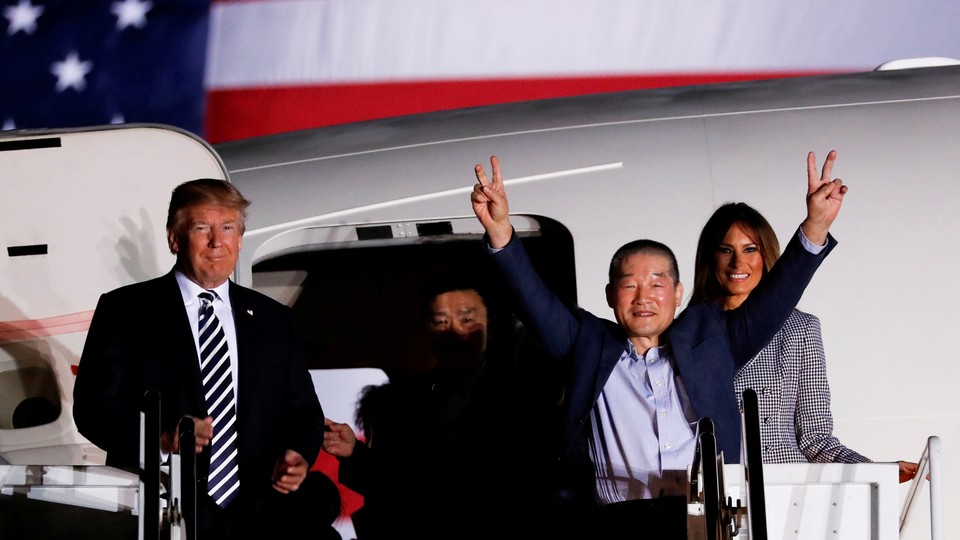 SEOUL, South Korea—The incredible spectacle in recent days of Kim Jong Un becoming the first North Korean leader to step into South Korea, and Donald Trump welcoming home American hostages from North Korea, and Kim and Trump announcing an unprecedented meeting next month in Singapore, inflated expectations for a breakthrough. After 25 years of failing to denuclearize North Korea, and 65 years of failing to secure peace on the Korean peninsula, something historic seemed finally within reach.
Then Wednesday happened.
First North Korea abruptly suspended high-level talks with South Korea and threatened to pull out of the upcoming Trump-Kim summit. The North Koreans argued that an annual U.S.–South Korean air-force drill that began Friday was a "provocative military racket" by "U.S. imperialist aggressor forces." Further, the North Koreans said, it violated the spirit of reconciliation in the declaration that North and South Korea concluded during their summit last month. Then Kim Kye Gwan, North Korea's first vice minister of foreign affairs, called the Trump-Kim summit more into question by condemning the U.S. approach to dismantling his country's nuclear weapons.
The developments highlight the fragility of the current diplomatic campaign to denuclearize North Korea. But they also reveal the perilous downsides of the international game of telephone that has been playing out over the last few months regarding North Korea's intentions.
South Korean officials, for example, have claimed that Kim Jong Un is no longer demanding that the United States halt its military exercises with South Korea and withdraw American troops from South Korea in return for the North giving up its nuclear weapons. But North Korea's furious objections to this week's drill suggests that its willingness to compromise on these key issues may not hold up to scrutiny.
South Korean President Moon Jae In, a pro-engagement progressive who has played a lead role in orchestrating the frenzied diplomacy with North Korea since the Pyeongchang Winter Olympics, "keeps acting like North Korea's spokesperson" and casting North Korea's positions in "the best light," said Han Sung Joo, a former South Korean foreign minister. The Kim government, we're told, is prepared to remove its cherished nuclear program for transformed relations with South Korea and the United States. But Kim may simply be interested in obtaining sanctions relief to boost the North Korean economy and some form of acceptance of his nuclear weapons as a "fait accompli."
The statement on Wednesday by North Korea's deputy foreign minister, in fact, exposed the giant chasm that exists between his government's definition of "denuclearization" and America's, with less than a month to go before Kim and Trump are supposed to meet and strike a grand bargain.
Whereas U.S. officials hope Kim Jong Un has made the strategic calculation that he'll be more secure without nuclear weapons than with them, the North Korean statement noted that Kim had made a "strategic decision" to merely "put an end to the unpleasant history" of North Korea–U.S. relations and even described North Korea as a "nuclear weapon state."
Whereas U.S. officials view the Trump-Kim summit as a means of disarming North Korea of weapons of mass destruction, the North Korean statement characterized the meeting as an opportunity for "catalyzing detente on the Korean peninsula."
Whereas U.S. officials such as National-Security Adviser John Bolton have advocated a kind of big-bang denuclearization—in which North Korea would speedily ship its whole nuclear program out of the country, like the former Libyan leader Muammar Qaddafi did with his far more rudimentary program in the 2000s, before receiving economic assistance and other rewards from the United States—the North Korean statement called Bolton repugnant. It dismissed the Libya model as a good way to end up dead as a result of a U.S.-led military intervention, the way Qaddafi did during the Arab Spring.
Whereas U.S. officials insist on the "complete, verifiable, and irreversible" dismantling of North Korea's nuclear arsenal, the North Korean statement ruled out such "unilateral nuclear abandonment."
North Korea favors a step-by-step formula, whereby it would receive compensation each time it takes incremental action to roll back its nuclear program, the North Korean defector Jung Gwang Il told me. Such an approach allows Kim, who expects to rule North Korea for the rest of his life, to play a long game and outlast Trump and Moon, both democratically elected leaders with term limits. But he predicted that even this gradual form of denuclearization "will never happen."
North Korea has "developed nuclear weapons while thousands of people starve to death. Do you think they'll give it up so easily?" asked Jung, a former political prisoner who met with Trump in the Oval Office in February to recount his ordeal. North Korea's nuclear arsenal is its "pride and joy," and it's why Kim is where he is now, on the verge of going head-to-head with Trump in Singapore. "I lived in North Korea for over 40 years," he noted. "I know what they're like."
Chun Yung Woo, the former national-security adviser to the conservative South Korean President Lee Myung Bak, was less doubtful that progress could be made on denuclearization. While Kim "will fight to hold as much of his nuclear arsenal as possible for as long as possible," Chun told me, he might actually abandon major components of it in exchange for help with developing the North Korean economy since he's confident he now has the know-how to rebuild the nuclear program in the future if he wants.
But make no mistake, Chun said: It's Kim Jong Un, not Moon Jae In or Donald Trump, who is "in the driver's seat" at the moment. By reaching out to South Korea in the winter after successfully building out his long-range nuclear arsenal and inviting Trump to a summit after his rapprochement with South Korea during the Olympics, Kim "chose the timing, the circumstances" of the present season of diplomacy, Chun explained.
Kim has also boxed in South Korea and the United States by encouraging the leaders of both countries to invest serious political capital in the success of diplomacy; already, in response to North Korea's fit of pique, the U.S. and South Korea have indicated that nuclear-capable B-52 bombers won't participate in this week's military exercises, and the White House has downplayed Bolton's demands for Libya-style denuclearization. As the North Korean statement pointedly declared on Wednesday, "If President Trump follows in the footsteps of his predecessors, he will be recorded as a more tragic and unsuccessful president than his predecessors, far from his initial ambition to make unprecedented success."
Kim is "a consummate strategist of our time," Chun told me. "He could outsmart and outmaneuver Xi Jinping, Moon Jae In, President Trump—everybody thus far. … He has been playing a high-risk, high-return game. And he has never lost a bet thus far."