The Alternate Future Hinging on Trump's Iran Decision
In one scenario, the Islamic Republic slowly restarts its nuclear program—and further destabilizes the region.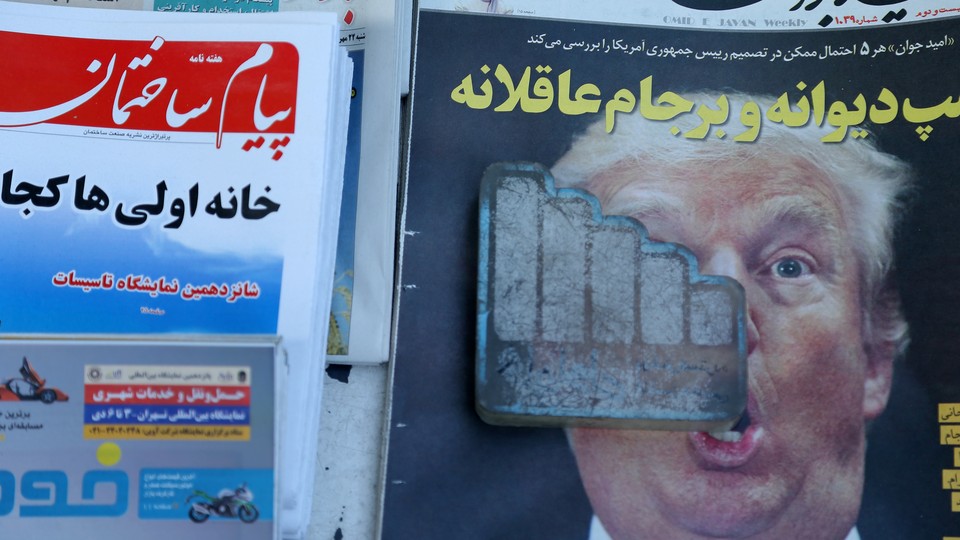 Last fall, a group of Israeli and American experts simulated what could happen next if Donald Trump were to do what he may well do Tuesday afternoon: reinstate sanctions lifted as part of the 2015 international nuclear deal with Iran. When the simulation concluded after nine hours, it wasn't with a triumphant United States and a submissive Iran. While Trump argues that the U.S. "got nothing" from the "horrible agreement," the exercise conducted by the Israel-based Institute for National Security Studies and the U.S.-based Rand Corporation suggested that nixing the agreement wouldn't get America much either.
The participants, who included a former Israeli defense minister, a former Israeli ambassador to Russia, and a prior U.S. ambassador to Israel, shuttled between conference rooms and the cafeteria at INSS's offices in Tel Aviv, playing the roles of key actors such as the United States, Iran, Israel, Europe, Russia, and China. And the European and Russian parties to the agreement each scrambled to salvage it by pressing Iran for concessions on issues such as its ballistic-missile program and meddlesome activities in the Middle East; Russia even dangled a bilateral defense treaty in front of Iran as an enticement. But Trump remained unsatisfied and European companies held back from doing business in Iran.
"The Iranians understood that everything is falling apart" and, at first cautiously, resumed their nuclear program, said INSS's Sima Shine, who previously worked on Iran at Israel's Ministry of Strategic Affairs and intelligence agency Mossad.
Drawing on the findings of the simulation, Shine sketched out for me one possible scenario for how things could play out in the coming weeks and months. Trump might finally follow through on his threats and announce that he will no longer waive sanctions on Iran. But since the deadline that the president is facing at the end of this week involves only sanctions related to the import of Iranian oil, and deadlines for waiving other sanctions imposed over Iran's nuclear program are coming up in July, Trump could offer a temporary exemption for reinstating the sanctions in order to give the various parties another couple months to address his concerns about the deal—similar to how he has strung along trade talks with Canada, Mexico, and the European Union through short-term tariff exemptions.
Trump's action would likely be greeted with support from Israeli Prime Minister Benjamin Netanyahu, an unsparing critic of Barack Obama's negotiations with Iran, and few others. The Iranians might initially react with restraint, Shine told me, since they don't want to be blamed for the nuclear agreement falling apart, and since the United States wouldn't be in violation of the pact until the reinstated sanctions go into effect. Still, they are also likely to resist prodding by the Europeans, who they know are more susceptible to coercion from the United States than from Iran, to compromise in ways that could result in some new and improved Iran deal—an objective both Trump and his main European interlocutor, French President Emmanuel Macron, have recently committed to pursuing.
The Russians are capable of wringing more concessions from the Iranians than the Europeans are, Shine noted. (In last fall's simulation, the Russian group came up with a novel grand bargain: Russia would demand that the Iran deal be extended another 10 years and that limitations be placed on Iran's missile program and presence in Syria. In exchange, the United States would remove sanctions placed on Russia over its military intervention in Ukraine. The U.S. group didn't accept the offer.) But the deterioration in relations between Russia and Western countries over election meddling, the nerve-agent attack against a former Russian spy in England, and the Syrian Civil War, means Russia, Europe, and the United States are unlikely to work together to secure such concessions.
Ultimately, Shine expects the European and Russian mediation efforts to fail, and the Trump administration to allow U.S. sanctions against Iran to snap back sometime in the next several months, effectively withdrawing the United States from the Iran deal. "I deeply believe that [Trump] wants to get rid of this agreement," she said. He seems to think that Iran will find itself in such dire economic circumstances that it will enter into talks on another agreement, just as international sanctions helped bring North Korea to negotiations over its nuclear-weapons program.
This time, however, Russia and China will not join the United States in imposing sanctions on Iran like they did during the Obama administration, and that lessens the economic pressure on Iran. "There is a lot of talk in Europe that they can circumvent the [U.S.] sanctions," Shine added, but "I don't think it is possible." Big European companies with interests in the U.S. market will likely just disengage from Iran.
As foreign investment dries up, Iran will probably revert to developing its nuclear program in the slow but steady manner it has in the past—reviving uranium enrichment at the Natanz and Fordow facilities and backing out of the more intrusive monitoring and inspection measures that it agreed to previously, even as it remains a signatory to the Nuclear Non-Proliferation Treaty.
The Trump administration is unlikely to initiate another military conflict in the Middle East in response to Iran restarting its nuclear activities, Shine predicted. Still, the president and his advisers may engage in a lot of tough talk about one. Nor is the U.S. administration likely to strike a better nuclear deal with Iran than the one the Obama administration achieved. "Why should the Iranians go for a new deal if this deal is not kept?" she asked. The incentives for Iran to do so are weaker now, since international sanctions won't be as oppressive as they were in the lead-up to the 2015 pact, and the Iranians "see Trump and [National-Security Adviser John] Bolton and [Secretary of State Mike] Pompeo as the most anti-Iran people that could be in one room together."
Shine foresaw, in a matter of months, a more unstable and dangerous world, with Iran still immersed in all the worrying behaviors it's currently exhibiting—extending its influence across Syria, developing missiles, and so on—while suspicion once again descends over its nuclear activities.
"The United States got the ball rolling but had little ability to dictate the events thereafter," the INSS report on the simulation observed. As a result, the U.S. "might well find itself, in a relatively short time, faced with a number of unsavory choices, from settling for achievable but far less ambitious goals on Iran's nuclear program, to prolonged tensions with key allies, to a dramatic escalation with Iran at a time when other priorities, like North Korea, make that undesirable."