The Trump-Kim Summit Will Happen Soon or Later or Never
South Korea's president comes to Washington to prop up diplomacy with North Korea.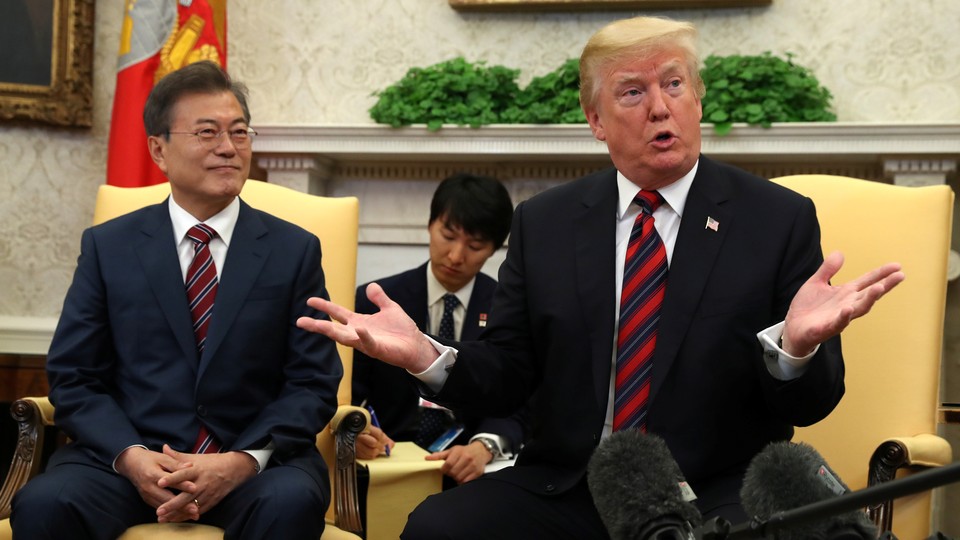 Ahead of Moon Jae In's meeting with Donald Trump on Tuesday, a South Korean official said his president's trip to Washington would serve as "a bridge" between the United States and North Korea, so that Trump and Kim Jong Un can conduct successful nuclear negotiations when they meet in Singapore on June 12. This is the charitable view of the visit. The bleak interpretation is that Moon is bringing his car to a screeching halt at the foot of the bridge and leaping into Trump's car instead to help direct the president before he can veer away from the bridge and over a cliff.
"There are certain conditions that we want" for the June 12 talks, Trump said after greeting Moon at the White House, without specifying what those conditions are. "I think we'll get those conditions. And if we don't, we don't have the meeting. … If it doesn't happen, maybe it will happen later. … We will see."
This was not a ringing endorsement of a world-historical summit that is set to take place in precisely three weeks. Nor was it likely an encouraging sign for the Moon government, which favors engagement with North Korea. Indeed, South Korea's frenetic shuttle diplomacy among players in Pyongyang, Washington, Beijing, and beyond since the Pyeongchang Winter Olympics has been a critical factor in shifting the drama over North Korea's nuclear weapons from the fire-and-fury sort that dominated last summer and fall, to the peace-and-pageantry variety on display today. Everything that South and North Korea agreed to during their summit at the border in April—the joint economic projects, the declaration to end the Korean War, the pursuit of a peace treaty to transform relations between the Koreas and the United States—hinges on the progress of U.S.-North Korean nuclear talks.
The wrench in the works is the North Korean government's threat last week to pull out of the Singapore summit over U.S.-South Korea military exercises and U.S. demands that North Korea take swift and substantial steps to dismantle its nuclear-weapons arsenal. Those comments from the North have left already-skeptical American officials doubting whether Kim Jong Un is really serious about denuclearizing and whether the much-hyped Trump-Kim meeting could prove a giant embarrassment.
As the euphoria of the inter-Korean summit and North Korean hostage-release has given way to what the Korea expert Robert Kelly refers to as a "hangover," the Trump administration is reverting to old ways. Both Trump and Vice President Mike Pence have in recent days threatened Kim Jong Un with the fate of Libyan leader Muammar al-Qaddafi—who was yanked from a drainage pipe and shot to death by his own people following a U.S.-led military intervention—if Kim doesn't strike a nuclear deal with the United States. (If, on the other hand, Kim does a deal, trading away his nukes for security guarantees and economic assistance from the United States and its allies, Kim "is going to be very, very happy," Trump says.)
Sitting with Trump in the Oval Office on Tuesday, Moon tried to sound upbeat. Acknowledging the skepticism in the United States about North Korea's commitment to denuclearization, he observed that there would be no "positive developments in history" if people had assumed "that because it all failed in the past, it will fail again."
Then he addressed Trump. "All this was possible because of you, Mr. President," Moon declared, "and I have no doubt that you will be able to accomplish a historic feat that no one had been able to achieve in the decades past." It was a remarkably sunny statement in the face of a major setback. But more remarkable was the fact that President Trump, a man not known for self-doubt, seemed to have plenty of doubts himself.