So Is the North Korea Summit Back On, or What?
If Trump salvages a summit that looked dead only a week ago, it will be because he has overturned the traditional diplomatic process with North Korea.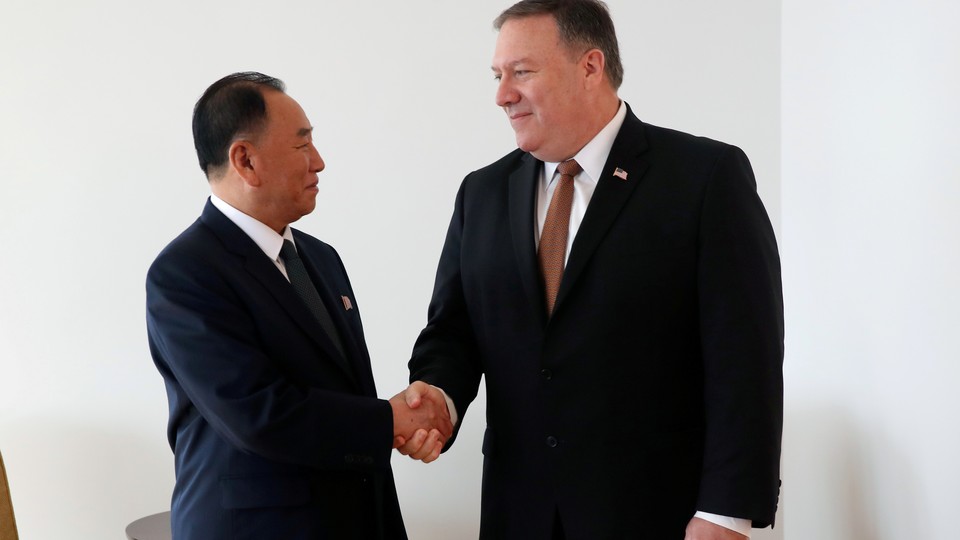 Just one week after Donald Trump abruptly canceled his summit with Kim Jong Un, a flurry of diplomatic activity suggests the meeting is back on. U.S. Secretary of State Mike Pompeo is meeting with one of Kim Jong Un's top advisers, Kim Yong Chol, in New York, while lower-level U.S. officials huddle with their North Korean counterparts on the northern side of the demilitarized zone, to negotiate the summit's substantive agenda. Simultaneously, in Singapore, U.S. and North Korea officials are deliberating over the event's logistics. The summit may even still be on schedule. "We're going to continue to shoot for June 12th and expect to do that," Press Secretary Sarah Sanders said on Wednesday.
Then, on Thursday, Trump told reporters that Pompeo's meetings in New York were going "very well" and that he expected Kim Yong Chol and the rest of the visiting North Korean delegation to make its way to Washington on Friday to give him a letter from Kim Jong Un. Never before has so much depended on a pair of pen pals.
When Trump initially canceled the summit by sending Kim Jong Un a remarkably personal letter, in which the president both threatened nuclear war and urged North Korea's leader to "please … call me or write," critics called it "an example of really bad letter-writing" that would "surely be studied in diplomatic academies everywhere" and likened it to "a 13-year-old's stream of consciousness in a breakup letter from overnight camp." But even if you accept those criticisms, one of the lessons of the past week is that sometimes it takes a really bad breakup letter to revive nuclear negotiations with North Korea.
Trump approached his June 12 meeting with Kim in Singapore "like a real-estate deal: Threaten to walk away but leave the door open," Vipin Narang, a nuclear expert at MIT, recently observed. "It worked."
In the days before Trump regretfully called it off with Kim, North Korea was calling the U.S. vice president and national-security adviser all sorts of ugly names, proclaiming itself a "nuclear weapon state," and warning that it might withdraw from the summit because of U.S.-South Korea military exercises and U.S. demands that North Korea fully and expeditiously dismantle its nuclear program. With Trump due to meet Kim in just a few weeks, the North Koreans hadn't shown up for a planning meeting in Singapore and, in the words of one senior White House official, had responded to U.S. overtures with "radio silence."
Yet after Trump's letter—along with an emergency meeting between Kim and South Korean President Moon Jae In, an architect of international efforts to engage with North Korea, at the Korean demilitarized zone—the chatter resumed with new urgency.
The frenetic meetings occurring around the world this past week have resembled, in compressed form, the consultations that have typically characterized nuclear negotiations with North Korea. But the shortened timeframe and looming Trump-Kim summit are what make Trump's approach unique. While there are plenty of reasons to doubt whether the Trump administration can really convince North Korea to give up its nuclear arsenal, no matter what incentives the United States offers in return, where the president has already broken ground is in inverting the traditional diplomatic process with the Kim government.
Twenty-five years of plodding lower-level nuclear talks have failed to denuclearize North Korea, Trump reasons, so why not shoot straight to the top? As Trump wrote in his letter to Kim, "I felt a wonderful dialogue was building up between you and me, and ultimately, it is only that dialogue that matters." Or, as a senior Trump administration official told reporters in March, when Trump first announced his intention to become the first American president to meet with North Korea's leader, "Kim Jong Un is the one person who is able to make decisions under their uniquely ... totalitarian system."
The last time a North Korean official as high-ranking as Kim Yong Chol came to the United States, for example, was in the fall of 2000, when Jo Myong Rok sat down with Bill Clinton in the Oval Office as nuclear and missile talks that began in the spring of 1999 gathered momentum. At first glance, the context seems strikingly similar to today's. "Within the past four months, we have seen the two Korean leaders meet, dialogues begin between the economic, cultural, and defense ministers of North and South, and easing of tensions along the DMZ, an unprecedented display of unity at the Olympic Games," then-U.S. Secretary of State Madeleine Albright remarked, in toasting Jo. But among the critical differences is that when Jo invited Clinton to meet with Kim Jong Un's father, Kim Jong Il, and seal the deal, Clinton declined on the advice of advisers who argued that it was premature to dispatch the president to Pyongyang.
"We said to Clinton, 'You can't accept.' … They were not at all happy that Clinton did not accept immediately—a dictator thinks he has to deal with the president of a country," recalled Albright, who made the trip to North Korea instead, launching technical talks in Kuala Lumpur that never resulted in an agreement with North Korea. "One of the things that Clinton did say [later] … was that maybe he should have gone to North Korea."
"There have been times in the past ... when our negotiators have felt that arriving at agreements between our countries was like climbing Korea's beautiful and rugged mountains; we would reach the top of one, only to find another and then another peak still towering ahead," Albright had observed during Jo's trip to the United States in 2000. Trump's innovation has been to set out for the highest summit.
Past negotiations with North Korea have repeatedly gotten "stuck in the [North Korean] bureaucracy," undermined by uncertainty over whether "everything that was being discussed was being relayed properly and delivered properly," the Korea expert Duyeon Kim recently told me in Seoul.
"As risky and high-stakes as this entire [summit] process is, it makes sense because that's the way the North operates. Their regime is top-down. … So if you want anything to either happen or if you want clarification on anything, you might as well go directly to the" North Korean leader, Kim said.
The "prudent" and "realistic" approach, Kim continued, would be for Donald Trump and Kim Jong Un to agree in Singapore "upon a very simple vision statement on end goals … and then have senior negotiators figure out the details, figure out timetables, figure out implementation."
The risk, Kim cautioned, is that if the summit-level diplomacy fails, "you really don't have anywhere else to go."