How Russia Tries to Catch Its 'Criminals' by Abusing Interpol
Vladimir Putin has once again gamed the system to get an anti-corruption activist arrested in a Western democracy.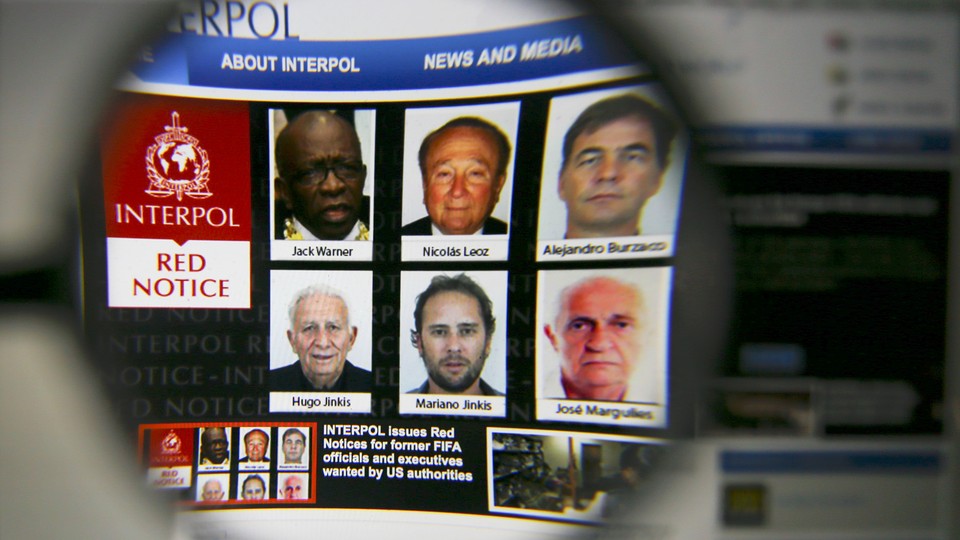 It was over almost as soon as it began, but not before it was live-tweeted. Bill Browder, the hedge-fund manager and Putin fan turned human-rights activist and anti-Putin crusader, was in Spain to give evidence in anti-corruption proceedings implicating the Russian government, according to his Twitter account. And then he tweeted this, accompanied by a photo apparently from the back of a Spanish police car: "Urgent: Just was arrested by Spanish police in Madrid on a Russian Interpol arrest warrant. Going to the police station right now."
Within two hours, he tweeted a selfie with this caption: "Good news. Spanish National Police just released me after Interpol General Secretary in Lyon advised them not to honor the new Russian Interpol Red Notice. This is the 6th time that Russia has abused Interpol in my case."
The tweets were dramatic, if in some respects not quite right. Interpol, formally the International Criminal Police Organization, does not issue arrest warrants. It's not really an international police force, having no cops or warrant powers of its own, but more of a coordinating mechanism or information clearing-house for its 192 member states, any of whom can issue notices to all the others that an individual is wanted. This is useful, for instance, when someone commits a crime in one country and flees to another to escape prosecution. It's up to local law enforcement to decide whether and how to act on such a notice within the constraints of their own legal systems.
But this is also where the problem comes in. It can effectively be a "crime" in member states like Russia, Iran, or Venezuela, to engage in anti-government activism or even run-of-the-mill journalism—activities that, in other member countries including most Western democracies, are protected by law. And despite efforts to guard against abuses, otherwise laudable international law-enforcement coordination can have the perverse effect of undermining democratic rule of law, by giving authoritarian countries the opportunity to influence how democracies enforce their own rules.
Interpol's constitution tries to guard against this by forbidding "any intervention or activities of a political, military, religious or racial character." Here, too, Browder's account is a little off: Through a spokesperson, Interpol flatly denies ever having issued a Red Notice, the formal "wanted" alert to member police forces reviewed and approved directly by Interpol, for Browder. Interpol has repeatedly rejected Russian requests to issue one for Browder, deeming them clearly politically motivated. (Browder is a key force behind the Magnitsky Act, named for his lawyer Sergei Magnitsky, who died in prison after uncovering a massive tax fraud linked to Russian government officials in which much of Browder's own money disappeared. Among other things, the act sanctions wealthy associates of Russian President Vladimir Putin, and is by many accounts uniquely enraging to the Russian government.)
There is another way, however. While a Red Notice requires approval from Interpol itself, a so-called "diffusion" notice is just an alert member countries circulate among themselves. Interpol's press office wrote to me: "In October 2017 a diffusion was circulated in relation to Mr Browder, however this was found to be non-compliant following a review by the General Secretariat [Interpol's leadership body, based in Lyon, France]. A diffusion is a request for cooperation circulated directly among member countries." And this is where Russia can game the system.
Interpol says it requested the notice be removed from national databases, but it has no way to enforce compliance. Browder told The Atlantic that Russia has tried to issue six notices for him, all of them ultimately rejected as abusive. But sometimes it's just a numbers game. "The Russians try stuff a hundred times, and sometimes it works," Browder told Andrew Higgins of The New York Times two years ago. "They can fail 99 times, but the 100th time it could work. For them, that makes it all worthwhile."
In fact, Higgins and others have detailed many cases of Russia's using Interpol this way. A 2013 report by the advocacy group Fair Trials International, for instance, detailed the case of their client Petr Silaev, a Russian environmental activist who fled Russia and was arrested in Spain on a Russian warrant and threatened with extradition. (He had been accused of "hooliganism" in Russia after what Fair Trials described as an ordinary protest in Moscow in 2010.) A Spanish court ultimately rejected Russia's extradition request, but not until after Silaev had spent eight days in prison and six months fighting a legal battle in Spain.
Pavel Ivlev, a Russian-born lawyer, has helped clients get Red Notices removed. And for him it's personal—he was once the subject of such a notice himself for nine and a half years. A version of what happened to Browder this morning, he said, has happened to him at least twice before, once in Brussels and once in Lisbon. In the latter case, he was trying to make a connecting flight when authorities apprehended him at the airport, asking him if he knew he was wanted in Russia. He did; he had formerly served as a lawyer for Mikhail Khodorkhovsky and his oil company Yukos, and was one of several codefendants with Khodorkhovsky accused of enormous-scale embezzlement, which he denies. "Of course I deny charges of embezzling 195 metric tons of crude oil," he told me. Khodorkhovsky too denies the charges against him, for which he spent 10 years in Russian prison. Ivlev fled to the United States, where he is now a citizen.
In the end, Ivlev's apprehension was brief; Portuguese authorities checked the status of the notice with Interpol and, determining that it was specious, let Ivlev go. "So I missed my flight but took the next one. So it's not too bad. … But you know, it's not pleasant," Ivlev said.
Browder's case, in which Ivlev was not involved, may have been similar. A Spanish government official speaking on background told The Atlantic that the Spanish police had proceeded on the basis of an Interpol alarm—which Interpol says is no longer in effect—but checked with Interpol after detaining him "because it seemed politically motivated" and released him.
In those two cases the reach of Russian law into Western democracies was disturbing, but mainly a nuisance. In Silaev's case it was more severe. Magnitsky and Khodorkhovsky, who were actually prosecuted in Russia under Russian law and imprisoned there, suffered far worse—Magnitsky was reportedly tortured before he died. Still, the Browder incident, brief as it was, shows something important about the use and misuse of international organizations. International law-enforcement cooperation is a fine thing when, as it often does, it helps apprehend legitimate criminals trying to evade justice in their own country. But ultimately the international justice system is only as good as the countries writing and enforcing the laws—and some notions of "justice" are not fit for export overseas.
---
Natasha Bertrand and Rachel Donadio contributed reporting.