The Pope's Turnaround on Sex Abuse May Have a 'Tsunami Effect'
Francis is trying to fix a series of "grave errors" in Chile, and allegedly affirmed the gay identity of a victim there.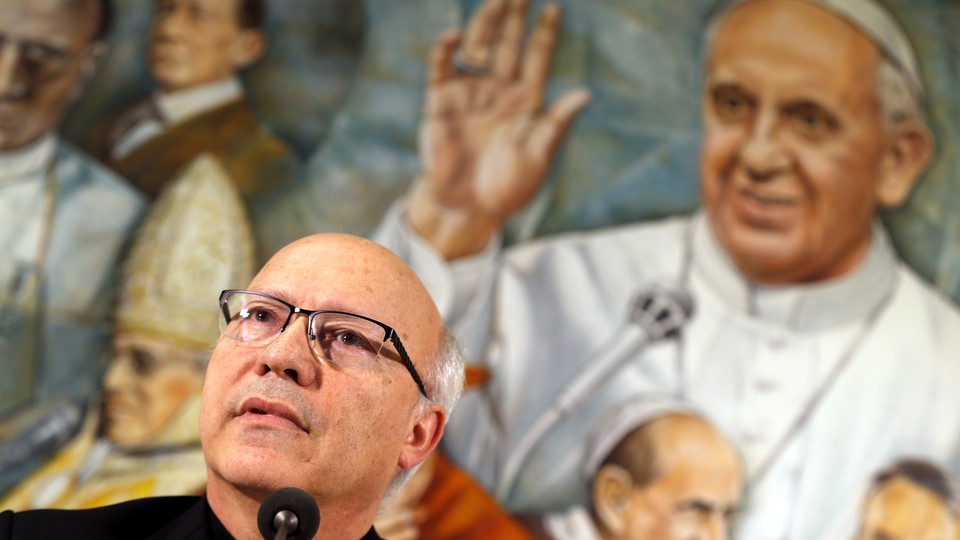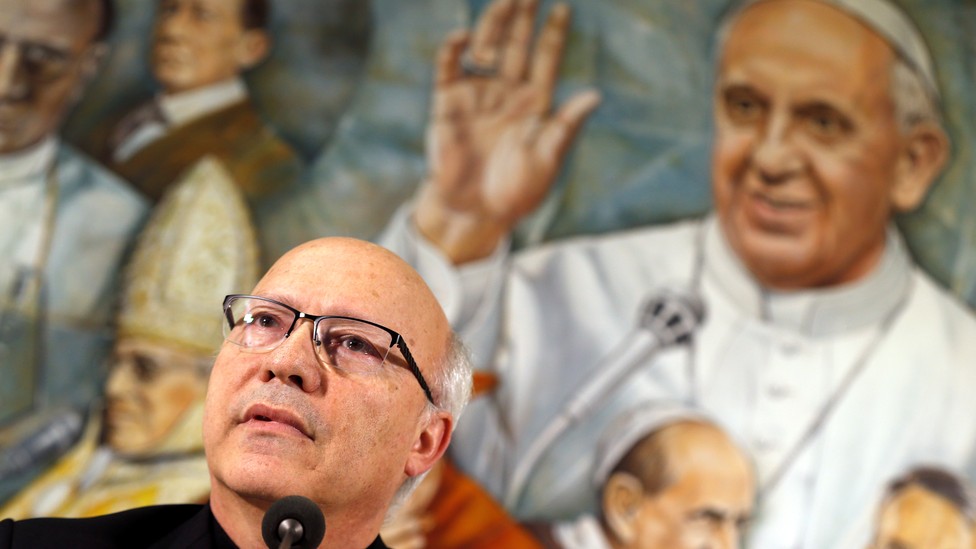 The Vatican is working through an extraordinary series of events related to child sex abuse. Last month, Pope Francis apologized for "grave errors" in the way the Catholic Church handled sex-abuse cases in Chile, where a bishop, Juan Barros Madrid, was accused of covering up the crimes of another priest, Fernando Karadima. On Friday, following an emergency meeting in Rome with the pope, all 34 Chilean bishops offered their resignation over their handling of the allegations, an apparently unprecedented move.
Then, on Monday, the Spanish newspaper El País reported that Juan Carlos Cruz, a Chilean sex-abuse survivor, had spoken with Pope Francis about his gay identity during a long meeting. "It doesn't matter that you're gay. God made you that way and that is the way he wants you to be, and I don't mind," Francis said, according to Cruz. "The pope wants you this way, too, and you have to be happy with who you are."
The quickly unfolding events suggest an aggressive redirection for Pope Francis, who elevated the Chilean scandal into a full-on crisis in January, when he vigorously defended Barros during a papal visit to Chile and Peru. As the Church continues to wrestle with the aftershocks caused by clergy sex abuse around the world, its efforts to make amends in Chile may be a sign of a new approach ahead—or the extreme difficulty of recovering from years of misconduct and mishandled allegations.
The Chilean Church has been publicly grappling with its sex-abuse scandal for more than a half decade. In 2011, the Vatican announced that it had found Karadima guilty of sexually abusing minors. Subsequent developments suggested that Chilean bishops tried to keep the voices of abuse victims from being heard. Leaked emails showed that two cardinals sought to block Cruz, the Chilean abuse survivor, from serving on Pope Francis's commission for the protection of minors. Victims accused Barros, who spent more than 30 years working with Karadima, of witnessing and covering up the abuse. Yet in 2015, Francis appointed him bishop of a diocese in southern Chile. When protesters objected to the move, the pope called them "dumb," saying they had no proof against Barros.
Three years later, the pope continued this inflammatory rhetoric during an official visit to Latin America. "The day someone brings me proof against Bishop Barros, then I will talk," Francis said during a stop in Iquique, a city in northern Chile, in January 2018. "But there is not one single piece of evidence. It is all slander. Is that clear?" He later reiterated this view during a conversation with journalists aboard the papal plane: "One who says with insistence, without having the evidence, that you have done something, that is calumny." Sex-abuse survivors, advocates, and Chilean Catholics were reportedly shocked by the comments.
Just a few months later, Francis has reversed course. After Vatican investigators put together a 2,300-page report based on 64 interviews about what had happened in Chile, the pope wrote a letter to the country's bishops confessing "pain and shame" about what had happened there. He said he had made "serious mistakes in the assessment and perception of the situation, especially because of the lack of truthful and balanced information," according to a translation by the Catholic News Agency. He called on the bishops to meet with him in Rome, and invited the Chilean victims to come and share their stories with him as well. At the conclusion of Francis's three-day meeting with the bishops, all of them offered to resign, seeking forgiveness for the "grave errors and omissions we committed." It is not yet clear which, if any, of the resignations Francis will accept.
Most importantly, Francis has made a tonal change. Where he was once defensive and barbed about the situation in Chile, accusing the Church's critics of being "led by the nose by the leftists who orchestrated all of this," he has shifted his focus to the pain of the victims and the errors of the Church.
"I am overcome with emotion after spending a week at the pope's house and talking with him for hours," said Cruz, the abuse victim, in his interview with El País. "The pope treated us like kings in Santa Marta," the Vatican guesthouse where Francis lives, "and treated the bishops like children. It is obvious that we're the ones that he believed." While the pope's alleged comments on Cruz's homosexuality have not been confirmed by the Vatican, they are in keeping with his approach: one that's fundamentally pastoral and focused on individual cases, rather than strictures and dogma.
For all that Cruz and other Chilean abuse survivors are celebrating Francis's latest moves, the pontiff still faces tests ahead on handling allegations—including against his top advisers. Cardinal George Pell, whom Francis brought to Rome from Australia to reform the Vatican's financial practices, is facing criminal charges of sexual abuse in his home country, where he will soon stand trial. Several priests from Pell's hometown of Ballarat, a former mining town, were convicted of abusing children; one, Gerald Ridsdale, was found guilty of sexually abusing 65 children from the 1960s to the 1980s, according to The New York Times. And the island community of Guam is still reeling from a massive set of clergy sex-abuse cases—a total of 168 have been brought in federal and local courts since 2016, according to the Pacific Daily News.
Pope Francis's efforts to repair the situation in Chile are only just beginning, and these and other cases may yet challenge his papacy. But Cruz, in his interview with El País, was optimistic. "This is having a tsunami effect," he said. "We have the Chilean precedent, and it will happen in other countries."