How Hungary Ran George Soros Out of Town
The fate of one civil-society group is a disturbing case study of budding authoritarians setting the rules in Europe.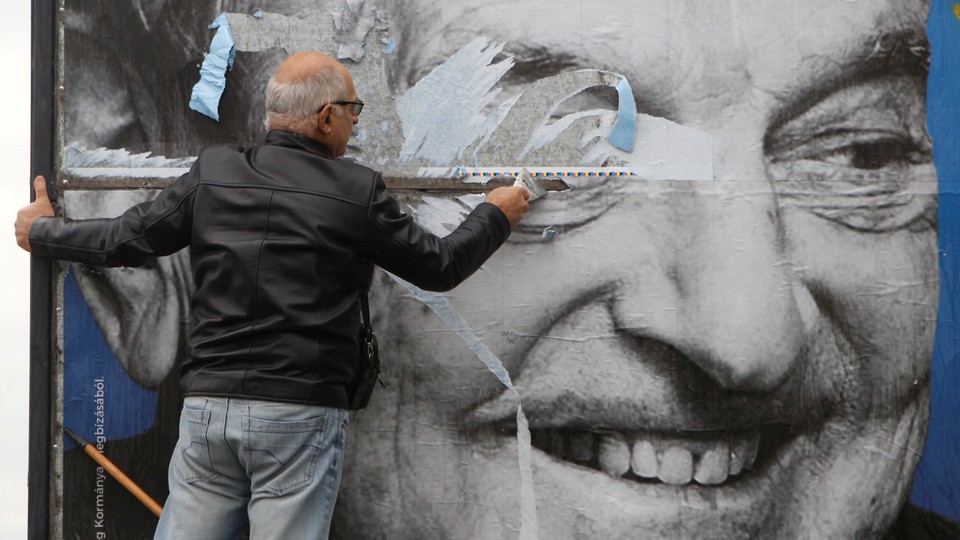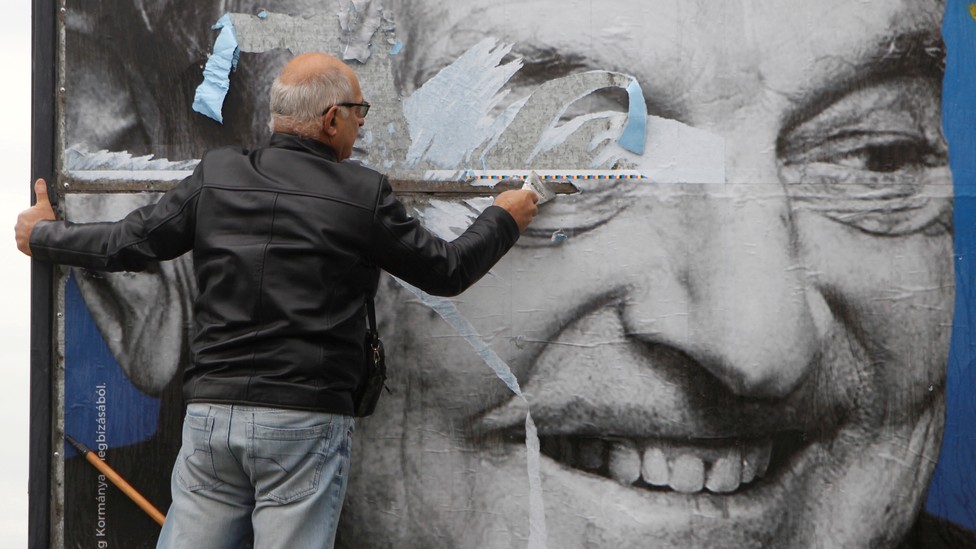 PARIS—Has Hungary's Viktor Orbán won this round against the European Union? The announcement Tuesday that George Soros's Open Society Foundations (OSF) will move its headquarters out of Budapest and set up shop in Berlin, a victim of the Orbán government's crackdown on foreign NGOs, certainly seems to indicate as much. The question now is will the European Union push back? And how?
Orbán, whose right-wing, increasingly authoritarian Fidesz party secured another term in Hungary's national elections last month, has for years been waging an escalating war against Soros. The billionaire financier and philanthropist survived Nazi-occupied Hungary as a boy, and his foundation has been funding civil-society initiatives in Hungary and across Eastern Europe since before the end of the Cold War, as well as programs in Hungary and across Europe aimed at supporting immigrants. It's the immigration programs that have riled up Orbán. Ever since the migration crisis of 2015, Fidesz has been depicting the nation and Europe as besieged by foreigners. Before the elections, Fidesz spent millions on ad campaigns Open Society called anti-Semitic, including a doctored image of Soros with his arms around opposition leaders who are taking wire cutters to the border fence.
The clash operates on many levels. It's about power and ideas and is driven by a strong personal enmity, one that even looks mildly Freudian given that Orbán, once an idealistic hero of the anti-Soviet student-resistance movement in Hungary, attended Oxford University on a scholarship with support from the Open Society Foundations.
But the story is not just about two men. It's also about the soul of Hungary and the limitations of Europe. The fate of this one organization shows a disturbing possible future in which Europe's budding authoritarians like Orbán set the rules, leaving the European Union struggling to respond.
The immediate issue is that Orbán has vowed to pass so-called "Stop Soros" laws, which would require any groups working with migrants to get security clearance from the Interior Ministry before operating in Hungary, and would also put a 25-percent tax on any groups with foreign contributions. In announcing its move to Berlin, OSF was acting preemptively; the laws haven't yet passed but seem likely to, given Fidesz's solid majority. The foundation said it would still continue to operate in Hungary, although it's moving its administrative staff to Berlin. The fate of the Soros-funded Central European University, in Budapest, also remains unclear.
"Even though I'd known this was coming for a while, I'm still in a state of shock," about what just happened in Hungary, said Heather Grabbe, the director of the Open Society European Policy Institute in Brussels, a Soros-funded outfit. She pointed out that Hungary, like all European Union member states, had signed on to many treaties requiring respect for the rule of the law, the independence of the judiciary, and the protection of minorities. She worried that the law would make it difficult for any international organizations to operate in Hungary and would send a message that they shouldn't even try.
"I hope it will make people wake up and say, 'Do we want this to happen in the EU?' And that it gets a strong response, rather than, 'This is ugly illiberalism in one country,'" Grabbe added. "This is a threat to the whole EU system."
The European Union wasn't designed with the powers to crack down on member states that backpedal on the rule of law. It was constructed from the destruction of the Second World War and enlarged to include some former Eastern bloc countries after the end of the Cold War—at a time when the conventional wisdom was that countries would keep growing more interconnected economically and more democratic politically. In recent years, Hungary and Poland have been testing that proposition, with ruling parties in each country compromising formerly independent government institutions and placing limits on civil society. The European Commission is now doing battle with Poland, threatening unprecedented sanctions and possible suspension of Poland's voting rights within the Commission following the government's reining in of the country's judiciary.
That's a new step. The European Council, consisting of the heads of EU member states, has often been clubby and toothless, reluctant to call out fellow members. And under Orbán, Hungary has been more clever at playing Europe—taking funding from it while passing laws that have resulted in the shutdown of opposition media and a concentration of power in the state broadcaster. (Journalists from state-news agencies recently said they'd been urged to stir up fears of immigrants committing crimes in the run-up to the election.) Ahead of the elections last month, The Guardian reported from a city where fear of immigrants was high, even though most locals hadn't ever seen any immigrants.
But the European Union operates on the understanding of freedom of the press in member countries, and so can't itself regulate the media, which makes it unable to reverse Orbán's freedom-curtailing moves. Europe also lacks the legal bite to push back against Hungary's crackdown on foreign NGOs, unless Hungary's laws run afoul of European anti-discrimination norms.
Beyond Hungary, meanwhile, Orbán has many fans among the populists of Western Europe. In Italy, Matteo Salvini, the leader of the right-wing, anti-immigrant League party, whose bloc placed second in national elections in March, has expressed open admiration for Orbán. In France—which has taken in far fewer migrants than Italy and certainly Germany—last week's cover of Valeurs Actuelles, a right-wing weekly magazine, had a picture of Soros with the headline "The Billionaire Plotting against France: Revelations on George Soros, the Global Financier of Immigration and Islamism." One of its articles on Soros ends with the statement: "Our investigation shows the insatiable thirst of George Soros in amassing his empire to destabilize a West that's already weakened by the influx of immigrants. A question emerges: How long will it take before France's ruling class opens its eyes and tries to curb his tentacular influence?"
That kind of rhetoric has a long and storied history in Europe. And it's clearly not just confined to a few authoritarian-leaning politicians in the formerly Soviet sphere of influence, but exacerbates the darker undercurrents of politics in Western Europe, too. How the EU responds—or doesn't—to a minor figure like Orbán will say a lot about its ability to chart the direction of Europe's future.