Ireland Repealed Its Abortion Ban. Is Northern Ireland Next?
After Dublin voted overwhelmingly to repeal its near-outright abortion ban, pressure is mounting for Belfast to do the same.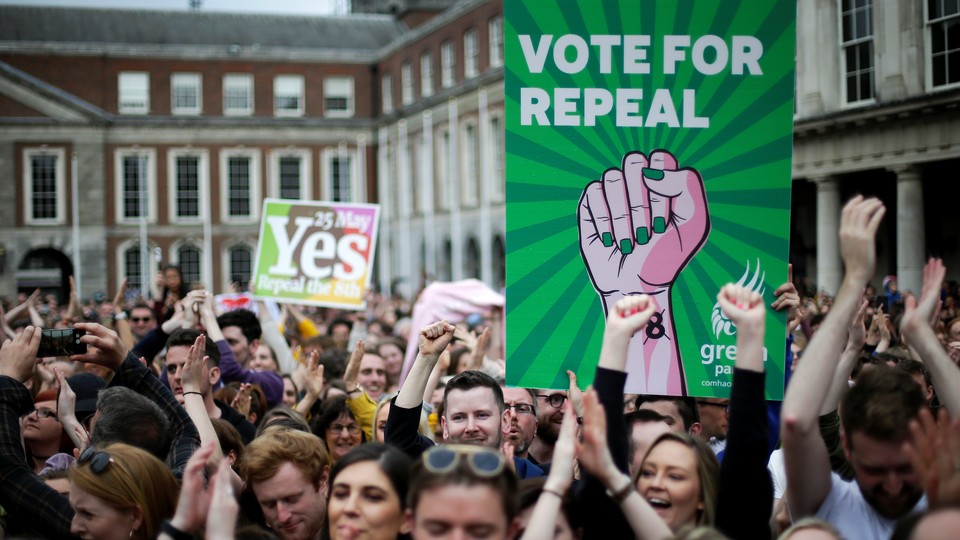 All eyes were on the Republic of Ireland this weekend when it voted resoundingly in favor of repealing its near-total ban on abortion. In the days since, some of that attention has turned to Northern Ireland, where pressure is mounting to change its own restrictive abortion laws.
Though Northern Ireland is a member of the United Kingdom, where abortions are permitted within the first 24 weeks of pregnancy (and later, under exceptional circumstances), U.K. abortion law doesn't apply in Northern Ireland. This is because the 1967 Abortion Act that legalized abortion access across the U.K. was never enforced in Northern Ireland, which instead adopted abortion laws similar to those of the Republic of Ireland. As was the case in Dublin before Saturday's referendum, Belfast outlaws abortion except in cases where a doctor rules that a pregnancy poses a danger to a woman's life. In all other cases—including rape, incest, or severe or fatal fetal abnormality—women are not able to access abortion services in Northern Ireland. For that, they would have to do what thousands of Irish and Northern Irish women have done, provided they can afford it: Travel to other countries, including other countries in the U.K., to access abortion services. According to statistics from the U.K.'s Department of Health, 724 women in Northern Ireland traveled to England or Wales for an abortion in 2016.
Penny Mordaunt, a Conservative lawmaker and the U.K.'s international development secretary, praised the Irish referendum result as "a hopeful one for Northern Ireland" that "must be met." The Labour lawmaker Stella Creasy took it one step further, writing on Monday in The Times of London that the British government should step in to ensure that U.K. abortion law applies to Belfast just as much as it does in Scotland and Wales. At least 160 British lawmakers have backed Creasy's call.
But the British government reaffirmed this week that it has no interest in intervening with Northern Ireland's abortion laws. Despite U.K. Prime Minister Theresa May's initial praise for the result of the Irish referendum, she stressed on Monday that "the people of Northern Ireland are entitled to their own process"—one that should be conducted by its own devolved government, she said.
There's a reason Downing Street is reluctant to wade into the issue. To pressure lawmakers in Northern Ireland to liberalize the country's abortion laws could risk alienating the same people whom May relies on to maintain her government majority. The Northern Irish Democratic Unionist Party (DUP), whose support May's government relies on, stressed on Sunday that the Irish referendum result "has no impact upon the law in Northern Ireland," and that it would be up to Northern Irish lawmakers to decide how to address it.
"In many ways, abortion rights in Northern Ireland has frequently been bargained away in Westminster for the support of Northern Irish parties," Fiona de Londras, a professor of legal studies at the University of Birmingham, told me. She noted that until recently, nearly all Northern Irish parties opposed provisions that would allow for lawful abortion under certain circumstances—a position that Conservative and Labour governments have historically accommodated in exchange for political support in Westminster.
Abortion isn't the only issue where Northern Ireland remains an outlier. Same-sex marriage, which was legalized in England and Wales in 2013, followed by Scotland and the Republic of Ireland in 2014 and 2015, respectively, is still illegal in Northern Ireland. "Northern Irish politics is extremely conservative, and it's behind the rest of the U.K. and Ireland," de Londras said, before adding, "It's not at all clear that Northern Irish politics reflects the social aspirations and demands of the people of Northern Ireland."
Indeed, Northern Irish voters may be more amenable to changing their country's abortion laws than their political parties suggest. According to a 2016 study by Amnesty International, 72 percent of those surveyed support making abortion services available in cases of rape, incest, or fatal fetal anomalies—an increase from 69 percent in 2014.
But before Northern Irish lawmakers can properly address this issue, they'll need to form a functioning government—which Belfast hasn't had for more than a year due to political deadlock between the DUP and their Republican counterpart Sinn Féin. Even so, de Londras said efforts to change the law in Northern Ireland will be fruitless so long as Northern Irish parties continue to resist it. "Attempts to change the law in Northern Ireland have been ongoing for years—this isn't a new issue there," she said. "The result in the referendum will give an added impetus, it will add more pressure to try to resolve this. But … there is nothing in the reaction so far to suggest that the parties that have always tried to block abortion law reform will suddenly stop trying to block abortion law reform."