Trump's First Big Breakthrough in North Korea Negotiations
American detainees who were held in Pyongyang are headed home.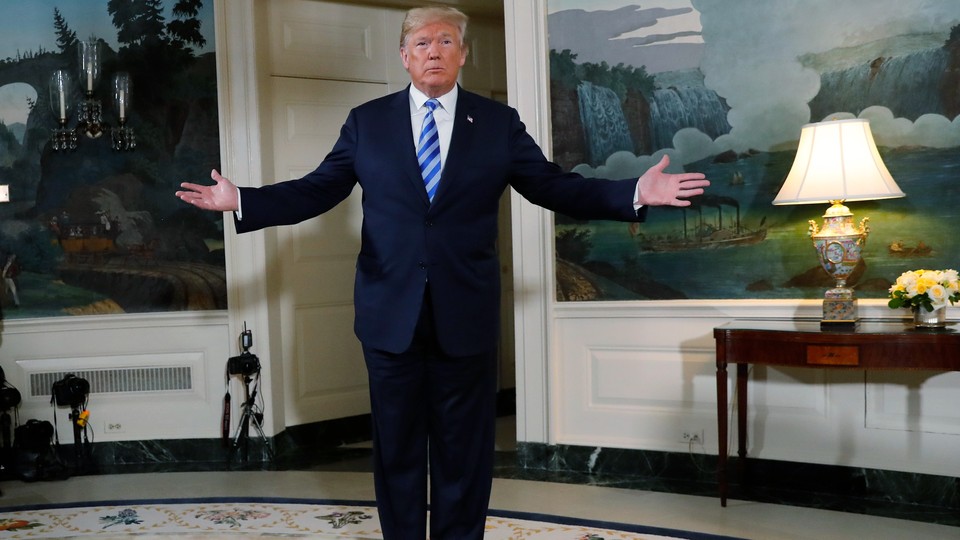 Updated at 9:41 a.m. ET
President Trump announced Wednesday that three Americans who were detained in North Korea are now free, marking perhaps the most significant success so far in the Trump administration's negotiations with the regime in Pyongyang.
I am pleased to inform you that Secretary of State Mike Pompeo is in the air and on his way back from North Korea with the 3 wonderful gentlemen that everyone is looking so forward to meeting. They seem to be in good health. Also, good meeting with Kim Jong Un. Date & Place set.

— Donald J. Trump (@realDonaldTrump) May 9, 2018
Secretary Pompeo and his "guests" will be landing at Andrews Air Force Base at 2:00 A.M. in the morning. I will be there to greet them. Very exciting!

— Donald J. Trump (@realDonaldTrump) May 9, 2018
Mike Pompeo, the U.S. secretary of state, was in North Korea Tuesday to pin down details of Trump's upcoming meeting with Kim Jong Un, the North Korean leader, and to persuade the North Koreans to release the Americans.
"We have been asking for the release of these detainees for … 17 months," Pompeo told reporters en route to North Korea. "We'll talk about it again today. I think it'd be a great gesture if they would choose to do so."
The three Americans are Kim Dong Chul, who was detained in North Korea in October 2015, charged with espionage, and sentenced to 10 years of hard labor; Kim Sang Duk, who is also known as Tony Kim, who was detained April 2017; and Kim Hak Song, also known as Jin Xue Song, who was detained in May 2017. The last two men taught at universities in Pyongyang and were accused of committing unspecified "hostile acts" against North Korea. News of their impending release was made public last week, perhaps inadvertently, by Rudolph Giuliani, the former New York City mayor who is now Trump's lawyer, but the U.S. State Department said Giuliani was speaking for himself.
A subsequent White House statement said, "The three Americans appear to be in good condition and were all able to walk on the plane without assistance."
Their release comes nearly a year after the death of Otto Warmbier, the 22-year-old University of Virginia student who spent more than a year in a North Korean prison. Warmbier was sentenced in March 2016 to 15 years of hard labor for allegedly stealing a propaganda sign from his hotel. North Korea, which freed him in June 2017, said he was stricken with botulism soon after he was sentenced and was given a sleeping pill, after which he fell into a coma. But U.S. medical officials said he exhibited no signs of botulism. U.S.–North Korean relations, never good at the best of times, slipped to a new low after Warmbier's death. What followed in the subsequent months showed just how low they could go.
As North Korea tested one intercontinental ballistic missile after another, interspersing them with a nuclear test, tensions on the Korean peninsula rose. Trump threatened "fire and fury" in response; he and Kim Jong Un, the North Korean leader, traded personal insults and military threats. As Kim boasted about his country's nuclear-weapons capability, Trump showed off his nuclear "button," and U.S. lawmakers played up the possibility of a preemptive nuclear strike on North Korea. The Trump administration said, as all U.S. administrations typically do, that all options were on the table. Kim announced in January that his country had completed its nuclear deterrent against the United States, "which no force and nothing can reverse."
Yet within those remarks, there was an opening: Kim also said he wished that the upcoming South Korean Winter Olympics would be a success. And just like that, there was a breakthrough. Officials from the two Koreas met for the first time in two years to discuss North Korea's participation in the game, and announced that they would hold military talks to reduce tensions. The two sides then announced they would not only march together under one flag at the Winter Olympics, but also field a joint women's ice-hockey team.
South Korean President Moon Jae In, who was elected last year on a pledge to improve relations with North Korea, credited Trump for the rapprochement. Trump suspended the U.S.–South Korean joint military exercises during the Olympics and the subsequent inter-Korean summit—Pyongyang views these exercises as an act of war.
The games presented a potential diplomatic opportunity for the Trump administration, which dispatched Vice President Mike Pence for the games' opening ceremony and Ivanka Trump, the president's daughter, for the closing ceremony. Kim sent his sister, Kim Yo Jong, to attend the opening ceremony, and Kim Yong Chol, a former spymaster, to the closing ceremony. The occasions provided little more than photo opportunities (where Pence did his best not to smile). Expectations that Pence would leave with the American prisoners did not materialize.
But even if U.S.–North Korean relations did not seem to improve very much, ties between Seoul and Pyongyang did. Moon credited Trump for his role in bringing the two Koreas together, as he announced a summit meeting with his Kim, the North Korean leader. The American president gave his "blessing" to a peace treaty between the two Koreas that would officially end the 1950–53 Korean War. (The conflict ended with an armistice.) Amid the historic nature of that meeting came another unexpected announcement: Kim was ready to meet with Trump and was ready to renounce his nuclear-weapons program.
Trump responded saying he would meet with Kim very soon, but no date, nor a venue, has yet been announced. Trump also announced that Pompeo, in his last days as CIA director, had secretly met with Kim in Pyongyang. Pompeo came away from the meeting saying he believed a deal on North Korea's nuclear weapons was possible.
Trump's announcement Wednesday is a validation of his maximum-pressure-maximum-engagement policy with North Korea. Or at least that's one way to look at it. After all, Kim has said he'd pause nuclear and missile tests, as well as shut down a nuclear test site, and released three American prisoners, while the U.S. has been firm about the idea that it it hasn't asked the Pentagon to draft a plan to reduce U.S. forces in South Korea. In other words, the U.S. has gotten a lot from the North without giving up much in return.
But another way of looking at it is to note that the Trump administrations has so far given the North Korean regime what it craves—international legitimacy—while mostly getting the very same North Korean pledges that the regime has violated in the past. Although the release of the American prisoners is good news for the prisoners themselves and their families, North Korea has a long history of arresting Americans who are in the country and using them as bargaining chips in the pursuit of some national-security goal. Additionally for a pariah state under international sanctions, photo ops with Pence, Ivanka Trump, Pompeo, and possibly Trump are a publicity coup that Kim can use to tell his own people that North Korea is indeed a respected nation and further burnish the cult of personality he has cultivated like his father and grandfather before him. For this he has done little except make pledges that past North Korean leaders, Kim's father and grandfather, have also made. His pledge to denuclearize may differ from what U.S. and South Korean officials understand by that term. His demand for a security guarantee from the U.S. may also diverge from what the Trump administration is prepared to give.
We have been at this moment before—several times. Indeed, even the language of the statement signed by the two Koreas during the recent summit meeting was similar to joint communiqués, agreements, and statements signed in 1972, 1992, 2000, and 2007. All of those occasions ended with North Korea getting sanctions relief before being discovered to be cheating on its international obligations. This time may be different, however. Already we have the prospect of an unprecedented summit meeting between an American president and a North Korean leader. This meeting could lead to the kind of deal with North Korea Trump has been promising since before he was elected. The prisoner release puts him one step closer to that goal.