Macron's Upstarts Have Become the Establishment
How does a Jupiterian president keep his grassroots movement alive?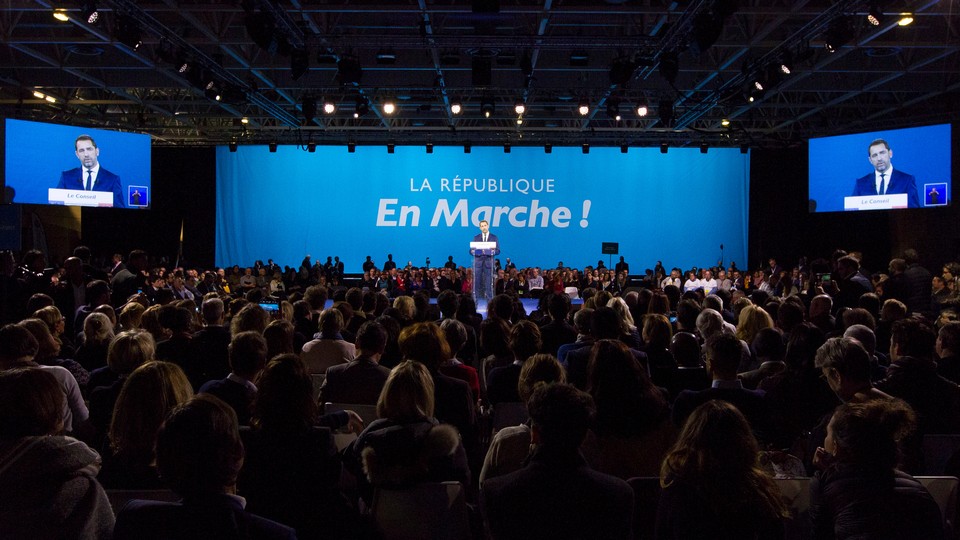 PARIS—On a recent evening in Paris's 10th arrondissement, Cyrille Boulanger, a volunteer for French President Emmanuel Macron's En Marche (On the Move) movement, was out ringing doorbells. An En Marche pin fastened to the front of his jacket, stacks of questionnaires loaded in his arms, and a broad grin stretched across his face, he went door-to-door, greeting residents with an upbeat "Good evening, madame!" or "Good evening, monsieur!" He explained that he had come not to sell them anything or recruit them, but to ask for their views on Europe and the European Union. With Macron leading the conversation about EU reforms and next spring's European Parliament elections approaching, the topic is a top priority for both him and his organization. Boulanger described this nationwide effort as "part of the DNA of En Marche, and [that it is] something that has never been done by any other party before."
Last May, Macron was elected president of France with the help of En Marche, his upstart, grassroots-fueled political organization. Vowing to wipe out the French political establishment, Macron bet, correctly, that a message centered around transcending traditional political divisions would resonate. Yet now, En Marche, which has rebranded as La République En Marche (LREM), or "The Republic on the Move," is no longer the feisty upstart. (It continues to reject the label of political party, and still refers to itself as a "movement".) Macron's call for ambitious EU reforms faces resistance in Brussels and Berlin, and his sweeping overhaul of France's rail system has prompted nationwide strikes. This has left LREM to grapple with the question of what role an insurgent political operation should play when its leader and all its top officials have effectively become the new establishment.
The fact is, LREM, its image, and its future are loaded with contradictions. It sees itself as complementary to Macron's government and goals, but also wants to exist outside of and beyond his presidency. It hopes to both explain the government's reforms to French voters, and to serve as a real-time vehicle for those voters' views, even if they conflict with Macron's. And as Macron advances his self-described "Jupiterian" model of leadership—in which a somewhat distant president heads a small, highly centralized team at the Elysée Palace—his top-down governing style appears symbolically at odds with the bottom-up message and ethos of LREM.
Conversations with a dozen members of LREM, including MPs and local-level leaders and volunteers, made it clear that the movement understands the challenges that lie ahead. Like Macron, who talks often of making France a "start-up nation" capable of more ably and quickly responding to world challenges, LREM wants to keep the novelty of the movement alive and ensure it doesn't lose its connection with its approximately 400,000 adhérents, or registered members. "How will we do [things] differently from what we just destroyed?" Martin Bohmert, a leader of LREM's youth wing, Jeunes Avec Macron, asked. "Because our promise was to regenerate the political life, then we have to rebuild something that's not the same."
Boulanger and the countless other LREM marcheurs said they have knocked on more than 220,000 doors and interviewed 60,000 citizens across France this last month, part of a project the movement calls the "Grande marche pour l'Europe." This represents one answer to the question: LREM sees direct contact with voters and large-scale listening tours as unique to its approach and unlike the "traditional" French political parties they ran against. While going door-to-door is common in French politics, doing it outside of campaign season and on such a large scale is different. Things like the Grande marche pour l'Europe, coupled with LREM's active and autonomous local chapters and committees across the country, helped it project the sense that it does, in fact, represent the people. "We have created a three-part governance: You have the executive, you have the parliament and now you have the citizens that really contribute to how the country is run," Aziz François Ndiaye, LREM's director of mobilization, told me. "That's new."
Keeping up that engagement was a difficult task for Ndiaye and others who stuck with the movement after Macron took office. Many En Marche leaders either sought and won office themselves, or went to work for Macron. "It was a big challenge for us right after the election," Ndiaye said. "We had almost 75 or 80 percent of our staff that moved from the movement, and we had to restructure and rebuild a whole new movement."
Despite that exodus, LREM has struggled to differentiate itself from Macron. "En Marche doesn't exist without Macron," Emmanuel Rivière, a Paris-based pollster with Kantar Public, told me. "It's very distinct. Usually you have strong political parties like [the Socialists and the Republicans] that promoted one strong leader but … always had a political party existing outside the president. Now it's not the case."
The Grande marche pour l'Europe itself isn't exactly new: It was modeled on a similar nationwide campaign LREM ran ahead of last year's presidential election, in which it knocked on more than 300,000 doors to learn which issues mattered most to voters. Working with a French political-consulting firm whose founders had volunteered for Barack Obama's 2008 campaign, the movement used election and demographic data to identify and target precincts and neighborhoods that would be representative of France as a whole. The more than 25,000 individual interviews they conducted helped inform Macron's campaign platform.
Benjamin Griveaux, a top LREM official who now serves as the government's primary spokesman, called the Grande marche pour l'Europe a way for the party to rekindle this same feeling of a "collective movement" among LREM supporters. "Some people got some rest the last six months, or went back to school or to university time, and now they're ready to get fully involved again in this great march," he said.
This time, the movement identified neighborhoods that are likely to be either particularly pro-EU or particularly anti-EU, giving them a better chance of hearing strong feelings and arguments on both sides of the issue as they formulate their party platform for the 2019 European Parliament elections. "We don't go to see people to say, 'We have a program, here is our agenda for European elections next year'—we go to see them just to have a clear picture of what their feeling is about the European Union," Griveaux said.
LREM is still figuring out exactly how it relates to its former foot soldiers and leaders who've moved over to the Elysée Palace with Macron or taken up a seat in the National Assembly. At a happy hour for members of the youth wing, Griveaux held court with LREM members and former volunteers for his parliamentary campaign. The relationship between the movement and LREM government officials is "very informal," he told me. "We have a natural link with the movement because—well, we are here because of them," he added. For other former LREM volunteers, that contact is more sporadic: Laurent Saint-Martin, a 32-year-old, for example, used to be the movement's local volunteer leader in Paris's 17th arrondissement; now, as an elected member of the National Assembly, he told me he visits the LREM headquarters "not enough, honestly."
In some ways, this mirrors the challenge former Obama volunteers and staffers faced when they formed Organizing for America after the 2008 election. The organization was intended to maintain relationships with Obama's grassroots-level supporters, but at times also found itself at odds with the president it had helped elect over whether he had kept his campaign promises.
When I asked Saint-Martin in his National Assembly office what he felt LREM's role should be, he described it as a "think tank" for Macron's government. In other words, it should grapple with the five- or 10-year view for Macron's vision while he and others in government deal with the "day-to-day." LREM should "not only comment on and explain what we are doing now, which is good, but they should be more preparing the future—they should more imagine what can be a progressive movement in 2020, in 2025."
Bohmert, the youth-wing leader, went further. He saw the movement's role as a way of keeping Macron accountable to French voters and providing necessary reality checks along the way. Rather than serving as merely an outside extension of Macron's vision, then, it would also imply a certain level of tension between the two. "The role we have is to be the guardian of reality for the government. We need to be there and telling them what's not working, what the people actually want," Bohmert said. "And when they do something and we feel it's not enough, we need to actually tell them."
Not everyone was receptive to the marcheurs and their Europe questionnaires: One woman told Boulanger that she wouldn't answer his questions because she was no fan of the movement and wanted him to "tell that to the people upstairs" at LREM. But during another door-to-door session, a woman invited us into her living room in a high-rise building in Paris's 18th arrondissement, her orange tabby cat circling the marcheurs' feet as she explained her thoughts on Europe over her dining-room table (and later invited us to the opening of her art exhibition). "People are really happy that we come to just ask and listen," Justine Henry, a volunteer who has led the LREM chapter in the 18th since before last year's election, told me over coffee. "This is a really good step."
This focus on direct voter contact and empowering local committees seems to be a solid strategy for the time being, but it's still difficult to see how and whether the organization can sustain that in the long term; the older a movement grows, the harder it is for it to bill itself as new and revolutionary. LREM members and supporters stressed to me that, like a startup, they are still functioning in uncharted political and organizational waters; what comes next involves a certain amount of trial and error. "It's not easy, and there's no straightforward answers," Guillaume Liegey, one of the leaders of the firm that put together the targeting models for both grande marches, told me. "When you don't know what to do, you have to experiment. And I think it's very good they're doing that."