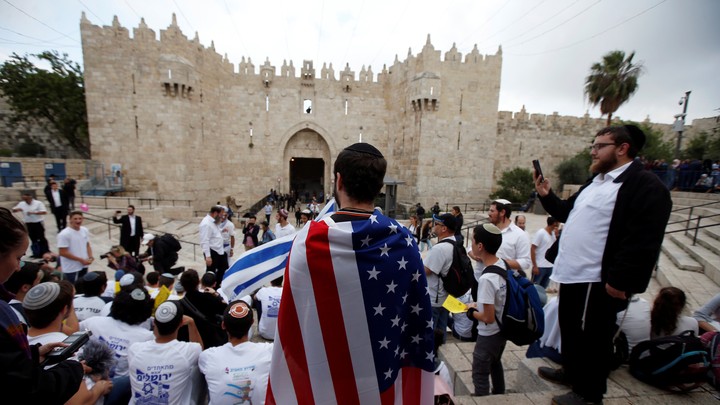 JERUSALEM—The signs are plastered all over the city, on buses and street lamps and buildings and thoroughfares: Trump Make Israel Great and Trump Is A Friend of Zion. These messages, celebrating the opening of the new U.S. embassy in Jerusalem, however, are somewhat misleading. Although they may look like Israeli praise for President Donald Trump and his decision to move the facility from Tel Aviv, they're actually produced by an American evangelical Christian organization called the Friends of Zion Museum. The signs stand proudly along the winding streets of hilly Jerusalem, overlooking Palestinian neighborhoods in the valley below—a perfect metaphor for the divide between one group's celebration and another group's mourning. "Congratulations," Trump said in a video message at the opening ceremony. "It's been a long time coming."
And yet, the embassy opened on Monday amid historic, bloody protests in Gaza, where thousands have been injured in weeks of demonstrations along the border fence. By the time U.S. Ambassador David Friedman took the stage on Monday, the Gaza Health Ministry was reporting some three dozen people killed by Israeli forces in protests and nearly 1,000 wounded. The celebration in Jerusalem—a victory claimed by both American Christian and Jewish groups—was a disorienting contrast to the violence in Palestinian territories. Despite calls for peace by Israeli and American officials at the ceremony on Monday, the moment signaled the difficulty of any kind of resolution ahead.
Some Israelis have openly celebrated Trump: Beitar Jerusalem, a soccer team in the city famous for its anti-Muslim fans, announced it would add "Trump" to the middle of its name. "Donald Trump is a puppet in the hands of God," said Chaim Cutler, a 19-year-old British yeshiva student, during a raucous celebration at the Western Wall, which was the retaining wall of the Jews' ancient holy temple.
But many Israelis don't really care that America has moved its embassy to Jerusalem. The city already functions as Israel's capital, home to its parliament, Supreme Court, executive buildings, prime minister's residence, and more. In practical terms, Trump's announcement doesn't change much about U.S. diplomatic functioning in Jerusalem. The new embassy is in a former U.S. consulate building, now outfitted with new signs and an office for Friedman. While the embassy in Jerusalem will take over some visa services, the U.S. consulate will remain an independent mission and the main diplomatic point of contact for Palestinians, according to a State Department official. The opening is mostly a symbol, signaling U.S. priorities both at home and abroad. And for many Israelis, the real celebration occurred on Sunday: Yom Yerushalayim, or Jerusalem Day, which marks Jews' return to the holy sites of the Old City in 1967.
But in this city, one group's celebration is another group's tragedy. Palestinians see the timing of the embassy opening as an act of provocation and aggression. It was purposefully scheduled on the secular day marking Israeli independence in 1948, which comes a day ahead of what Palestinians call the nakba—Arabic for "disaster"—commemorating their forcible removal from formerly Arab lands. Saeb Erekat, a senior Palestinian official, called the decision an "infamous hostile act against international law," arguing that the Trump administration is promoting "international anarchy" and "encouraging Israel's occupation and its colonial settlement enterprise."
Many of the people who are truly jubilant over this decision are Americans. Orli Manovitz, a 48-year-old Queens native who moved to Israel three decades ago, told me he voted for Trump because he was a man of action. By recognizing Jerusalem as Israel's capital, "Trump decided to adopt truth and not diplomacy," he said. That theme—that the embassy move represents a truth—seemed to animate Monday's event. "We will look back on this day," said Jared Kushner, the president's son-in-law and adviser, and remember that "the journey to peace started with a strong America recognizing the truth." American Christians may be even more excited than Jews. "The Jewish world owes Christians a great deal," said Rabbi Abraham Cooper, the associate dean of the Simon Wiesenthal Center and one of the attendees at Monday's celebration. "At the end of the day, I think the real game changer is not what religion [Trump's] daughter is, but the fact that his base kept emphasizing [this move] to him."
The Christian influence on Trump's decision was evident at Monday's embassy-opening ceremony in Jerusalem, where one Hasidic rabbi, Zalman Wolowick, said a prayer, while two evangelical pastors, including the Trump adviser Robert Jeffress and John Hagee, the head of the lobbying group Christians United for Israel, offered blessings. "Let the word go forth from Jerusalem today that Israel lives!" Hagee said. "Let every Islamic terrorist hear this message: Israel lives!" When I asked Jeffress ahead of the ceremony what he would be praying for, he told me—tears in his eyes—that he wanted "to thank God for his faithfulness to Israel for the last 4,000 years. Because, you know, if God keeps his promise to Israel, he's going to keep his promise to us."
Evangelical Christians, in particular, have a "tendency to view Israel as fulfillment of prophecy," Gordon Robertson, the CEO of the Christian Broadcasting Network, told me in a phone interview. "The embassy is part of that." Many also support the politics of the move: Mike Huckabee, the former Arkansas governor and presidential candidate, told me that even "if there wasn't a biblical record, we certainly believe this is the right thing to do, because Israel is the nation that most mirrors the United States in its origin."
For most Christians, however, prophecy does not bleed into an end-times fantasy, Jeffress told me. "People have said, 'Oh, evangelicals are so excited about this because they think it will bring about the apocalypse.' I don't know any respected evangelical who thinks that."
Even as the mood was celebratory at the embassy opening, with guests eagerly chatting over festive march music, it took place amid chaos and controversy. Left-wing American Jewish groups like J Street object to the embassy move, predicting in December that it would "anger key Arab allies, foment regional instability and undermine nascent U.S. diplomatic efforts to resolve the larger conflict."
Some who presumably support the move objected to the way the Trump administration has presented it. Former Massachusetts governor Mitt Romney tweeted on Monday that Jeffress's past comments toward Jews, Mormons, and Muslims should disqualify "such a religious bigot" from giving a prayer at the embassy opening in Jerusalem. ("I think it's sad that Mitt would rush out and [speak] in anger like this on such a historic day as this," Jeffress told me. "Historic Christianity has taught for 2,000 years that Jesus Christ is the exclusive way to salvation. … Jesus said, 'I am the way, the truth, and the light. No one comes to the father but by me.' Jesus was Jewish. Was he anti-Semitic?")
But the greatest dissonance with the embassy celebration was undoubtedly the bloodshed happening on the border with Gaza. For weeks, Gazans have been protesting, building up to this chaotic week. People have gathered along the border fence with Israel, throwing rocks and flaming kites, in protest of Palestinian displacement from their historic homelands. Hamas, the group that rules over Gaza and is considered a terrorist group by the United States, organized the protests coinciding with the embassy move, one of many markers of the conflict's history this week.
That story—of a city that belongs to multiple peoples, of a Jewish capital that comes with a price, of the generational pain of nearly half of the people who live in this land—was nowhere to be found amid the American revelry.
At the end of the ceremony, an Israeli singer joyfully sang the song "Od Yavo Shalom Aleinu," a Jewish summer-camp staple that means "peace will come upon us." No one in the auditorium seemed to recognize the contrast between this celebration and the violence happening just a few hours south. Or perhaps they didn't care. "Those provoking problems like we see today in Gaza are part of the problem and not part of the solution," Kushner said.
Just as American festivities in Israel don't necessarily reflect what's happening here, the real demonstration of who owns Jerusalem took place not on Monday, but on Sunday, during Yom Yerushalayim. Thousands of Israelis—mostly young boys—streamed through the Damascus Gate and the Muslim Quarter of Jerusalem toward the Western Wall, where they celebrated the day Jews retook the city. This area of the Old City has routinely been a site of violent conflict between Jews and Palestinians, and typically Jews walk another way to reach their holy site. As men in yarmulkes ran by, singing and yelling, Palestinians looked on from their shops. Eventually, they turned off the lights and shut their doors.
We want to hear what you think about this article. Submit a letter to the editor or write to letters@theatlantic.com.
Emma Green
is a staff writer at ​
The Atlantic
, where she covers politics, policy, and religion.