The Battle Between Israel and Iran Is Spreading
As the Syrian Civil War winds down, a potentially more dangerous conflict intensifies.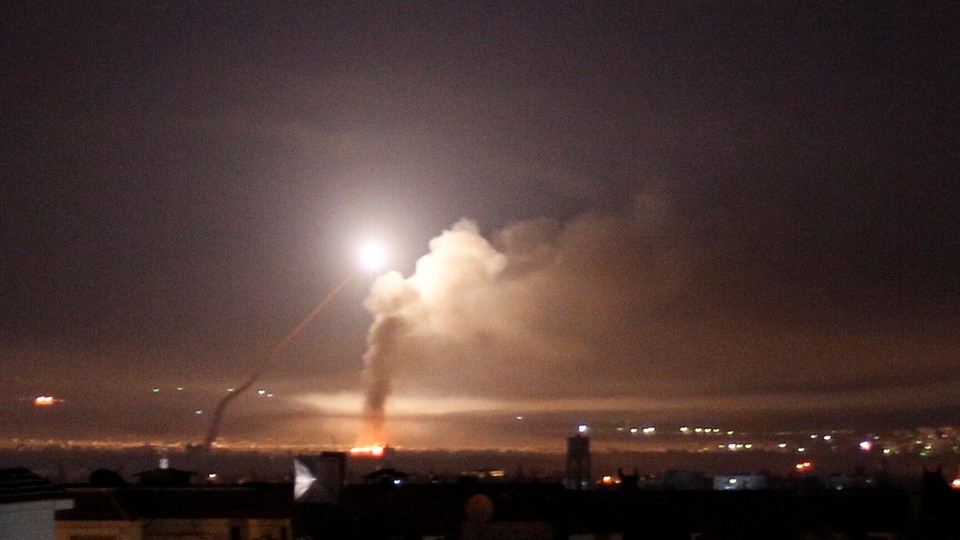 When Israeli missiles rained down on multiple Iranian targets across Syria overnight, it was one of Israel's largest military operations in Syria in decades. The bombing came after Israel said that Iran, too, had committed an action without recent precedent, when its forces in Syria launched some 20 rockets against Israeli forces in the Golan Heights.
It was a dramatic escalation, but it also fit a longer ongoing pattern. The two adversaries have been engaged in a low-level conflict mostly outside their own borders, using the chaotic terrain of the Syrian conflict to confront each other. Yet if the confrontation seemed to be contained—and one of the many different wars now raging among various combatants in Syria—it is showing signs of spilling beyond that battlefield. This means that even as the Syrian Civil War itself seems to be winding down, with Assad regaining control of key territory, a bigger and more dangerous regional crisis may only be intensifying.
"The IDF has struck dozens of Iranian military targets in Syria in response to the Iranian rocket attack against Israel," Lieutenant Colonel Jonathan Conricus, a spokesman for the Israel Defense Forces, said on Twitter. "Quds force is behind attack and has played the initial price. IDF remains ready for various scenarios but does not seek to escalate the situation."
The Quds Force, the elite overseas branch of Iran's Revolutionary Guard Corps, is active in Syria, where it is among the fighting forces allied to the Assad regime. Its choice of the Golan Heights as a target for the attack is probably not a coincidence. Israel seized the area from Syria during the 1967 Six Day War—and as recently as 2010 the territory was reportedly under discussion to offer to Syria in exchange for a peace agreement. But those negotiations were quickly sidetracked by the Arab Spring protests against the Assad regime that devolved into the Syrian Civil War. Iran, a longtime supporter of Assad, jumped into the conflict on his side and has since entrenched its forces in the country. Israeli officials fear that Iran's presence inside Syria gives it a land bridge from where it or its proxies can easily carry out attacks on Israel—as indeed they have now done.
Yet the damage to Israel in this case was minimal. The IDF said it intercepted four of the 20 rockets launched at the Golan Heights; 16 failed to hit their targets, and no injuries or damage was reported. Israel said its jets struck and damaged 70 Iranian targets inside Syria, including facilities belonging to the Quds Force. The Syrian military's air-defense systems were also struck, the IDF said, after they fired at Israeli jets. The Syrian Observatory for Human Rights, the U.K.-based group that tracks such attacks and casualties inside Syria, said 23 people were killed in the Israeli strikes. It said Iran's rocket attack followed Israeli shelling of Ba'ath city in Quneitra province.
"They must remember that if it rains here [in Israel], it will pour there," Israeli Defence Minister Avigdor Lieberman said, adding that nearly all the Iranian infrastructure in Syria had been hit. "I hope that we have finished this chapter and that everyone got the message."
That is highly unlikely. Iran, whose regime has repeatedly called for Israel's destruction, now has bases inside Syria. The Islamic Republic is also involved in all of the other major regional conflicts: In Iraq, backing Shiite allies including militias; in Yemen, it is involved in a deadly proxy war with Saudi Arabia; and in Lebanon, it backs Hezbollah. It had until relatively recently shied away from overtly aggressive moves against Israeli or Western interests, but has been growing bolder on that score, including sending an armed drone into Israeli airspace in April. And the day Trump withdrew from the Iran deal, Israel put its troops on high alert after detecting what it called irregular activity by Iranian forces inside Syria.
The European nations that are signatories to the deal, and that have said they will abide by it, urged calm after the Israeli strikes. The U.S. said it backed "Israel's right to act in self-defense"; Russia, which is at its most powerful in the region since the end of the Cold War, is also party to the nuclear deal, and called for "restraint from all parties." Russia has close relations with both Israel and Iran and sees its intervention in Syria as a major foreign-policy success, and it is unlikely to want tensions rising between its two allies—tensions that have the potential to draw in other regional and global players. And yet, that's quickly what is happening in Syria.
Last month, Russia and the Assad regime accused Israel of striking a military airport near Homs where Iran is known to operate, reportedly killing 14 people. Three members of the IRGC were reportedly killed in that attack. Israel has carried out dozens of strikes inside Syria since the civil war began in 2011, mostly, it says, to protect itself and to strike Iranian forces and their proxies when they become a threat. Israel says that the T4 base, the base near Homs that it struck, for instance, is used by Iran to transfer weapons to Hezbollah, the Lebanese Shiite militia group with which it fought a 15-year-long conflict in southern Lebanon. As I wrote at the time:
Israeli officials have previously said that one of their goals in Syria is to keep Iran in check and ensure it keeps its distance from the border with Israel. It fears—with some justification—that Iran will use the proximity to the border and access to Shiite fighters to attack Israel. To this end, Israel, which regards Iran's theocratic regime [as] an existential threat, has struck targets inside Syria dozens of times since the civil war began in 2011. The largest of those attacks, in February, also involved the T4 base.

At the time, an Iranian drone launched from the base entered Israeli territory. In response, Israel struck Iranian targets inside Syria. An Israeli F-16 took Syrian anti-aircraft fire. Two Israeli pilots ejected from the jet and parachuted safely back to their territory. Israel had wanted to stage a larger response, but was reportedly talked back by Russian President Vladimir Putin.
Thursday's strike inside Syria came with a rare acknowledgment from Israeli officials that it had occurred. Israel's government was among the most vocal critics of the nuclear deal with Iran that President Trump withdrew from this week. But to the extent that the move created yet more uncertainty in an unstable region, Israel may now find itself facing the most immediate consequences.