Ireland's Very Secular Vote on Abortion
The Catholic Church was instrumental in passing the country's strict abortion laws. Now it's all but absent from the referendum about whether to repeal them.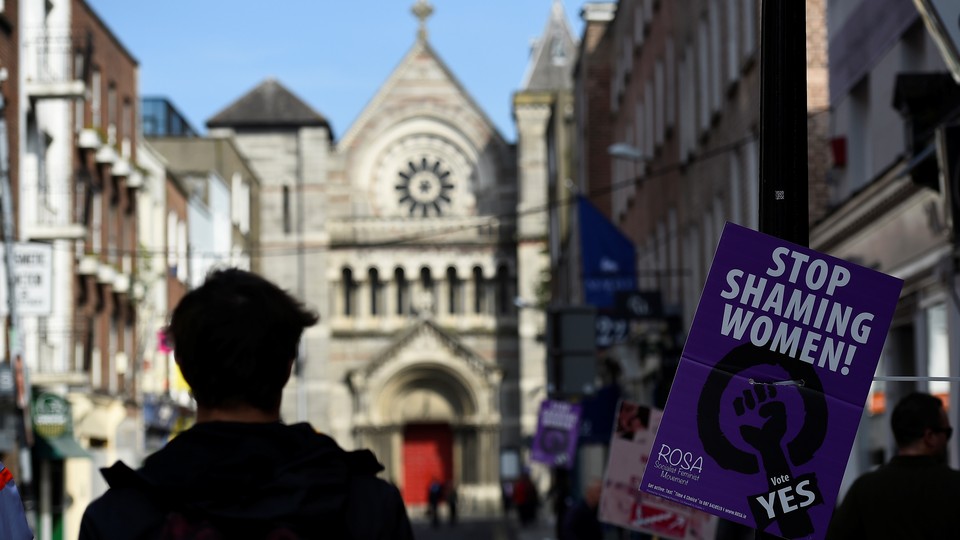 DUBLIN—Millions of Irish people are voting today on whether to liberalize or maintain the country's abortion laws, which are among the most restrictive in the world. Polls opened in the early morning, but the results of the referendum won't be announced until Saturday. Regardless of how people vote, Ireland's relationship to abortion has already changed. "We're having conversations now that we have never had before in my country," Fiona de Londras, a professor of global legal studies at the University of Birmingham, told me.
As voters prepared to cast their votes, it seemed there wasn't a street pole in Dublin without a sign on it about the referendum. Also mingling in the streets were Irish expats. Thousands of them, it was estimated, would be flying home from around the world to participate in what has been dubbed a once-in-a-generation opportunity. Of the 1.4 million Irish citizens living abroad, 40,000 are eligible to vote in Irish elections—and those who are must do so in person.
When I spoke with Deirdre Ni Chloscai last week, she was preparing to travel from New York to her native Ireland. She told me she almost didn't make it back for the vote. "Only two weeks ago, one of my friends told me about the 'Abroad For Yes' page and I saw that there were so many people getting home to vote and getting sponsored to go home to vote," she said. "So I put up a GoFundMe page and was lucky enough to be funded in 12 hours to go home."
There's a reason people on both sides of the issue have lobbied Irish expats to go #HometoVoteYes or #HometoVoteNo. Unlike general elections that occur at least every five years in Ireland, this vote concerns the country's constitution and, more specifically, its near-outright ban on abortion. The referendum asks Irish citizens to vote "Yes" or "No" on whether to remove the Eighth Amendment of the Irish constitution, which gives an unborn fetus equal right to life to that of a pregnant woman, and replace it with: "Provision may be made by law for the regulation of termination of pregnancies."
A majority "Yes" vote would repeal the Eighth Amendment and allow Irish lawmakers to craft new legislation regulating abortion access in its place. A majority "No" vote would keep Irish abortion restrictions as they are: Terminations would be illegal in all cases, except when a doctor rules that pregnancy poses a danger to a woman's life. In all other cases—including rape, incest, and severe or fatal fetal abnormality—women would not be able to access abortion services in Ireland. For that, they would have to travel to other countries, like the United Kingdom. They would not face prosecution upon returning home.
Walking through Dublin's city center during the final hours of the referendum campaign among a sea of "Yes" buttons and "Repeal" sweatshirts, one could assume a vote to repeal the Eighth Amendment was a foregone conclusion. But the latest poll in the run-up to the vote suggests a tighter contest: Though "Yes" is projected to lead with 52 percent of the vote (compared to 24 percent voting "No"), approximately 19 percent of voters remain undecided.
Abortion is a particularly contentious issue in Ireland, where an overwhelming majority of the population identifies as Catholic. The Church was a main driver in the push to implement the constitutional ban on abortion when the Eighth Amendment first passed 35 years ago. But faith isn't the primary reason people are still unresolved on the issue.
In fact, it hasn't played much of a role at all. When I asked activists on the "Yes" and "No" campaigns what impact religion has had on the referendum, both sides said the debate was secular. For those advocating for "Yes," the referendum is about allowing abortion care for women who need it. For those advocating for "No," it's about preserving Ireland's protections for unborn children. "Very few people are approaching this from a religious perspective," de Londras told me. "Lots of people are approaching this from a moral or ethical perspective."
The evidence is in the questions voters asked. According to data amassed by Google Trends, the most common searches in Ireland in the final weeks before the vote were practical questions, such as "How is an abortion performed?" and "How much does an abortion cost?" Others were more theoretical, such as "Is it immoral to discard an embryo?" and "Is abortion murder?" Of the top two dozen questions searched between May 1 and May 14, none directly referenced religion or the Church.
This is likely due in large part to the declining moral authority of the Church in Ireland—a decline spurred by a series of scandals, including the revelations of child sexual abuse by priests in the 1990s. Since then, the Catholic population in Ireland has dropped from 91 percent in 1991 to 78 percent in 2016. The Church's decline in authority has also been marked by a series of changes to the country's social norms, from the legalization of contraception and divorce in the 1980s and 1990s, to the referendum legalizing same-sex marriage in 2015.
Some within the Irish Church remained strikingly silent on the referendum debate—and encouraged other clergy leaders to do the same. In a statement this month, the Association of Catholic Priests reiterated the Church's teaching that human life is sacred at all of its stages, but went on to argue that the pulpit should not be used to campaign on the referendum during Mass. "[A]s leadership of an association made up of men who are unmarried and without children of our own, we are not best placed to be in any way dogmatic on this issue," the statement noted, adding: "A vote cast in accordance with each person's conscience, whatever the result, deserves the respect of all."
But the Church's declining influence should not be overemphasized. Though the number of Irish people identifying as Catholic has dropped, the Church still has a deeply embedded cultural influence in Ireland—one that is certainly active in the debate, even if voters are not necessarily thinking about it that way. Not only does the vast majority of the Irish population still identify with the Church, but the vast majority of the country's schools are also run by the Church.
"When I was 16, I was very pro-life, or anti-choice, because of the way it was taught to me," Chloscai said, citing her experience at a convent secondary school in Carrickmacross, a town in northeastern Ireland. She said it wasn't until one of her friends got pregnant at the age of 18 that she began to think about the issue differently. "It was that moment when she rang me in complete panic, I knew then that this was the only option for her. It was the only option for her to go abroad and have an abortion."
When I spoke to Rose Sweeney, who spent the final evening of the campaign passing out "No" leaflets on O'Connell Street, Dublin's main thoroughfare, she conceded that religion still plays a fundamental role in Irish culture. "It's entangled in every aspect of society and life and our traditions," she said. But she emphasized that it hasn't affected her decision. "It's in the UN convention of human rights—there's a fundamental right to human life that everybody has to protect," she said. "Religion is not what's going to be bringing people to the [voting] booths—it's going to be life."
De Londras, the Birmingham professor, runs a site dedicated to addressing voters' legal questions about the referendum. She told me she tends to get the same three questions over and over again: What does the Eighth Amendment actually do? What does the government plan to replace it with? How will that new legislation relate to the U.K.'s abortion law? The Irish government has addressed some of these questions already: According to draft legislation put forward by Irish Health Minister Simon Harris, the government will propose legislating to allow women to seek abortions up to 12 weeks into a pregnancy. After that point, abortions will only be accessible if the pregnancy poses a fatal or serious risk to a woman's physical or mental health, or in the event of a fatal fetal abnormality.
Ailbhe Smyth, the co-director of the Together for Yes campaign, praised the government's proposed legislation. "There had been a very long, democratic process leading up to this proposed legislation," she told me in reference to the Citizens' Assembly, a group of 99 Irish citizens who advised the government to seek less restrictive abortion access last year. "We were quite reassured [to see that] some of the key points that had been made during that deliberative process were actually still in there in the law the government is proposing."
But advocates for keeping the Eighth Amendment say the government's proposal goes too far, and could sway undecided voters to vote against the measure. "To go from a country that values the life of the unborn child ... to a country that is embracing a very liberal abortion proposal, is just something that the Irish people don't want," Abigail Malone, the Save the 8th campaign's press secretary, told me, adding: "Ultimately, we're not being asked to trust women, we're not being asked to trust doctors—we're being asked to trust politicians."
Malone told me the reason many anti-abortion advocates oppose repealing the Eighth Amendment and giving the government room to legislate is that there is no way of guaranteeing what the new law will look like, nor is there a way to guarantee it won't change again in the future.
Meanwhile, Fionnuala Nic Mhathúna, a "No" supporter from the town of Sallins, told me she felt the government has already made up its mind on what abortion legislation will look like if the Eighth Amendment is repealed. "They've already written this bill—it's already written and it has nothing to do with me," she said. "They want abortion, they want to kill children in this country, and that's it."
Yet preventing lawmakers from legislating on the issue doesn't make abortion any less accessible for Irish women, provided they can afford to travel. Abortion is technically illegal in Ireland, but it's not unlawful for Irish women to seek abortion services outside the country—and many do. In 2016, more than 3,000 Irish women traveled to the U.K. for abortion services. While the vast majority of these terminations took place within the first 12 weeks of pregnancy, U.K. law permits abortions up to 24 weeks (and later, under certain circumstances).
"Right now, the law that Irish women get abortions under is English abortion law," de Londras said, noting that for many Irish people the U.K. law makes abortion too readily available. "People really are concerned with that."
As the voting took place, others were concerned about a change that is yet to come. "It's a huge moment in all our lives—but I find it's still a very, very contentious subject," Mhathúna said. "People will fall out over it."