How a Norwegian Retiree Got Caught Up in a Spy Scandal
A tale of intrigue on the Arctic border—and a new confrontation with Russia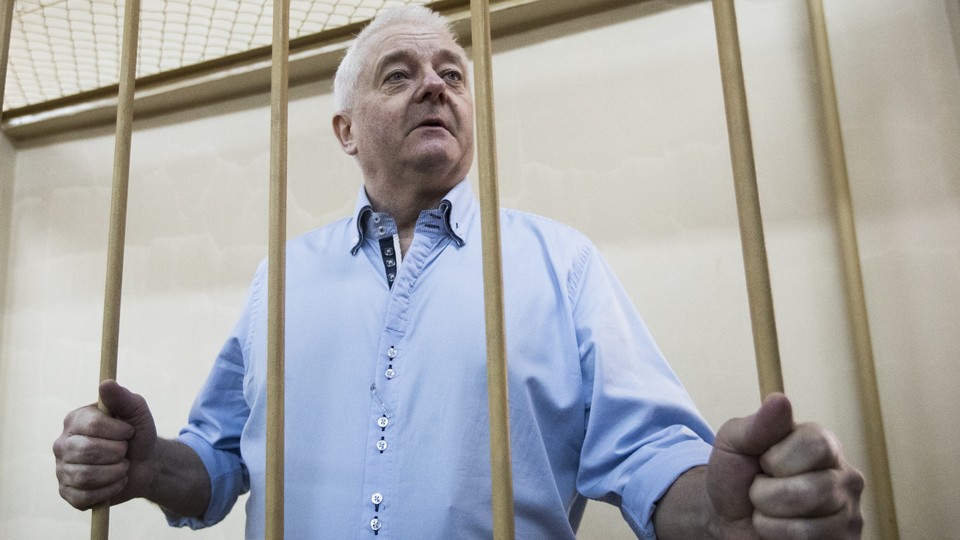 OSLO, Norway—Late last year, Russian authorities in Moscow arrested a 62-year-old retired Norwegian border guard and pensioner named Frode Berg and accused him of being a spy. According to Russian officials, since 2015 Berg had been mailing envelopes of cash to an unknown recipient; in exchange, they said, Norwegian intelligence acquired information on Russia's nuclear submarines in the far north. At the time of his arrest, Berg was carrying an envelope with 3,000 euros in cash.
In late April, Berg admitted to having worked for Norwegian military intelligence, but as an unwitting courier. Over the years, he had been mailing cash and instructions during trips to Russia, but beyond that, the exact mechanics and breadth of the operation are still unknown. Berg's lawyer, Brynjulf Risnes, said that the case does "appear to be a true spy story," but that his client was recruited without understanding the full scope of the operation he was involved in and that he only mailed envelopes.
A spokesperson for the Norwegian Foreign Ministry told me that it "will continue to provide assistance" and protect Berg's interests, but would not comment about his alleged links to military intelligence. Norway's Defense Ministry, which oversees the intelligence agency, declined to comment for this story. Berg has not yet been charged, but could face up to 20 years in prison if convicted of espionage; with no Russian operatives in Norwegian custody, the possibility of a prisoner exchange is unlikely. "There's very little leverage for any deal," Risnes said. "The political climate is very bad at the moment."
Berg's arrest left much of Norway wondering how a pensioner from an Arctic border town became entangled in the country's first case of alleged espionage in Russia since World War II. Meanwhile, his case has also placed a renewed focus on the deepening anxiety gripping the historically peaceful border between Norway and Russia.
Berg was a resident of Kirkenes, a town of about 3,500 people not far from Norway's 121-mile border with Russia. The Arctic town worked to build a close relationship with its Russian neighbors, even as tensions between Moscow and the West rose in recent years. Berg himself volunteered at a soup kitchen across the border and helped organize festivals and sporting events open to both Norwegians and Russians. Risnes said that those connections to Russia are part of what may have made his client attractive to Norwegian intelligence.
The spy case has also drawn new attention to Oslo's activities in the north. A report by Norway's national broadcaster NRK found that Berg wasn't the only resident in the north to be approached by Norwegian intelligence in recent years: A number of locals who regularly cross the border said that they've been asked to serve as couriers for information or cash to and from Russia. The recruitment efforts, NRK reported, have increased in recent years.
All this places Norway, which prides itself a peaceful nation, in an awkward position. Oslo serves as the West's eyes and ears on Russia's northern border, conducting physical and electronic surveillance for NATO and the United States. But while Norway and its allies have grown increasingly suspicious of the Kremlin, Oslo has also tried to prevent its relationship with Moscow from roiling the people-to-people ties that have developed on both sides of the border since the fall of the Soviet Union. "We have placed a lot of emphasis on this even while the larger Russia-West relationship is strained," Ine Eriksen Søreide, Norway's foreign minister, told me. The two countries have a long history of cooperation, especially in the Arctic, on issues like search and rescue, the lucrative fishing and oil industries, and among their border-guard agencies. "It's part of the overall strategy to keep the Russian relationship balanced and keep our surroundings stable," Søreide said.
Norway's experiment with forging closer cross-border ties was born out of the hope that after 1991, Western countries could build a more peaceful and prosperous future with Russia. Over the years, those efforts paid off—thanks in part to the steadfast engagement of people like Berg. Russian firms opened offices in Kirkenes, as cross-border events and festivals became more common, and Russian shoppers flocked to local shops thanks to a visa-free travel agreement for locals that came into effect in 2012. "These low-level cooperative channels where people seem to gain more knowledge about each other are important," Lars Rowe, a Russia expert at the Fridtjof Nansen Institute, told me. "It's seen as a way to create peace."
But now all of that is in jeopardy. Russia has rattled its neighbor in recent years, launching military exercises with little or no warning, carrying out a simulated bombing run on a radar station in northeastern Norway, and raising concerns about its submarines' ability to threaten undersea data cables. Intelligence officials in Oslo have also said that Russian spy operations in Norway have increased. Russia's growing military presence in the Arctic has also been a source of anxiety for Norway. The Kola peninsula, located just across the border from Norway, is home to nuclear submarines, and the Kremlin has set up a string of bases along its northern coast and reopened older Soviet-era military facilities in the Arctic.
"We don't see Russia as a military threat to Norway, but some of its activities give us real concern," Frank Bakke Jensen, Norway's defense minister, told me. He said that Russia's assertiveness isn't simply directed towards Oslo, but against NATO as a whole, making Norway a frontline target as the bloc's northernmost member. (The presence of some 300 U.S. Marines for cold-weather training has also made Moscow nervous.) In response, the current government has increased defense spending after years of cuts, while projecting a larger military footprint near its arctic border with Russia. "[Russia] knows we are NATO in the north," Jensen said, "so we are trying to be predictable and reliable, and in a way add some stability to the situation."
As Oslo continues to toe the line with Moscow, the Berg case is likely to increase distrust. Lars Georg Fordal, the head of the Norwegian Barents Secretariat in Kirkenes, which funds cooperation projects with Russia on behalf of the Foreign Ministry, told me that Berg's case has generated anxious inquiries from local residents. But he said that despite the tough climate, people-to-people ties are still intact. "This might be the coldest point since the Cold War," Fordal said. "But cooperation continues and it will go on."
In Kirkenes, daily life in many ways remains unchanged, despite the shadow cast by Berg's case. Russians cross into Norway to stock up on sanctioned European food items like Norwegian salmon, French cheese, and Finnish dairy products, while Norwegians go to Russia to fuel their cars with cheaper gas. But the scars left from Berg's arrest and the growing geopolitical pressure can now be seen.
"People get scared, and scared people on both sides of the border will be more circumspect in regards to traveling and making contacts," Thomas Nilsen, the editor of the Kirkenes-based Independent Barents Observer, told me. Nilsen helped promote cross-border ties, mostly by organizing media exchanges with Russian journalists. But in March 2017 he was banned from entering Russia. He believes it was in retaliation to critical articles he wrote about Russian military activities in the north.
Like many Norwegians near the border with Russia, Nilsen believes in Norway's ongoing experiment in building cross-border ties. But in the wake of Berg's arrest, ongoing military saber-rattling, and deepening distrust, he remains increasingly skeptical if those ties can fully survive. "Maybe this isn't another Cold War," he said. "But the growing distrust and military posturing feels similar."