Germany's Attempt to Fix Facebook Is Backfiring
Right-wing politicians are pouncing on an ambitious law seeking to curb hate speech online.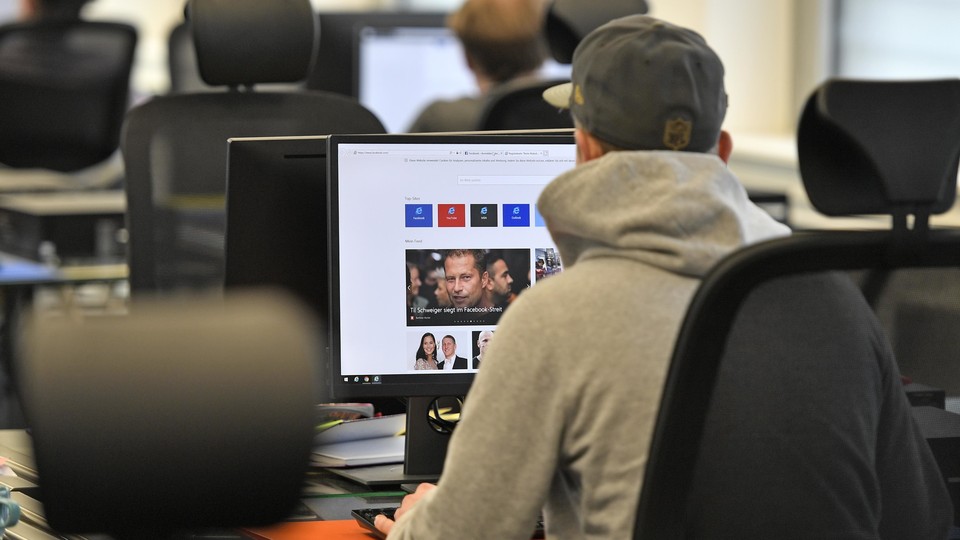 The new year was just a day old when Alice Weidel, the 38-year-old co-leader of the far-right Alternative for Germany (AfD) party, and Beatrix von Storch, her deputy, came under investigation for inciting hatred on Twitter. Both women had attacked the police in Cologne for tweeting a New Year's greeting in Arabic: "What the hell is wrong with this country?" von Storch asked in a racially incendiary tweet, accusing the police of supporting what she called "barbaric, gang-raping Muslim hordes of men." Weidel echoed that sentiment, accusing the police of supporting "knife-stabbing migrant mobs."
Both tweets were quickly flagged and deleted from the platform, as were a series of tweets from the satirical magazine Titanic parodying von Storch's remarks, making them among the first casualties of Germany's new Network Enforcement Act (NetzDG). The law, which went into full force on January 1, mandates that social-media companies delete what it calls "manifestly unlawful" posts on their platforms within 24 hours of being notified or risk facing heavy fines. (German law bans, for example, incitement to hatred, incitement to crime, and the spread of symbols belonging to unconstitutional groups.) Since the NetzDG took effect, it has been hailed as a success by some experts, and a "repressive regulation"—a blow to free speech—by others.
Members of the AfD have aligned with the latter camp. Shortly after the news of the investigation into their tweets, Weidel and von Storch appeared in a political ad together with red tape over their mouths, next to text that read, "That's just our sense of humor!" Since then, Weidel and her colleagues in the AfD have been among the loudest critics of the new measure, decrying it as illegal censorship. The sentiment is not uncommon in Germany, where many other Facebook and Twitter users have seen their posts flagged or removed because of the new regulation without quite knowing why, and where free-speech advocates worry about the effect on expression. Even Germany's new Foreign Minister Heiko Maas, who led the push for the NetzDG during his time as justice minister, ran afoul of the new law when one of his old tweets, in which he called an immigration opponent an "idiot," resurfaced.
"I'm far from being a fan of the far right, but a lot of them are afraid that their postings are deleted because of their beliefs, not because of what they say," said Jeorg Heidrich, a German internet lawyer and a longtime opponent of the regulation. He said that the NetzDG incentivizes social-media companies to "delete in doubt"—to remove any content that seems like it might be illegal—and he is one of many who have observed a general "chilling" of speech online and offline in Germany. "The NetzDG is on people's minds," he said. "Generally, people are more careful what to think, what to write. Lots of people are afraid of losing their accounts."
In the AfD's case, however, Germany's attempt to regulate speech online has seemingly amplified the voices it was trying to diminish. The law was created to address the troubling proliferation of incendiary and hateful speech online, but its ambiguities and omissions—its lack of clarity regarding what kinds of speech it targets, and how platforms must comply—leave open key questions about how to define the contours of free speech in the digital age. Those questions are a matter of broad debate within the mainstream of German society. But the fight gives the AfD—some of whose members have been accused of exactly the kind of neo-Nazi rhetoric German speech law is deeply concerned with in the first place—a unique opportunity to capitalize.
AfD politicians have called the NetzDG a return of Stasi-era censorship from the days of the German Democratic Republic (DDR), dubbing it "DDR 2.0" and portraying the party as a victim of censorship. Party members also moved quickly to expose perceived weak spots in the law, said Mirko Hohmann, a technology-policy researcher at the Global Public Policy Institute in Berlin. "When they want to be provocative, they write something that was borderline illegal, they take a screen shot, post it, and see if it gets deleted," Hohmann said. The law leaves it up to companies like Facebook and Twitter, with their armies of moderators newly installed in Germany, to decide within 24 hours whether a post is "manifestly" illegal and remove it—a decision that would ordinarily take weeks in a German court, Hohmann explained. "Employees at Facebook and Twitter just can't keep up."
And despite crying censorship against her, Weidel has also herself forced Facebook to restrict some content. Last month, Weidel earned praise for bringing Facebook "to its knees" in Germany after winning a court case against the company. She demanded that the platform make a post calling her a "Nazi swine" and viciously attacking her sexual orientation completely inaccessible to Facebook users in Germany, even those using a VPN. When she first reported the offensive comment to Facebook in late January, the company quickly made the post invisible to users with German IP addresses. But Weidel, who has a home in Switzerland, noticed that it was still viewable to users who were outside the country, or whose IP addresses made it seem like they were. (The NetzDG stipulates that social-media companies remove illegal posts that are visible to users inside Germany, but does not consider how this could impact the circulation of content across borders.) As a result of her petition, Facebook must ensure that individuals in Germany cannot use a VPN to access illegal content. The easiest way to do this would be to remove offensive posts completely; the court's forthcoming written decision is expected to explain how the company should comply with the ruling.
Martin Munz, a White & Case attorney representing Facebook, called the offending comment "tasteless" but warned of the repercussions of the ruling: By compelling the social-media company to remove the post, it would, in effect, be enforcing German speech law internationally, even in places where the post's content would be perfectly legal. Under the ruling, unless Facebook found a workaround, the post would be invisible in other countries too, just because it's illegal in Germany. "Facebook is not a superjudge," Munz said.
It is unlikely that Facebook would comply across its entire platform: The penalty would most likely be a fine in Germany if the post remains visible. But that hasn't stopped the AfD from claiming that Weidel's case exposed the pointlessness of trying to regulate online speech and the uselessness of the law.
Weidel's case is the latest in a string of well-publicized incidents that highlight the shortcomings of the German legislation—as well as the thorny problems that could accompany any attempt to bring social-media platforms into step with national law. "It's sad that today the AfD is making their point in the political sphere as well as in court," Chan Jo Jun, a lawyer in Wurzburg whose work helped lay the groundwork for the NetzDG, told me. Despite evidence that overblocking is taking place just as Facebook warned it would, there is still broad support for the law, and lawmakers are currently considering revisions that would enable users to contest wrongfully deleted posts.
Weidel's lawyer, Joachim Steinhöfel, is an outspoken opponent of the NetzDG law. Since August 2016, he has maintained a website called "Facebook's Wall of Shame," where he collects posts that do not violate German law but were nevertheless removed from the platform. Users can contest these removals in court, but those proceedings can take weeks, creating a backlog that Steinhöfel called "the digital mass execution of free speech."
Steinhöfel won another case against Facebook in April, when he contested the deletion of a seemingly legal comment that the company said violated its community standards. A Berlin court ordered the company to reinstate the comment, effectively rendering the company's community standards useless in Germany. "The court is saying, 'Your community standards are not valid where they do not accord with German law.' This will get really interesting," Hohmann said. "Nude pictures are legal in Germany—you can't take them down."
Meanwhile, no one will know exactly how effective the law has been at forcing the removal of illegal content until July, when under one of the provisions of NetzDG, social-media companies must file a report disclosing how many posts they have removed this year. There are early clues: Freedom-of-information disclosures published by the digital-rights website Netzpolitik revealed that no fines have yet been levied for systematic failures to delete posts, and the government has only received 311 requests from citizens requesting that content be removed (25,000 requests were expected)—both revelations suggest social-media companies are at least doing an effective job implementing the law. In a report published on Tuesday, Facebook said it removed 2.5 million posts containing hate speech worldwide in the first quarter of 2018.
This leaves plenty of room for mistakes. One of Germany's most well-known street artists, who goes by the pseudonym "Barbara.", often challenges the far right in their work. The artist said that five of their posts were deleted within the first two weeks of the NetzDG, and that while Facebook said the deletion was a mistake and quickly restored the material, the company warned that if it happened again Barbara.'s account would be deleted. "Art is not free on Facebook," Barbara., who declined to give their real identity, told me via Facebook message. "I do what I want and say what I feel without limits, but not on Facebook. I'm sure that this is a thing that most users feel, and that Facebook will die of someday."
All of this means that the NetzDG is a flawed and incomplete solution to the online resurgence of the far right. "The [former] minister of justice [Heiko Maas] said this was all about defending free speech, because the dominance of the far right was intimidating citizens," said Niko Härting, an IT lawyer in Berlin. "In other words, the message was 'We don't want to hear all this stuff.' There was a hope that it would just go away." It hasn't gone away. And the sustained visibility of the far right, on and offline, just does not fit with Germany's view of itself in the world, nor with Facebook's stated goal of building community and bringing people closer together.