A Black Bishop Brings a Political Message to the Royal Wedding
The head of the Episcopal Church spoke about poverty, hunger, and war during Prince Harry and Meghan Markle's nuptials.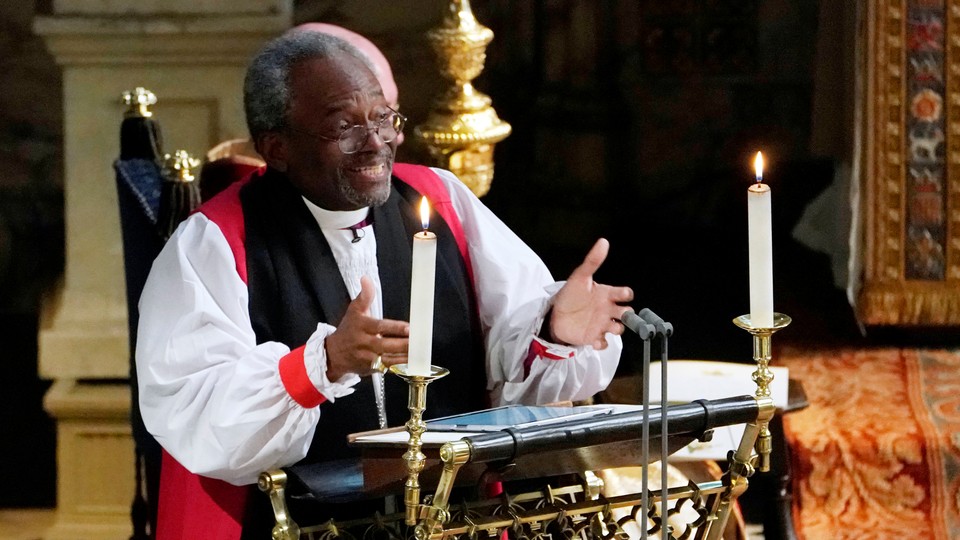 Maybe it was the gospel choir singing "Stand by Me." Perhaps it was the fiery sermon on the power of love. Price Harry and Meghan Markle's wedding on Saturday had a distinctively black-church flavor to it. And the joyful avatar of this quality was Bishop Michael Curry, the presiding head of the Episcopal Church, which is part of the Anglican communion along with the Church of England. His address to the room full of royals and celebrities at Windsor Castle was subtly political, calling for an end to poverty and war and citing American slavery and Martin Luther King Jr.
All of this made for a pointed celebration of Britain's new biracial duchess—a powerful counterpoint to the wealth and hierarchy at the heart of the British throne. As Reverend Renee McKenzie, the vicar and chaplain of an Episcopal church in Philadelphia, told the Philadelphia Inquirer, "It's taking a hammer into the basement of the master and slowly destroying the house brick by brick."
Curry has a history of political activism in the United States. When he was the Episcopal bishop of North Carolina, he supported the Moral Monday movement, a weekly gathering in front of the statehouse in protest of economically and racially discriminatory policies. Reverend William Barber, the pastor who led that movement, called Curry "a good friend" during an interview with MSNBC on Sunday. "Bishop Curry and others in our movement are lifting up what the word"—the Bible—"really says about the poor," Barber said.
And indeed, eliminating poverty was a big theme during Curry's sermon on Saturday—a surprising choice of topics for an opulent affair that's often covered like a sporting event. This day was "not just for and about a young couple who we rejoice with," he said. It was about love, which "can be sacrificial, and in so doing, becomes redemptive."
"When love is the way," he said, "then no child would go to bed hungry in this world ever again." He quoted the Book of Amos: With love, "we will let justice roll down like a mighty stream, and righteousness like an ever-flowing brook." With love, he said, "poverty will become history" and "the earth will become a sanctuary." At the end, he concluded, "may God hold us all in those almighty hands of love."
Poverty, hunger, justice, and care for the earth aren't typical themes for a wedding sermon. But they're typical for Curry, who has called for a transformative "Jesus movement" and has an unapologetically fierce preaching style. He was installed as the first black presiding bishop of the Episcopal church in 2015, bringing a new voice of leadership to an extremely homogenous denomination: The Episcopal Church is 90 percent white in the U.S., according to Pew Research Center.
In an interview with the magazine Religion & Politics last year, Curry explained that the church has an opportunity to speak into a moment of political division by "[helping] our folk engage the deeper values, principles, and ideals that are at the core of the Gospel, the teachings of Jesus." For him, this includes engaging in public-policy issues from a Christian perspective. "If we're working from common principles and common values, and learn from the teachings of Jesus, we'll be able to navigate that," he said. With millions of viewers tuning in for the royal wedding, perhaps Curry saw his chance to bring his message to a bigger audience. So with a captive audience that included the Queen, George Clooney, and Oprah, Curry focused not on the romantic Song of Songs or love stories from the Bible, but on the deeper political meaning of love.
This was just one of the many ways in which Saturday's wedding seemed to reflect a new generation of royals. Markle is an American divorceé, but has been more readily accepted into the royal family than some of her predecessors. Although she was raised Protestant, she went to Catholic school, and got re-baptized in the Church of England before the wedding. But most of all, she represents a new face of royalty, one that's more reflective of a contemporary England that is diverse and multicultural.
It was both a big deal and inevitable that this richness would reach all the way up to the royal family. When Anglican Communion News Service, an in-house communications arm of the church, asked Curry about the significance of Markle's race, he acknowledged that "different worlds are being brought together, whether that's nationality, whether that's ethnicity, whether that's broader background." But at a deeper level, "we all were created by the same God," he said. "So this is a marriage in the family, already, in a sense."