A 'Quiet Revolution' Comes to Ireland
Thirty-five years after implementing the country's constitutional ban on abortion, an overwhelming majority of Irish people voted to repeal it.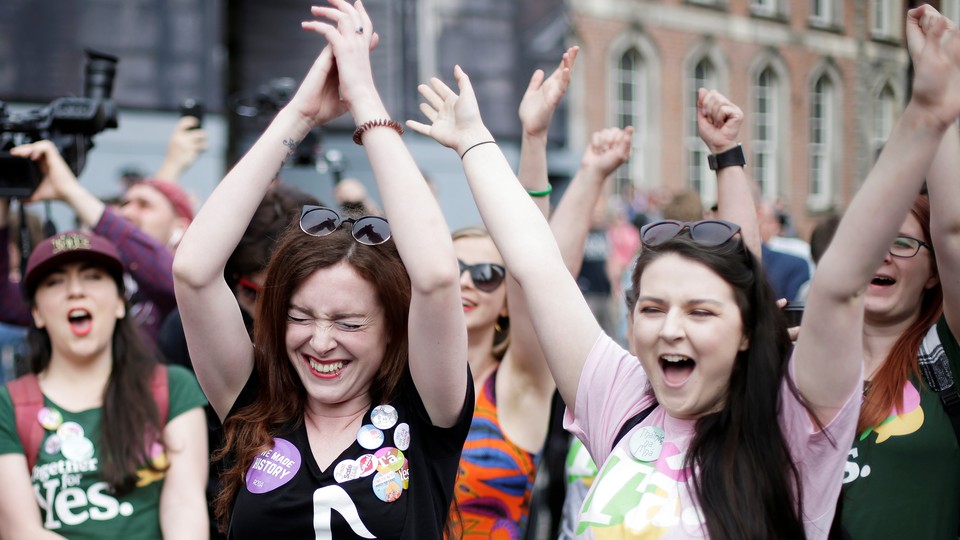 Updated at 1:51 p.m. ET
DUBLIN—It was clear a big change was coming to Ireland even as the final votes were still being tallied: Exit polls Friday night showed an overwhelming majority of Irish citizens had voted "Yes" to overturn their country's constitutional ban on abortion. And on Saturday, it was official.
It was supposed to be a much closer contest, and the overwhelming margin in the final tally conflicted with polls leading up to the vote, which seemed to show a public about evenly split on the issue. In the end, roughly 66 percent of Irish voters supported repealing the Irish constitution's Eighth Amendment, which outlawed abortion by giving an unborn fetus equal right to life to that of a pregnant woman. Just about half that number—roughly 33 percent—voted to maintain the abortion ban.
The historic decision not only repeals the Eighth Amendment, but it also gives Irish lawmakers permission to write new laws governing abortion access to take its place. Though it's impossible to know exactly what the law will look like ahead of time, Ireland's Health Minister Simon Harris has given us an idea of what to expect: The government will propose allowing women to seek abortions up to 12 weeks into a pregnancy, after which terminations will only be permitted in the event of a fatal fetal abnormality or if the pregnancy poses a fatal or serious risk to the woman's physical or mental health. The new law is expected to be enacted by the end of the year.
The results were met with massive celebrations by the "Yes" campaign, which advocated in favor of repeal. Irish Taoiseach Leo Varadkar (the equivalent of prime minister), who backed repeal, said the result marked "culmination of a quiet revolution" in the country, adding that widespread support for repeal across different age groups, genders, and constituencies demonstrates that "we are a nation that is not divided. We're actually a nation that is united, that wants to make this change."
The "No" campaign, which advocated against repeal, conceded it had lost the vote, but stressed that it would move to oppose any government legislation liberalizing abortion access. "A wrong does not become right simply because a majority support it," the campaign said Saturday in a statement, adding: "Abortion was wrong yesterday. It remains wrong today. The constitution has changed, but the facts have not."
In some ways, Irish voters' decision to liberalize their country's abortion laws marks a natural progression of societal change in Ireland. After all, it was just three years ago that Ireland voted overwhelmingly to legalize same-sex marriage. But in other ways, the result marks a striking shift in a country long regarded as a conservative Catholic country—one which only voted to overturn its long-standing ban on divorce just 23 years ago (at the time, it was the only country in Europe where divorce was still illegal).
Friday's vote suggests this reputation may be outdated. Though the vast majority of Ireland's population still identifies with the Catholic Church, and though the Church remains deeply embedded in Ireland's cultural heritage, to call Ireland a conservative country would be a mistake. "It shows a more progressive Ireland," Katie Quinn, a university student from Dublin, told me. "It's showing we're not sticking with the past. We're willing to progress in Ireland and I think that's a good thing."
Dymphna, who asked that I only use her first name, told me that although she anticipated Ireland would vote to repeal, she was "shocked" to learn it had done so by what looked like a two-to-one margin. "I voted yes because it's a freedom of choice, but I struggled an awful lot with it because I'm of the older generation," she said. "It's the younger generation that's coming up—they travel a lot, they're far more educated. … The last few years now, suddenly we have same-sex marriage, we have divorce, and now we have abortion."
Indeed, not since voting to implement its constitutional ban on abortion 35 years ago has the country as a whole voted to the conservative side of a social issue. Though Ireland may continue to be a traditionally Catholic country, it began to shed its conservative culture when it legalized contraception (1985), divorce (1995), and same-sex marriage (2015). The "quiet revolution" Varadkar identified has also been a long and gradual one.