The Limits of Rags-to-Riches Stardom
When Collin Ishaq, a migrant worker in Dubai, started winning singing competitions, he seemed to be on his way to fame and fortune. Then reality set in.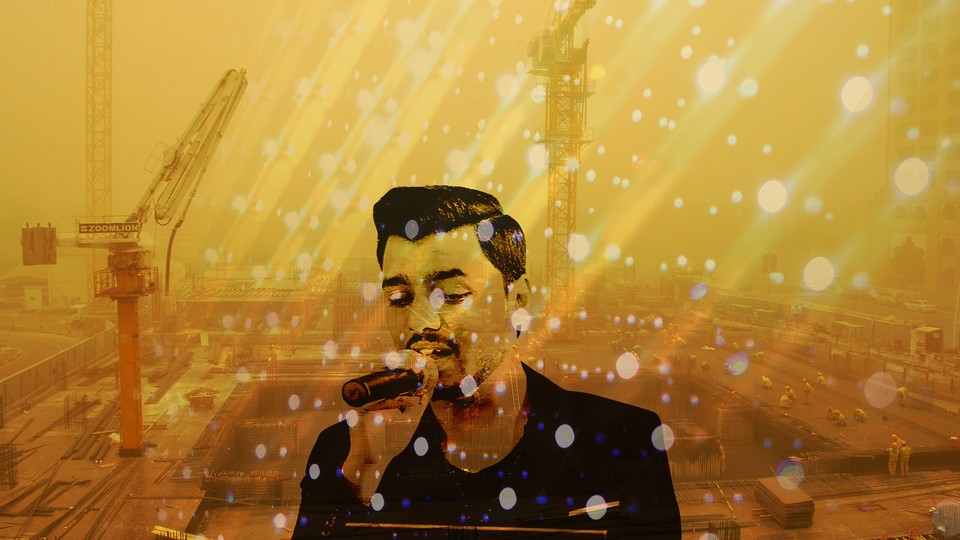 In the winter of 2008, Collin Ishaq traveled from Pakistan to the United Arab Emirates to work as an air-side operator at Dubai's international airport. He moved into a shared room in an industrial dormitory, known as a labor camp, that was built to accommodate a wave of migrant workers coming from South Asia. His camp was on the outskirts; from there, even the Burj Khalifa, the tallest building in the world, looked like a distant star. It was the kind of dispiriting place where everyone understood that their dreams were maxed out.
On a whim one evening, Ishaq tried his luck at a Bollywood singing competition called Camp Ka Champ, meaning Champ of the Camp, an annual goodwill exercise by a money-transfer firm. The firm's business came mostly from migrants working as construction laborers, drivers, cooks, electricians, or cleaners, who relied on the service to send money home to their families. After Ramadan each year, the singing competition went from camp to camp, like a traveling carnival. Workers often auditioned year after year in the hope of winning. That year, Ishaq won on his first attempt.
When I met Ishaq in 2015, he was already a small celebrity. After winning the show in 2008, he had been selected as a finalist in 2012, and had moved out of the camps and into an apartment in the city, where he had launched a part-time singing career. That evening, during a semifinal of Camp Ka Champ, I watched a group of workers haul him into the air until his feet were floating. He had just finished channeling the Pakistani singer Atif Aslam with a song from a Bollywood movie, Race 2, and his singing had sent the crowd into a delirious uproar. In the air, bobbing up and down on the shoulders of workers, many with cheeks that looked as if they had turned into leather from working in the smoldering sun, Ishaq looked content.
"When you become a star, something goes off in your head," he told me that evening. "You have to remember to thank God." At the time, Ishaq was 26, with a baby face and a middle part, and riding on a wave of success. In recent months, he had appeared on a TV show called Asia's Singing Superstar, an Indian-Pakistani version of American Idol, and begun booking independent singing gigs. He was also the lead singer of Five Vocalz, a band he had formed with four colleagues. A few months earlier, he had married a Pakistani woman named Carmel, which he called "a love marriage that was arranged by parents." He dined downtown, spent money on his appearance, and carried himself with reckless optimism, as if fame and fortune were apps he could download as soon as he got Wi-Fi.
Ishaq and I kept in touch on Facebook Messenger over the years. When I moved back to Dubai last fall, I wrote to ask how he was doing. He told me that his band had split, but he had picked up a singing gig on a cruise after his airport shift. He sent a series of photos—the cruise lit up with fairy lights, its buffet spread, smiling diners. Three months later, as I was looking to take him up on his invitation to visit the cruise, another text came in. "I left cruise last month and already resigned from my company," he wrote. "I am going back to my home country."
---
In 1966, oil was discovered in an offshore field in Dubai. This bolt of fortune transformed this desert land into a megacity within decades, as if the rulers were "playing SimCity for real," as the authors Greg Lindsay and John D. Kasarda put it in their book Aerotropolis: The Way We'll Live Next. Today, Dubai has the world's tallest tower, an artificial palm-shaped archipelago, and countless luxury hotels, malls, residential buildings, and office towers. Lindsay and Kasarda write, "Everyone and everything in it—its luxuries, laborers, architects, accents, even its aspirations—was flown in from someplace else."
In 1971, the country established a guest-worker program, known as the Kafala Sponsorship System, which required that the worker's visa and legal status be linked to a local sponsor firm, which would retain the right to prevent a worker from switching to another employer. In 2006, the kafala system, a norm across the Arabian Gulf, drew criticism from human-rights groups for making workers vulnerable to exploitation. In response, the Emirati government pledged that it would introduce laws to safeguard workers' rights.
In theory, the new decrees gave migrant workers more control. Many of them, though, knew nothing of these changes. The rush of workers who have come from South Asia, chasing opportunities to make double or triple what they can earn at home, has been so enormous that they now account for more than half of the population in the U.A.E. Since most blue-collar workers are male, the influx skewed the country's population, making it one woman to three men. The culture in camps is largely centered on survival. There is so much else to pay attention to—paying off debt, sending a child to school, affording health care, keeping the kitchen at home running. The inscrutable acts of politicians seem irrelevant to the matter of earning a living. Mohammed Zaffar, an electrician from Bihar, India, told me, "You come, you work, you earn money, and you go home."
---
Ishaq grew up middle-class in Karachi, Pakistan, in a three-bedroom home with his parents, his brother, and his sister. Their house was always brimming with visiting relatives. As a boy, he spent his afternoons playing cricket or antakshari, a singing game. His father, a manager at an oil company, made them laugh. His mother, the disciplinarian, poured her love into preparing burgers and sandwiches for her children.
After high school, Ishaq worked as a data-entry operator for local elections, translating votes from Sindhi to English. Later, for roughly a year, he worked as a call-center executive for a car-tracking firm. But Ishaq fell in with what his father considered bad company—friends who had done nothing with themselves. One evening in 2008, Ishaq's father heard that recruiters from Dulsco, a manpower-supply company in Dubai, were conducting interviews in Rawalpindi, a city in northern Pakistan. Weeks later, Ishaq was on a plane to Dubai to join work as an air-side operator. He was 19.
When the plane landed, Ishaq thought Dubai looked a lot like Karachi. People called Karachi the city of lights; Dubai, too, looked awake. But when his bus pulled into the labor camp, Ishaq's stomach sank. "I haven't seen this kind of life before," he told me. The camp was a compound of low-rise buildings with rooms crowded with bunk beds. The workers shared bathrooms and a kitchen. Ishaq moved into a room with six men from Pakistan; they cooked together and shared stories of their lives. In the early weeks, the group of friends visited the malls, spent a Friday at the beach, checked out a nightclub. But after a while, their work schedules precluded much else. "We would go to work in buses and come back to the camps in buses," Ishaq said. "There was no time to enjoy this Dubai life."
A month later, Ishaq's brother, Tanveer, arrived. He was so miserable in the camps that he would burst into tears in the middle of sentences. "He called my dad and started crying," Ishaq said. "He says, 'I don't want to work here. I miss mom. I want to come back.'" Their father asked them both to come home. Tanveer did, but Ishaq decided to stay. "There was something in my heart that said, 'No, I will become something on my own.'" he said.
During the months that followed, whenever there was a chance to make extra cash, working overtime or singing at Camp Ka Champ, Ishaq would take it. Within a year, Ishaq had saved enough to move into a two-bedroom apartment with six friends. The new apartment would turn into a rehearsal space for Five Vocalz. Ishaq would sing "Mohabbat Barsa De Na Tu," a love song, and the others would close their eyes to listen. Soon, the band was invited to sing at a 1,600-seater auditorium. They booked gigs in other emirates. It seemed that Ishaq was clearing his own path to mobility in a society where that seemed impossible for most. But within six months, arguments erupted. The others felt that Ishaq was hogging the limelight. Ishaq's verdict: "We split because everyone wants to come on the front page and everyone cannot."
The band had broken up. Tanveer had gone home. And Ishaq's visa didn't allow family members to join him, so Carmel was able to visit only for a few weeks each year, on a tourist visa. Ishaq decided that he would focus on himself, using a karaoke app to rehearse and uploading videos to YouTube. He picked up independent gigs at Indian gatherings and was still a favorite at Camp Ka Champ. But he felt that no matter how successful he became, he would never be respected as a professional singer. Collin Ishaq the singing migrant worker; people saw it as a gimmick, nothing more. Year after year, the Camp Ka Champ organizers would invite him to sing but then send him home with nothing other than taxi fare. "I told them, 'If you will pay me, I will come, I will sing,'" Ishaq said. "But they gave me a Tissot watch. If I wanted a watch, I would go out and buy it myself."
---
Earlier this month, days before Ishaq was set to leave Dubai, I met up with him again. It had been almost 10 years since his arrival. We were sitting inside a Starbucks on the third floor of a mall, and Ishaq was contemplating all the places he wanted to visit, the restaurants he wanted to try, the beaches he wanted to see one last time before he left. His phone kept ringing, with updates on a farewell party that his friends had organized in the Sonapur labor camp. There would be cake, singing, jokes, and maybe a drive out into the dunes. Ishaq had gotten a new job at the Karachi airport. He would finally get to live with his wife, Carmel, and start a family. At home, he imagined, Sundays would be exactly what they had been in his childhood. Morning service at the church, halwa puri for breakfast, a mid-morning nap followed by a big lunch prepared by his mother. Everyone would watch a movie together and then get burgers for dinner. "For something good," he said, "you have to do something that feels a little bad."
Three years after I'd first met him, Ishaq seemed different, a little bitter and exhausted. Within minutes of our conversation, he emphasized his unease with being associated with labor camps. Yes, he worked for a labor company and previously lived in a camp but he was tired of being typecast as a blue-collar worker. Days earlier, he had walked out of the cruise job, where he sang three evenings in a week, in a fit of rage. "It is only fun as long as they pay you on time," he told me. The people who praised his singing also somehow managed to make him feel like a charity case. It was as if he had become trapped in the narrative that catapulted him—the rags-to-riches story of a guy from the camps—even though the whole world had conspired to see that a singer from the camps would only go so far. Ishaq seemed ready to retreat to a simpler life. "I don't want to become a star anymore," he said. "All I want from life is to stay with my family. I have changed my mind."