Can Hungary Defeat a Budding Strongman?
The opposition parties seeking to oust Viktor Orbán could have a chance in Sunday's election—if they could just get along.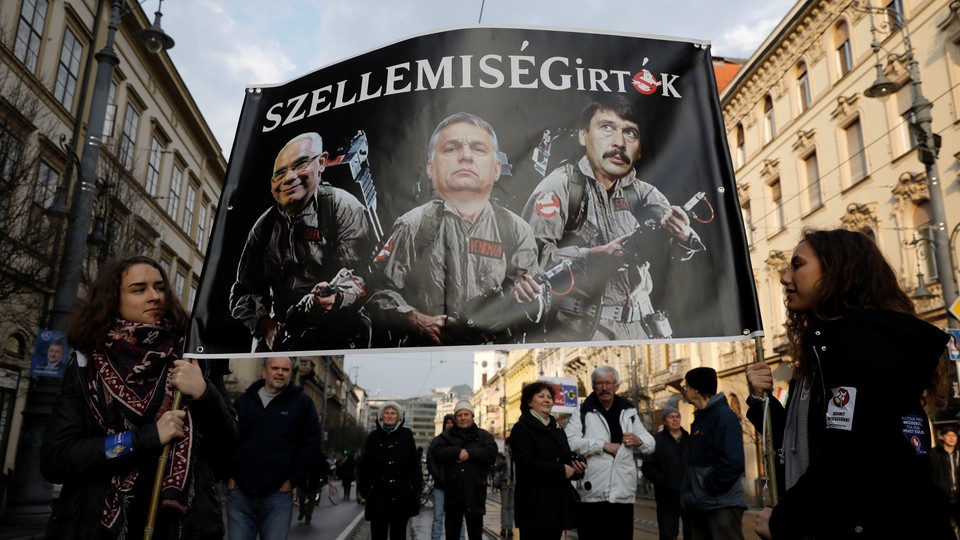 BUDAPEST—In southeast Hungary, not far from the borders with Serbia and Romania, sits a small city of some 47,000 called Hódmezővásárhely. In February, its mayoral election delivered a stinging and unexpected defeat to Fidesz, the seemingly unbeatable party of Prime Minister Viktor Orbán. That race, which pitted an independent candidate against Zoltán Hegedűs, the Fidesz favorite, provided a hypothetical roadmap for how a fractured and weakened opposition could unite to defeat Orbán and Fidesz in this Sunday's parliamentary election: If all the opposition parties were to band together in support of a joint list of candidates in each of Hungary's 106 individual parliamentary districts—a big if, given the wide ideological and philosophical differences between all the parties in question—they could attain enough votes to surpass Fidesz candidates.
It's not obvious why the fate of a town the size of San Luis Obispo, California, offers lessons about the fate of democracy itself. But Viktor Orbán's Hungary has been a disturbing case study in democratic decline. Since his latest term began in 2010, he has moved to restrict freedom of the press, made it harder for the opposition to win elections, and wielded the judiciary in ways that seem to punish his political opponents. He has spoken proudly of instituting what he calls "illiberal democracy"—a system he has described as more akin to the government of Russia or Turkey than that of Hungary's European neighbors. As Hungary's national elections approach, it's unclear whether what happens at the ballot box can stop this trend.
Orbán has been helped by a fractured opposition, but the results in Hódmezővásárhely show that he can, in fact, lose elections. "[A]lthough it might be a surprise for an outside observer of Hungary, it really is a realistic possibility to defeat the incumbent party despite the lack of a free and fair election process," Viktor Szigetvári, a leader and top candidate for the small center-left Együtt (or "Together") party, told me. "After Hódmezővásárhely, it became quite obvious that the electoral ground is there in Hungary for a regime change."
That, of course, would be far easier said than done. A combination of inter- and intra-party squabbling, electoral laws written to favor large parties like Fidesz, and the parties' own oversized egos, means that Orbán will likely remain an immovable force. Hopes for a "unite-and-conquer" election, in other words, are probably premature. "There was a lot of optimism after Hódmezővásárhely," Daniel Mikecz, a researcher with the Budapest-based Republikon Institute, told me. "But at the end of the day it really did not change the whole political landscape because … nobody really wants to give up their position."
Conversations with leaders in any of the half-dozen or so major opposition parties made it clear, though, that they believe the stakes of this Sunday's election couldn't be higher. They said that Orbán is corrupt, and that he has rigged the political system to benefit his party and his friends. His verging-on-authoritarian tendencies, they argued, have weakened Hungarian democratic institutions. "There's one common interest in the country: We have to oust this government," Pál Losonczy, a candidate for the far-right Jobbik party and its director of marketing, told me. "We have to. I don't want to live like this. I don't want to live in communism again, in an authoritarian regime." (The alternative Jobbik presents may, in fact, not be significantly better; though the party has worked to moderate in recent years, its foundations are in the extreme anti-Semitic and anti-Roma far-right.)
An electoral law instituted by Orbán's government back in 2012 explains part of the concern over his hold on the country's democratic system. The law placed smaller parties at a disadvantage: While parliamentary representatives used to be chosen in a two-round system where the top two finishers advanced to a second round, the law consolidated the process to a single, winner-take-all round. With Fidesz polling at more than 40 percent nationwide, this means that the winner will, in practice, almost always be Fidesz. Since more than half of Hungary's 199 parliamentary seats are allocated this way, it's virtually impossible for the opposition parties to break through in any significant way: In 2014, all opposition parties, combined, won just 10 of the 106 individual districts.
There's also a financial incentive for each party to field as many candidates as possible, even if it diminishes the chances of defeating Fidesz. Each party receives a certain amount of public financing for each district in which it collects signatures and recruits a candidate, plus additional money for hitting certain recruiting benchmarks. The reverse is also true: If a party's candidate in one district drops out of the race, it loses the money it received for that district.
Back in 2012, Orbán used his two-thirds supermajority to pass these new measures, which observers inside and outside of Hungary said were designed to help his own party. In the 2014 election, the first held under the law, Fidesz was able to secure two-thirds of the seats in parliament with just 45 percent of the overall vote. The opposition parties' weak position "is a symptom of Orbán's system, because they cannot compete and build up in a fair environment," the German Council on Foreign Relations' Milan Nič, who focuses on central Europe, told me. "I cannot recall elections in any [European Union] member state … where the laws and rules are so much sort of twisted on behalf of the governing party."
Recognizing that these laws placed them at a distinct disadvantage, some parties entertained the idea of explicitly coordinating their efforts. A few weeks ago, leaders in the green-liberal Politics Can Be Different (LMP) party proposed a meeting between the three largest opposition blocs: themselves, Jobbik, and the center-left Socialist coalition. But Jobbik and the Socialists weren't interested, and talks never materialized. LMP and Jobbik leaders have also discussed coordination, with no tangible results; the same was true of a meeting among center-left parties last month. "Right now it's more than obvious that there will be no full coordination—maybe there will be some withdrawals of independent candidates but not a huge, massive coordination," said Márton Gulyás, head of Common Country, a grassroots organization that has promoted active cooperation between the opposition parties. "It's right now kind of a depressing situation."
Though the parties believe defeating Orbán is important, many are loath to risk their political futures on the gamble of cooperation. On the left, many are unwilling to team up with Jobbik, which, despite its attempts to move to the center by curbing its xenophobic rhetoric and expanding its policy program (including softening its stance on the EU), remains a far-right party. And for many of the newer parties, which were founded as answers to older parties like the Socialists and Fidesz, collaborating with what they refer to as "20th century parties" undermines their founding principle. These parties, they have argued, represent an out-of-touch and corrupt style of politics that is more interested in protecting their political interests than representing the voters. "The green party LMP was formed as an opposition to the Socialists ... why would you team up with a party whose policies sparked up a civic opposition that created your own party?" István Ferenczi, a leader and candidate for LMP told me. "It doesn't make a lot of sense."
Jobbik leaders, meanwhile, suggested that since they're the largest opposition party, other parties should back their candidates instead. "What we can offer is a good candidate in every constituency for the people who want to get rid of this government," Jobbik MP Márton Gyöngyösi and the party's foreign policy spokesman told me. Jobbik candidates, he added, have a broad appeal beyond the party's base. Leaders within left-leaning parties pushed back on that idea: "People can't always be mobilized for one candidate if their political preferences aren't represented by the candidate," Ferenczi said.
Though the parties may not actually be working together, some of them are still coordinating in certain districts by having candidates pull back or drop out if another party's candidate has the clearest shot at winning. Szigetvari's Together party opted not to run candidates in about half of Hungary's parliamentary districts because they knew there were already strong candidates from other parties there, for example. They've since dropped several others. The upstart centrist-progressive Momentum movement, which originally had candidates in 97 of the 106 districts, opted to pull back a handful of candidates and is open to dropping more in the final days of the campaign. "It was difficult because we did it against our identity: that we are new, and the statement that in every [district] Hungary needs a new political face," András Fekete-Győr, Momentum's leader, told me. "But … we had to hear the voice of the people, and they want Fidesz to go away." (Ten days after we spoke, Fekete-Győr withdrew from his own district's race in Budapest, citing the fact that the Socialist candidate in the district has the best shot at victory.)
And despite Jobbik's plan not to pull back any candidates, Losonczy—who incidentally is running in the same district as Fekete-Győr and has not dropped out of the race—said the party is strategically diverting time and resources away from districts where it's clear its candidate isn't the one with the best shot of beating Fidesz. "If there's a district where the Jobbik candidate is clearly weaker than the other opposition candidate, we don't put so much effort into the local campaign," he told me. "People are not stupid—they know locally who is the strongest candidate."
There's likely still more drama on this front to come. Even in the closing days of the campaign, Gulyás and other party leaders acknowledged there was still plenty of time for last-minute candidate withdrawals or a change of heart among leaders in certain parties—they're allowed to do so until the day before the election. "It's a very tricky situation," he said. "It changes not even week by week but day by day."