'Very Soon or Not So Soon': Parsing Trump on Syria
The president has evolved on the issue over the years—and perhaps over the past few days, too.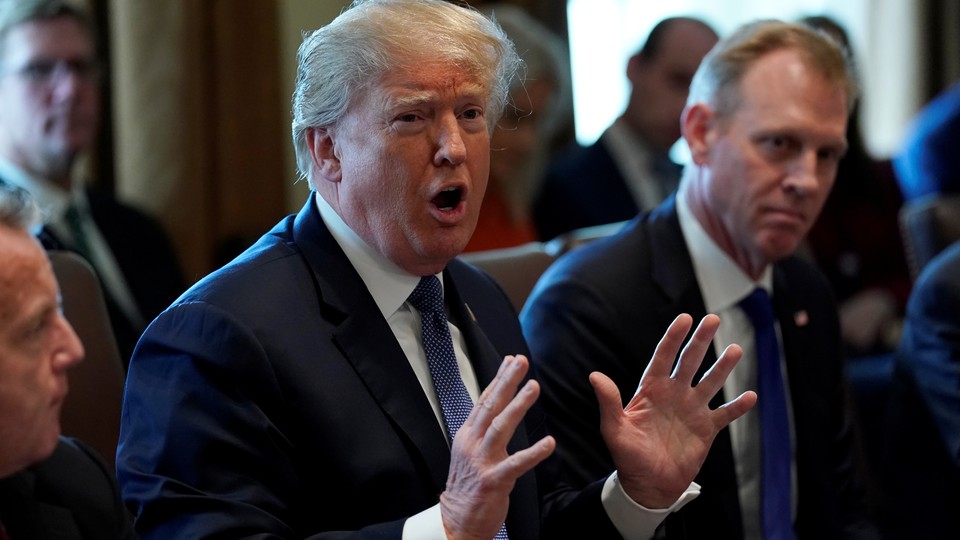 The progression of President Trump's reaction to the latest reported chemical-weapons attack on the Damascus suburb of Douma is less straight line than seesaw. On Sunday, the president warned Syrian Bashar al-Assad's regime and its backers in Russia and Iran that there would be a "big price to pay" for the assault, in which dozens of people, including children, were killed. The next day, he hedged: Trump announced the U.S. would make "some major decisions" on how to respond within 24 to 48 hours, pending a military assessment, with a more muted assessment of who was responsible: "If it's Russia, if it's Syria, if it's Iran, if it's all of them together, we'll figure it out."
Then, the reversion to bluntness, focusing this time not on the Syrian regime, but on Russia. In a series of early morning tweets Wednesday, Trump warned Russia to "get ready" for U.S. strikes on Syria, adding: "You shouldn't be partners with a Gas Killing Animal who kills his people and enjoys it!" (Russia responded by claiming reports of the attack itself were "fake news.") At an afternoon press conference, his press secretary again hedged: The president was still considering options, and no decisions had yet been made.
The next morning, Trump hedged again. "Never said when an attack on Syria would take place," he tweeted Thursday, adding that a U.S. strike could happen "very soon" or "not so soon at all."
Trump's preference to punish Assad seemed clear at first. This would have been consistent with a similar reaction he had to a chemical-weapons attack that killed an estimated 100 people in the Syrian town of Khan Sheikhoun last year, when Trump emphasized the "mindless" nature of targeting people he views as innocents—women and children.
But his seeming hesitance evokes an earlier Trump, one who consistently advocated staying out of Syria. When he spoke about it years ago, in 2013, another president was facing the decision of how to respond to a chemical-weapons attack in the country. Trump at the time posted a number of tweets arguing against intervention. As the Obama administration was considering its response to the Syrian government's violation of President Obama's "red line" about using chemical weapons, Trump warned that the U.S. should "stay the hell out of Syria." He further criticized the administration for broadcasting its strategy, tweeting: "I would not go into Syria, but if I did it would be by surprise and not blurted all over the media like fools."
He sounded similar notes on the campaign trail. "I've taken a very different position on Syria," Trump told supporters at a rally in Iowa in October 2015. By then, the Russian intervention had shifted the course of the war in Assad's favor, and Trump declared it was not worth the risk of confronting Russia on the battlefield to punish Assad. "What, over Syria? We're going to start World War III. Right, give me a break."
Even after assuming the presidency in January 2017, Trump continued to resist intervention against Assad, noting that while the last administration had the chance, "nothing changed … and now it's sort of very late. It's too late." Two months later, Trump's then-Secretary of State Rex Tillerson signaled that the U.S. would no longer pursue Assad's ouster, declaring that the Syrian leader's fate "will be decided by the Syrian people."
Less than a month after that, though, the attack in Khan Sheikhoun happened. In a news conference the following day, Trump condemned it as "horrific" and signaled a possible change in his approach to the issue. "I like to think of myself as a very flexible person," he said. "I don't have to have one specific way, and if the world changes, I go the same way, I don't change. Well, I do change and I am flexible, and I'm proud of that flexibility. And I will tell you, that attack on children yesterday had a big impact on me — big impact." The next day, the president ordered the launch of 59 cruise missiles targeting Al Shayrat airfield in western Syria, where the attack originated.
Though Trump's decision to strike Syria last year could suggest another strike is likely, there are new factors at play too. After all, Trump could have ordered strikes in the immediate aftermath of the attack just as he did in 2017—so far, he hasn't. Moreover, rather than solely blaming the Assad regime, this time Trump has also pointed to Russia—a party he has not only avoided confronting in the past, but one that just weeks ago he suggested he could work with to solve problems in Syria. And Thursday morning, he returned, too, to the mantra of an earlier Trump: Whatever you do, don't broadcast it ahead of time.
But if the president's self-described flexible approach has proven anything, it's that his previous decisions probably won't serve as a useful guide to his future actions.