What Does Being Trump's Friend Get You?
Shinzo Abe has placed a big bet on courting the U.S. president. He's about to see whether it will pay off.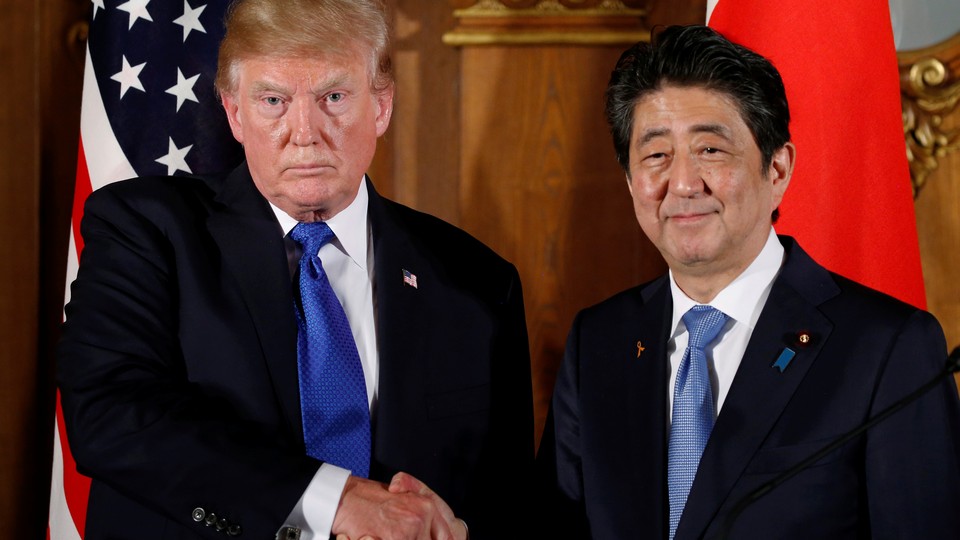 The question looming over Shinzo Abe's visit to Mar-a-Lago this week is of profound interest to all allies of the transactional, mercurial, America-First occupant of the White House: Does cultivating a special relationship with Donald Trump get you anything special?
Nearly from the moment Trump defeated Hillary Clinton, when Abe caught a flight to New York and became the first foreign leader to meet with the president-elect, the Japanese prime minister placed a big bet: Befriending Donald would serve his nation's interests better than antagonizing him, despite the fact that his new American counterpart had been describing Japan as a freeloading, bloodsucking ally since the 1980s. Abe's buddy maneuver has come in various forms: vigorous 19-second-long handshakes; "Donald & Shinzo Make Alliance Even Greater" hats; literal pitfalls on the golf course. Most substantively it has manifested itself in Abe's stalwart support for the Trump administration's international campaign of economic sanctions and diplomatic isolation to pressure North Korea into abandoning its nuclear-weapons program. The historical record indicates that dialogue is merely the Kim government's "best means of deceiving us and buying time," Abe, who was prime minister when North Korea tested its first nuclear weapon in 2006, declared last September.
But partners once in lockstep on North Korea are now out of step. The Japanese were blindsided by Trump's decision in March to abruptly accept an invitation to a meeting with North Korean leader Kim Jong Un without consulting Abe. Japan was suddenly left all alone, arms still folded in a show of steely resolve, as America, South Korea, and China rushed to extend a hand to Kim. (Abe has reportedly reached out to Kim to arrange a bilateral exchange of his own, but so far to no avail.)
Mike Pompeo, who as CIA director has taken the lead in preparing for the Trump-Kim talks later this spring, gave Japanese officials more reason to worry. During his Senate confirmation hearings for secretary of state last week, he said that the goal of the summit "is to address the nuclear threat to the United States." The U.S. and North Korean leaders will seek to identify conditions for an agreement in which North Korea "will step away from its efforts to hold America at risk with nuclear weapons, completely and verifiably," he explained. But North Korea also holds America's regional allies at risk—notably South Korea and Japan. Pompeo's suggestion was that U.S. negotiators might focus in the near term on eliminating North Korea's newly developed intercontinental ballistic missiles, which may be capable of delivering nuclear warheads to the U.S. mainland, rather than the shorter-range missiles that expose South Korea and Japan to nuclear attack.
At Mar-a-Lago, Abe will urge Trump to include North Korea's short- and intermediate-range missiles, along with the North's abductions of Japanese citizens in the 1970s and '80s, among the priorities in his deliberations with Kim Jong Un. Removing Kim's long-range missiles "has no meaning for Japan," Abe told lawmakers ahead of his trip to the United States. But more broadly he will remind the president of just how much is at stake in the nuclear negotiations for Japan, which has lived under the North Korean nuclear threat for years and, given its defense treaty with the U.S. and pacifist postwar constitution, relies heavily on America's nuclear and conventional arsenals for its security.
To be fair, Japan and the United States do appear to agree that North Korea shouldn't be granted sanctions relief or economic assistance in return for simply engaging in dialogue or taking incremental steps toward denuclearization, as has happened during previous bouts of ultimately unsuccessful diplomacy. And Trump administration officials insist that Tokyo and Washington are closely coordinating their North Korea policies. "The president of the United States is always keeping careful consideration of the interests of our allies … as well as the interests of securing the American people," a senior administration official told reporters last week, noting that Trump has met more times with Abe than with any other foreign leader and speaks with him frequently by phone.
Yet all those meetings, all those phone calls, all those hats and rounds of golf did not result in Shinzo Abe receiving advance notice of or a ticket to the Trump-Kim summit. Nor have they resulted yet in Trump rejoining the Trans-Pacific Partnership, a trade deal Japan has spearheaded since the United States withdrew from the pact last year, or granting Japan an exemption to steel and aluminum tariffs even though every other major U.S. ally has been exempted from the measures. Abe is a "great guy, friend of mine," Trump noted in discussing the tariffs in March, and he's probably smiling as if to say "'I can't believe we've been able to take advantage of the United States for so long.'" Those days, the president proclaimed, "are over."
Abe is, in fact, not smiling much these days. Buffeted by several spiraling domestic scandals that are weakening his hold on power, the prime minister can't even tout his now-deeply unpopular courtship of Trump as an asset. If Abe fails to secure a waiver on tariffs, the Japan scholar Brad Glosserman recently wrote, it would demonstrate that the "much-vaunted special relationship [is] meaningless when it counts," just like "the special relationship means little to the president when he is tempted to make history" on North Korea.
"Abe is now burdened with all the liabilities of a close association with Trump and none of the purported benefits," Glosserman observed. The prime minister's "experience has already become a warning about the cost of excessive reliance on a leader's personal relationship with the president to buttress a country's relations with the United States."