Canada's 'Incel Attack' and Its Gender-Based Violence Problem
A Toronto van killing attributed to misogynist motives was shocking, but not entirely out of keeping with the country's past.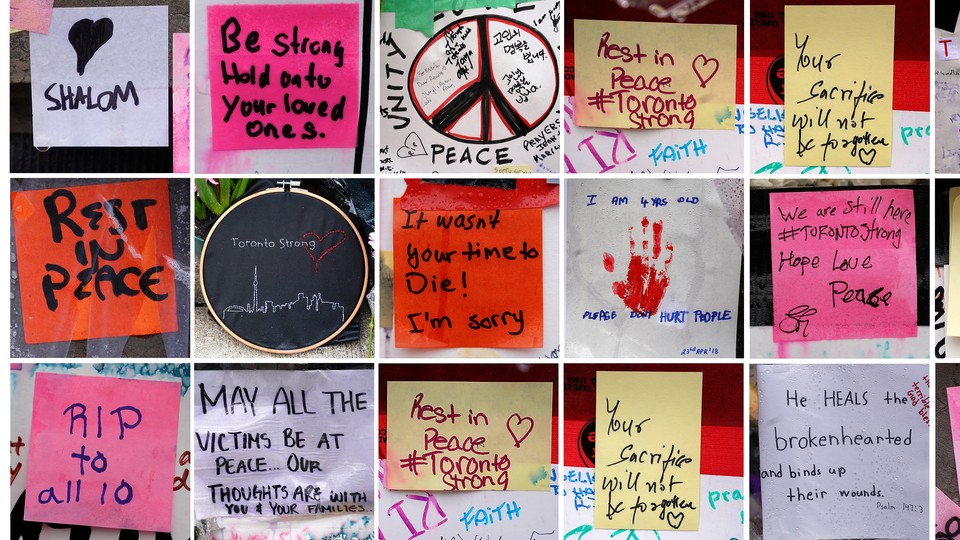 "These are not the kinds of things we expect to happen in this city," said Toronto's mayor after a van mowed down pedestrians on a busy sidewalk Monday. Other Torontonians echoed his sentiment. "We never thought this would happen here," said a supervisor at a trauma center that received several of the attack victims. Similarly, a government employee said, "This is not something that happens here. We always think we are insulated from this kind of thing."
Canadians often react this way when a grisly attack occurs in the country. But in fact it is the kind of thing that happens there. When it comes to addressing gender-based violence—and that, evidently, is what the Toronto attack was—Canada may have better systems in place than some other countries. Yet it is far from insulated.
Alek Minassian, the 25-year-old suspect in the van attack, has been charged with murdering 10 people—mostly women—and injuring several others. In a Facebook post published shortly before the attack, he lauded "incels," or involuntary celibates, and declared, "The Incel Rebellion has already begun!" The so-called rebellion aims to punish women for denying incels sex, which they view as a basic right for men. On online platforms like 4Chan, some of the group's more extreme members discuss the desirability of carrying out gruesome misogynistic crimes, including mass rapes. Several quickly celebrated Minassian's rampage, with one user on the site "incels.me" saying he could be their "next new saint."
While vehicular attacks resulting in mass murder are unfamiliar to Canada, gender-based violence is not. A 1993 survey found that more than half of the country's women and girls reported experiencing it at least once in their lives. The single incident that looms largest in many Canadians' memory—not least because its anniversary is marked every year by a national day of remembrance—is the Montreal massacre. In 1989, a 25-year-old man walked into that city's Ecole Polytechnique and carried out a mass shooting. He killed 14 women at the engineering school, claiming that he was "fighting feminism," before turning his gun on himself. His suicide note accused feminists of ruining his life.
Then there's the country's long record of violence against indigenous women, which stretches all the way back to the European colonization of Canada. In the past few decades alone, thousands of indigenous women have been murdered or gone missing. Between 2001 and 2015, indigenous women were six times more likely to be murdered than other women in Canada, according to a report by the national statistics agency, Statistics Canada.
"Canada in its very founding as a nation-state is based in gender-based violence—on at least two counts," said Robyn Bourgeois, an indigenous professor of women's and gender studies at Brock University who has herself survived such violence. "Canada was founded on the deaths of indigenous women and girls." Early colonial writings portrayed indigenous women as lewd and sexually available, which served to justify sexual violence against them. Indigenous girls and boys were forcibly removed from their families and subjected to abuse in the residential school system, which operated from the 1800s until the 1990s. Women were also subjected to coerced sterilizations.
"And Canada's law is based on British common law, which was very permissive about violence against women and girls," Bourgeois continued, pointing out that marital rape was legal as late as 1983. Nowadays, some critics say that Canadian law is still not equitable when it comes to sexual violence, arguing that the courts often go too easy on men accused of it. The case of former star radio host Jian Ghomeshi, whom multiple complainants charged with sexual assault and who was acquitted of all charges in 2016, is a prime example cited by such critics.
"In Canada, we like to think we're better than other countries," Bourgeois told me. "We may not have something like what's happening with Boko Haram. And we may have more support for survivors, and more strategies intended to educate folks. But we have very polite violence against women and children that sometimes gets masked. And we have not seen a reduction in violence." A 2013 Statistics Canada report noted that over the prior decade, the rate of homicide against women had remained stable; the rate of other forms of violence against women had also been stable in the preceding 15 years.
The Canadian government has poured money into supporting those who have experienced gender-based violence (for example, by funding rape crisis centers), but its efforts don't seem to be doing much good when it comes to prevention. Bourgeois said that's because they haven't targeted the root cause: misogynistic thinking, and the persistent belief among some that men should dominate over women.
One group working on that issue is White Ribbon. The organization was founded in Toronto in 1991 as a reaction to the Montreal massacre. Since then it has spread to 60 countries, making it the world's largest movement of men and boys dedicated to ending violence against women. Its strategy involves helping individual men review their own attitudes and behaviors, and then encouraging them to be good role models for boys, peers, and coworkers. White Ribbon also runs programs in schools and corporations.
"This is close to home for us," the executive director, Humberto Carolo, said of the Toronto attack, "both because our office is just a few kilometers from where this happened, and because this follows in the path of the tragedies dating back to the Montreal massacre. … It's young men taking their hatred out on women."
Carolo sounded an optimistic note about a new strategy that Canada is launching to address gender-based violence; Prime Minister Justin Trudeau's 2017 federal budget allocated $100 million to the cause. "The federal government has introduced a strategy for engagement with men and boys, which is pretty unique around the world," Carolo said. "That points to the government's commitment to address the root causes."
Bourgeois was doubtful, though. She has already seen the government sink millions into promising-sounding plans only to watch them founder. In 2016, Canada launched an independent, $53.8-million national inquiry into missing and murdered indigenous women and girls. But now some families of the victims say they've lost confidence in the ongoing process, which has become bogged down in controversies, missed deadlines, and resignations.
"That's painful and it leaves me with very little hope at certain moments," Bourgeois told me. "That being said, I think maybe even if the government isn't ready, Canadians are ready. #MeToo has galvanized women across the country. And after seeing what happened in Toronto, I can't imagine Canada continuing to turn a blind eye to the death toll of misogyny."
Even though Bourgeois said that for many years Canada did seem to largely ignore the death toll among indigenous women, she added that now, "people will be more likely to pay attention because this was in Toronto—in an urban center where there's a lot of wealth. … Some lives are worth more than others in this country."
That's an uncomfortable thought for many proud Canadians, and many others around the world who perceive Canada as a paragon of gender equality and multiculturalism. The country has a lot more work to do—and the incel attack in Toronto is a reminder. When I asked Carolo what he felt his organization should do in response to the attack, he responded matter-of-factly: "We have to scale up."