A Uniquely American Starbucks Scandal
The coffee chain is initiating racial-bias trainings for its employees in the U.S.—but, so far, not for those around the globe.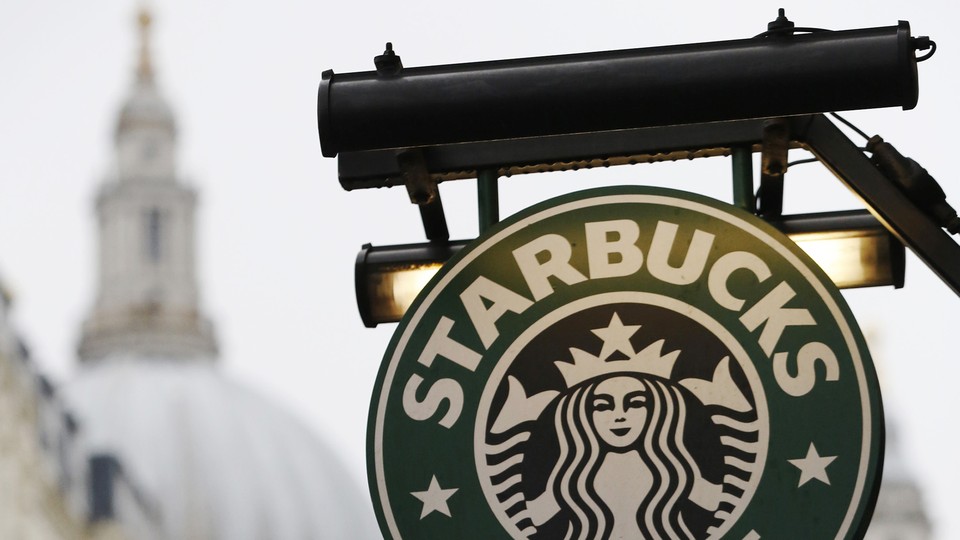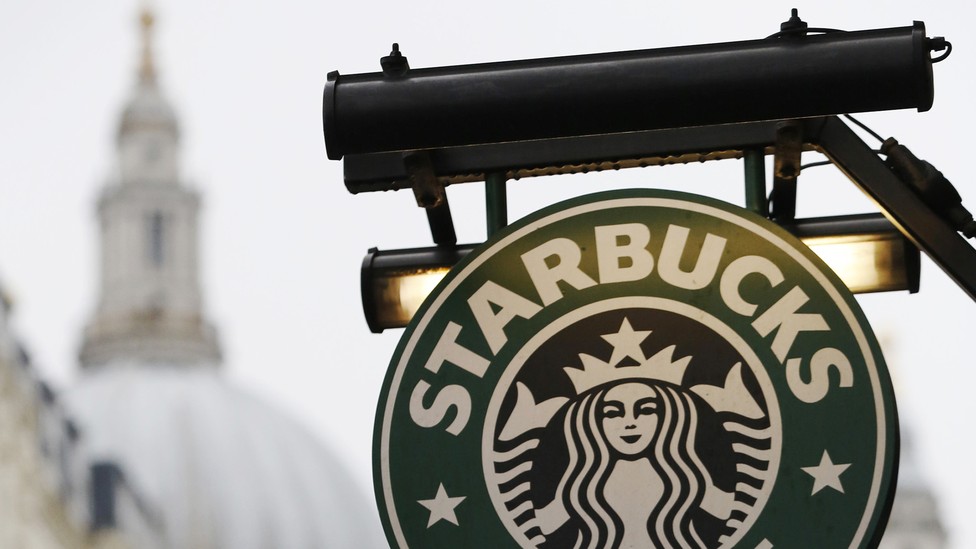 Starbucks is embroiled in one of its largest scandals to date after two black men were arrested for trespassing  in a Philadelphia coffeeshop when they were waiting for a business associate without immediately making a purchase. Video of the incident, which shows police handcuffing 23-year-olds Rashon Nelson and Donte Robinson, quickly went viral, and a protest was organized. Starbucks issued an apology for what it called a "reprehensible outcome," announcing that more than 8,000 U.S. stores would be closed next month for a day of racial-bias training.
But when I asked Starbucks if racial-bias trainings were being considered for any of their other global markets, a spokesperson told me the company is focusing on the U.S. trainings first, adding: "Once completed, training materials will be shared with teams around the world, as we work to understand how these important issues impact us on a global scale." Company-wide trainings aren't currently being set in motion.
In some ways, the company's decision to limit its discussion about racial bias to U.S. stores makes sense. After all, the incident took place at a U.S. location, was initiated by U.S.-based staff, and involved U.S. police. But the coffee chain has tens of thousands of locations in at least 75 countries. In London, there are at least 200 locations—as I write this, I'm within walking distance of at least a dozen—and any one of them could probably benefit from racial-bias training. Taking my city as a test case, I asked Londoners: Couldn't what happened in Philadelphia just as easily have occurred here in the U.K.?
Several Starbucks customers whom I spoke to said no. Though the majority of them hadn't previously heard about the incident that took place in Philadelphia, the fact that it occurred at all elicited a common reaction: Well, that's America for you. Many people saw the incident as part of a broader trend of racial tensions in the U.S.—from the white-nationalist protest in Charlottesville to various police killings of predominantly black men. "It's not beyond the realms of possibility that it could happen in London, but something tells me it would be more likely to happen in America," Will Joss, a Starbucks customer, told me at a store near the London Underground's Oxford Circus station while he waited for his latte, adding: "Certainly the arresting aspect feels like it would be quite far-fetched in the U.K."
That could have something to do with the fact that police arrests are simply less common in Britain. Compared to the U.S., which recorded upwards of 10 million arrests nationwide in 2015, the U.K.'s annual arrest count for that same year was just under 900,000. Even taking into consideration the population differences (there are nearly five times as many Americans as there are Britons), the contrast is quite stark. Gloria Laycock, a professor of crime science at University College London, told me the discrepancy has to do with how different the systems are. "It's damn near impossible to compare the U.K. and U.S. police because in many ways they are so structurally different," she said, noting that there are just 43 police forces in England and Wales, compared to the U.S.'s approximately 18,000 police departments.
Even if the police were called to a Starbucks in the U.K. under similar conditions, Laycock posited that the outcome would be very different. "If a police officer arrested a couple of black kids for standing around in Starbucks, all hell would break out," she said. "If Starbucks phoned the police over that, everyone would be shocked—including the police."
But it may be more than just a matter of different policing systems. For Sarah Jane, another Starbucks customer, there's a racial component that separates the U.S. from the U.K. "I walk into a place and I'm black and I don't feel like people are going to follow me," she told me of her experience in her native London. "I know when I've been to New York, I felt it. It's a very unique American thing."
While racial profiling of black consumers isn't just an American phenomenon (recall the 2013 incident when the eminently recognizable Oprah Winfrey was racially discriminated against while shopping in Switzerland), it's certainly a prevalent and widely documented issue in the U.S. A 2017 Journal of Consumer Culture study found that 80 percent of the 55 middle-class African-American respondents experienced some form of racial stigma or stereotyping while shopping in New York City, including being followed around stores.
When I asked Starbucks customers what made an incident like the one in Philadelphia seem unlikely in London, many of them pointed to the city's diversity. "London is a lot more multicultural," Regina, who asked that only her first name be used, told me. "You can't get away with things like that, you can't entertain the thought." Another customer, who asked that her name not be used, said this diversity is also represented in Starbucks' London staff. "If you look at any of the staff in Starbucks, the diversity is amazing. I would hope and think that it wouldn't happen here."
No one I spoke to suggested that London is perfect. Some pointed to the trends of police violence against black people and the ongoing Windrush scandal (in which thousands of Caribbean migrants living in the country legally faced threats of deportation) as proof that the U.K. is contending with its own forms of systemic racism. To Jane, however, a key difference is how people respond to these issues. "In this country there's always an inquiry because we demand answers from our politicians," she said. "I don't see the same appetite in America. That's why I think this incident could not happen here."
Nevertheless, some say Starbucks should implement racial-bias trainings for its employees around the world. When I asked a Starbucks barista in London's Marylebone neighborhood if she had heard about any such trainings, she said she hadn't, but thought it was a good idea. "It might just be in America," she told me, "but they should do it everywhere."