American Sanctions Are Getting Closer to Putin
They include oligarchs and Russian officials.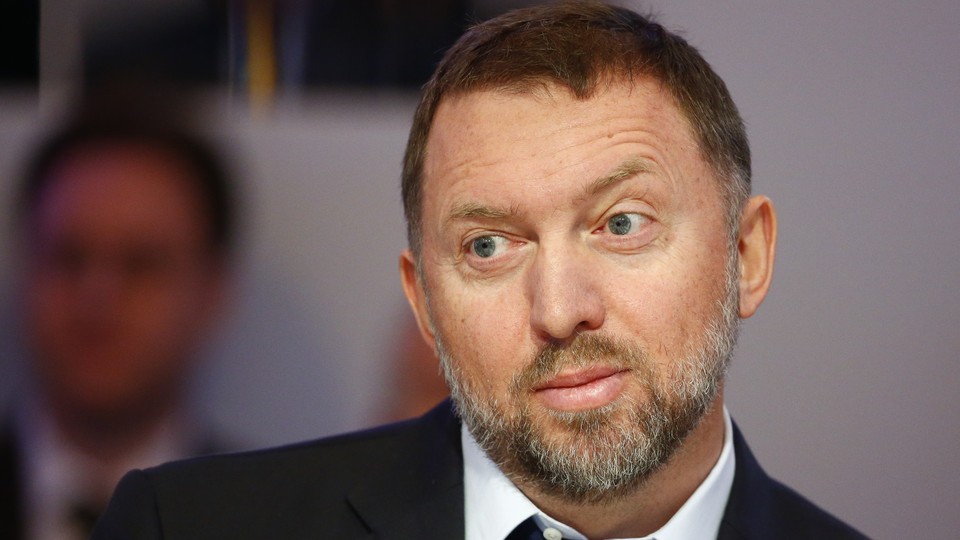 Even though Donald Trump himself has encouraged better relations with the Russians, his administration keeps finding new ways to punish them. It has sanctioned Russians; expelled Russians; and then sanctioned more Russians. And the new round of sanctions announced on Friday brings the punishment ever closer to Vladimir Putin himself.
That's because in contrast to sanctions issued in March, against Russian hackers and intelligence agencies, sanctions announced Friday attack the wealth of some of Putin's closest associates—and in doing so attack an important source of Putin's power. In all there are 38 Russian individuals and companies affected, including seven oligarchs close to Putin. A senior administration official, speaking to reporters on condition of anonymity, said the action was in response to "the totality of the Russian government's ongoing and increasingly brazen patterns of malign activity around the world."
Treasury Secretary Steven Mnuchin, in a statement, elaborated on the rationale for the specific people targeted: "The Russian government operates for the disproportionate benefit of oligarchs and government elites," he said. In that sense, the new sanctions strike at one of the key purposes of Putin's government—as punishment not only for election meddling in the U.S. in 2016, but also for its activities in Ukraine and Syria. "Russian oligarchs and elites who profit from this corrupt system will no longer be insulated from the consequences of their government's destabilizing activities," Mnuchin's statement said.
Those elites included, in addition to the oligarchs, a dozen companies they own or control as well as nearly 20 senior Russian officials, plus a weapons-trading company. Among them was Oleg Deripaska, the billionaire oligarch with links to Paul Manafort, Trump's former presidential campaign chair. The Atlantic's Franklin Foer characterized Deripaska's road to wealth this way: "Deripaska ... won his fortune by prevailing in the so-called aluminum wars of the 1990s, a corpse-filled struggle, one of the most violent of all the competitions for dominance in a post-Soviet industry." (Manafort has been charged in special counsel Robert Mueller's investigation of Russian interference in the 2016 presidential election. Mueller is also investigating whether Trump's campaign colluded with the Russian government, which the president denies.) Kirill Shamalov, whom the Treasury Department said was Putin's son in law, was also on the list. His "fortunes drastically improved following the marriage" to Putin's younger daughter Katerina Tikhonova, Treasury said, but Bloomberg reported in January that Shamalov and Tikhonova had divorced—to Shamalov's financial detriment.
One of the senior administration officials who spoke to reporters Friday said the U.S. expected the action to have an impact on Russia's economy, but more important may be its impact on Putin himself, if his closest associates begin to see the costs of standing by him.
"This is a large number of senior officials and oligarchs, many of whom are in the inner circle of Vladimir Putin and many of whom are facing sanctions for the first time as well as the state-owned enterprises," the official said. "I think the individuals and companies in question will see the consequences of this in the near term."
The sanctions come a week after the U.S. and more than 20 Western countries expelled over 150 Russian diplomats—Moscow expelled an equal number of diplomats from each of the countries involved in the action—over the assassination attempt on Sergei Skripal, a former Russian spy, and his daughter, Yulia, in Salisbury, U.K. British authorities say Russians were behind that attempt. Moscow denies this, but that hasn't prevented tensions between Russia and the West from rising to perhaps their highest levels since the end of the Cold War. A key difference between now and then, however, is that both sides were still in direct contact and had mechanisms, including direct military contacts, to communicate and reduce tensions.
This is all despite some of the stated preferences of the president, who has repeatedly called for better relations with Russia and praised Putin personally. Just this week, the Kremlin announced that President Trump had invited Putin to the White House for a meeting sometime in the future, confirming what Trump himself said last month. But whatever the two leaders may feel about each other, the two countries are veering into a state of open hostility.