Netflix Is Suddenly a Huge Political Issue in Brazil
A new show takes some artistic liberties in telling the story of the country's massive, ongoing corruption probe. Is it undermining democracy in the process?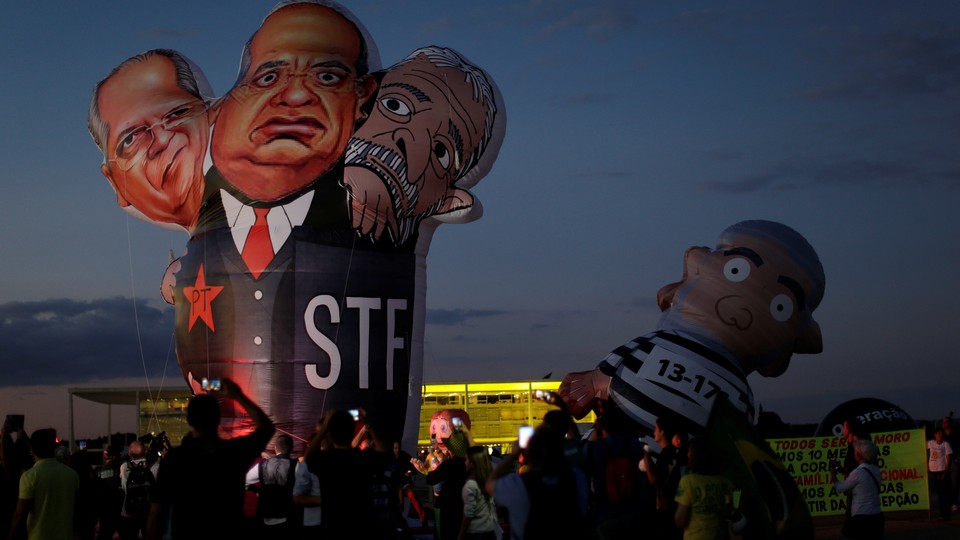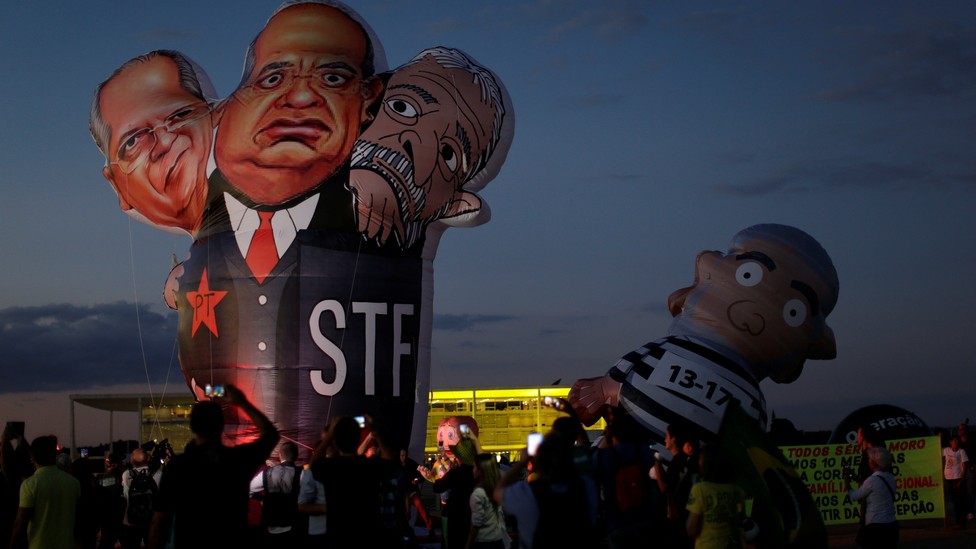 In April 2016, Netflix announced it had greenlit a fictional television series based on a very large, very much ongoing corruption investigation in Brazil. Titled O Mecanismo, or "The Mechanism," the show, which debuted in March, follows a team of federal police investigators working to uncover a multi-billion-dollar kickback scheme implicating much of Brazil's political and economic elite. Lava Jato, the real-life probe on which the show is based, has targeted pervasive corruption surrounding Petrobras, the state-owned oil company. As with the real Lava Jato, the investigation depicted in the show began at a car wash (the meaning of "lava jato" in Portuguese) used by a politically connected bagman to launder dirty money, and leads all the way up to some of South America's most powerful people.
José Padilha, the creator of O Mecanismo, first rose to fame in Brazil with the Elite Squad films, which depicted violent police operations in Rio de Janeiro's shantytowns, or favelas. As in those films, the cops in O Mecanismo are the heroes, fighting righteously against overwhelming forces of evil. Padilha has also served as a producer of Narcos, the popular Netflix series about the hunt for Colombian drug lord Pablo Escobar. Seven Days In Entebbe, his film about a real-life Israeli commando mission to save Israeli hostages in Uganda, was released in the United States last month.
While Isabela Boscov, a Brazilian film critic, praised Padilha for "knowing how to take the pulse of Brazil," O Mecanismo soon sparked controversy among the Brazilian left and supporters of the Workers' Party (PT). They felt the show presented a biased, misleading depiction of their role in Lava Jato. Since the initial kerfuffle, another, more trenchant argument has emerged: that the show isn't so much a partisan re-imagining of real events as it is a full-on indictment of Brazilian politics.
In Brazil, a country that emerged from military dictatorship in 1985, the solidity of democratic institutions is not a given. A 2016 poll carried out by Latinobarómetro showed that faith in democracy in Brazil was at 32 percent, down a full 22 points from 2015. Meanwhile, the rise of aggressive, hard-right politicians like Jair Bolsonaro, who defends the 1964 coup and the the use of torture, suggests that many Brazilians are willing to entertain the idea of brushing away the entire mainstream political class. A recent poll showed that support for a temporary revival of military rule has recently risen to 43 percent.
It's unclear whether O Mecanismo could actually influence political attitudes about democracy. But it does tap into the free-floating anger against mainstream politics in Brazil, a place where faith in democracy is crumbling. Such anger is a potentially dangerous thing.
---
In early 2016, Dilma Rousseff, Brazil's first woman president, was facing abysmal approval ratings and the prospect of impeachment in connection with accusations that she had broken budgetary rules; the impeachment charges had nothing to do with Petrobras or Lava Jato. (In fact: A majority of the lawmakers who voted to remove her faced more serious accusations than she.) In March, just before the crucial vote on Rousseff's impeachment, Romero Jucá, a member of then-vice president Michel Temer's more conservative Brazilian Democratic Movement (PMDB) party, was secretly recorded telling a former senator: "We have to change the government to stop the bleeding." The implication of their exchange was that by removing Rousseff and installing Temer, they hoped to halt Lava Jato, thereby saving themselves and their allies.
O Mecanismo's apparent depiction of this moment takes considerable artistic liberties. In the fifth episode, a character resembling Lula has a brief, private conversation with a political ally. Politicians, the Lula stand-in says, need to work together to stop Lava Jato "to stop the bleeding." His interlocutor suggests that they "will have to act together ... [and] put together a grand agreement." This seems to suggest that it was Lula who sought to halt the investigation, when in fact it was conservative rivals that had been caught conspiring to remove Dilma, his hand-picked successor, in order to do so.
Soon after the series premiered, some Brazilians, mostly on the left, declared on social media that they would boycott Netflix. The plea to "stop the bleeding," critics have charged, is a sign of the show's shaky relationship with the truth. Lula himself may soon sue the network. (On what grounds, he hasn't said.) Rousseff's team, meanwhile, distributed a statement to journalists over WhatsApp pointing to the reassigned line and a number of other inaccuracies in the show that tarnished Lula. In the statement, she likened the series to "a movie where Winston Churchill makes a deal with Adolf Hitler to attack the United States."
Padilha told me that the "bleeding" line wasn't lifted from the Jucá recording at all; Jucá is "not the only one that uses that expression. A lot of people use it," he said. He argued that the real problem is not the language his show used, but the alleged crimes committed by Rousseff and Temer's governments. "It would have been better if [the controversy] didn't happen. But the larger and really important debate won't end there. The people aren't that naive," Padilha said.
Not everyone buys his explanation. "If that was on accident, the show's creators didn't pay much attention in 2016," Celso Rocha de Barros, a columnist at Brazil's Folha de S.Paulo newspaper, told me. He said that the putative error aligns all too perfectly with a contemporary right-wing narrative about the corruption investigation—that Lula and the PT are behind a plot to stop Lava Jato. "I fully believe in the possibility of artistic recreation, and the show doesn't seem to be 'right-wing propaganda' like some say. But [the 'bleeding' phrase] seems really important now, since there's a big effort to blame Lula for the possible end of Lava Jato." Rocha de Barros acknowledged that Lula himself, like much of the rest of the political class, probably would have liked to see the investigation stop. But the only ones who could end Lava Jato now would be the men who took power when Rousseff was booted—not the PT.
Once more Brazilians made their way through the show, a broader interpretation of O Mecanismo emerged: its target was not the left, but Brazilian politics itself. The show portrays all elected officials in Brazil as inherently guilty, and rejects the entire system—or "mechanism." A character based on Aécio Neves, the center-right candidate who narrowly lost to Rousseff in 2014, is a whiskey-guzzling playboy, journalist Luciana Coelho noted. He and Temer's fictional counterpart celebrate their plan to stop the investigations—something which, unlike Jucá Romero's taped conspiracy plan, probably never happened.
"Brazil is going through a moment where people are justifiably furious with the political class. But to paint all politicians with the same brush is dangerous because that implies the system itself is broken and there's no hope. Which, of course, paves the way for people to reject democracy entirely—which many Brazilians are doing right now," Brian Winter, the editor-in-chief of Americas Quarterly, told me. "The risk in Brazil right now is an authoritarian [getting] elected by arguing that all politicians are corrupt thieves. So it bothers me that the pop-culture hit of the moment—during an election year—is making precisely that argument."
Winter had a point. To envision how politically explosive something like O Mecanismo could be, imagine a new season of American Crime Story based on the Mueller investigation airing next year, while the political drama is still unfolding in real life. Recently, Netflix has courted a similar level of controversy in the Philippines, where some are urging it to cancel Amo, a show about President Rodrigo Duterte's deadly drug war. It is directed by a supporter of the president.
---
As the controversy around the show continues to unfold, so does Lava Jato. Michel Temer is still the president, but his polling numbers are even lower than the lowest ones Rousseff suffered. Two of his close friends were arrested last month for alleged corruption. Earlier this month, the Supreme Court narrowly rejected Lula's request to continue to appeal his corruption conviction outside prison. Soon after, Sérgio Moro, the Brazilian federal judge who heads the Lava Jato investigation, ordered him to present himself for arrest by 5 p.m. on April 6. Instead, Lula gave a defiant speech before surrendering himself to waiting authorities on Saturday evening. Even though he could theoretically be let out again if the Supreme Court changes its mind, it's very likely that Lula, who leads the polls for this year's presidential election, will not be able to participate.
General Eduardo Villas Boas, the head of Brazil's armed forces, did little to assure Brazilians of the strength of democratic institutions, when he tweeted, just before the Supreme Court session, that the military was "attentive to its institutional missions," which left much of the country wondering whether or not it was a veiled coup threat.
Padilha called the statement "stupid," and "a clear attempt to coerce the court." He also said that his show is about a specific system of Brazilian politics—not the democratic process. "The series criticizes politics the way it takes place in Brazil. Not politics in itself," he said, adding: "Even though the Mueller investigation hasn't ended, journalists and columnists publish their opinions. Politically engaged cinema is not different, even if it may not have the same epistemological pretensions. Whatever form it takes … art is part of the democratic process and the debate of ideas."