Trump and Macron See the World Very Differently
That has big implications for everyone else.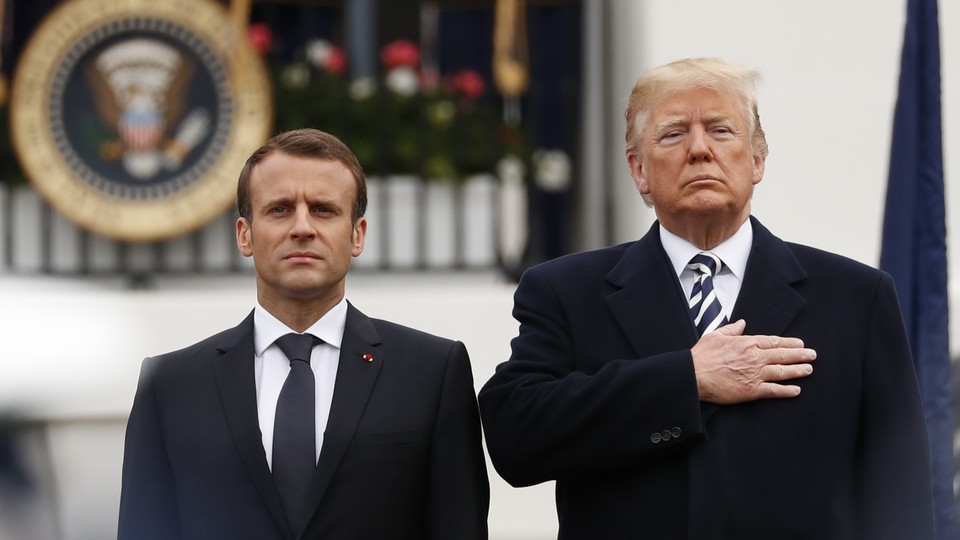 Emmanuel Macron had something surprising to say about the United States last week, given that the president of the United States would soon be hosting his French counterpart for an elaborate state visit. Hard-edged "national selfishness"—of the kind that plunged the world into war nearly eight decades ago, long before the 40-year-old leader was born—is resurgent and endangering Europe's "model" of liberal, pluralist democracy and international cooperation, Macron said in a speech before the European Parliament. And the threat to Europe is coming not just from without ("authoritarian powers") and within ("illiberal" politics in certain European countries), but from its centuries-old ally across the Atlantic.
"We share so much with" America, Macron noted, but it "is rejecting multilateralism, free trade, and climate change."
Macron wasn't just voicing disagreement with Trump's policies of pulling the U.S. out of the Paris climate agreement and potentially imposing tariffs on European steel and aluminum. He was warning of a fundamental rupture in the Western alliance. The fêting of the French president in Washington this week has focused attention on how Macron—the yin in age, ideology, and temperament to Trump's yang—has improbably emerged as Europe's designated Trump Whisperer. But the whispering appears to be motivated less by a bromance than by alarm about whether the brotherhood will endure.
Macron is currently engaged in no less than a campaign to convince Trump that when it comes to solving the world's knottiest problems, the American president essentially has it backwards. That's not the easiest argument to make to the supremely confident Donald J. Trump, but then who else to make it to than the leader of France's most powerful ally? As a spokesman for the French government explained in July, when Macron invited Trump to France for Bastille Day celebrations, Macron wants to "prevent the president of the United States [from] being isolated. … Either you say 'We're not speaking because you haven't been nice,' or we can reach out to him to keep him in the circle."
Macron is trying to chart "a third way between the nationalist temptation" that Trump finds alluring and "the globalist creed" that Trump rails against, Paul Zajac and Benjamin Haddad observe in Foreign Policy. He and Trump are both attuned to the populist backlash against globalization at home, they write. But Macron proposes "a different set of answers" than Trump—arguing that it's possible to be patriotic without being parochial, to be both a strong actor in the world and a liberal multilateralist, to be simultaneously independent and interdependent.
The rift seems more profound and consequential than past divides over America's unilateral instincts and Europe's multilateral instincts on issues such as the Iraq War. It first surfaced just weeks after Macron took office in May, when Trump withdrew from the international climate-change pact, declaring that it was time to put U.S. cities "before Paris, France," and prompting Macron to defiantly press ahead with making "our planet great again." But it grew more pronounced at the United Nations General Assembly in September. In successive speeches, Trump argued that today's challenges are best addressed by sovereign, self-interested nations that collaborate if and when their interests intersect, while Macron reasoned that since those challenges—terrorism, climate change, large-scale migration, the digital economy—spanned nations, "there is nothing more effective than multilateralism in our current world." Trump indicated that it was time for America to stop looking out for the world and start looking out for the United States—and encouraged other countries to similarly take heed of their own national interests. Macron stated that the times demanded countries look out for their shared welfare as never before. Trump called for a "reawakening of nations"; Macron worried that narcissistic nationalists were defying the lessons of history and sleepwalking into another global disaster.
Now the French president has come to Washington, with transatlantic cooperation literally on deadline. Like Trump, Macron is intent on making international trade fairer, particularly with regard to Chinese trade practices. But unlike Trump, Macron has advocated for multilateral solutions, primarily through defensive European Union policies. He and other European leaders have until May 1 to negotiate permanent exemptions from the Trump administration's steel and aluminum tariffs. Whereas Trump claims that America's "friends" have inflicted "more damage" on the United States through free trade than its "enemies," Macron maintains that "you don't make trade war with your ally. … It's too complicated if you make war against everybody."
Macron and the leaders of Britain and Germany are also racing to strike side agreements with the United States on addressing expiration dates and verification rules in the Iran nuclear deal, as well as reining in Iran's ballistic-missile program and aggression in the Middle East, in order to keep Trump from withdrawing from the Obama-era pact on May 12. The objective is to persuade the American president that he's better off countering Iran with allies than without them.
And Macron has notched some successes already. He recently got Trump to join with France and other European partners in defending international norms, both by striking the Syrian military for using chemical weapons and by expelling Russian officials over the Kremlin's suspected nerve-agent attack against a former Russian spy in England. In each case, the message has been one of strength in numbers. But here, too, Macron has run into resistance. Trump has expressed eagerness to swiftly disengage from Syria and "let the other people take care of it" once ISIS, which poses a direct threat to the United States, is defeated. Macron, by contrast, contends that the U.S. must work not just with its allies but also with adversaries like Russia to achieve a long-term political resolution to the Syrian war, lest the conflict breed another generation of terrorists. Trump was also reportedly reluctant at first to punish Vladimir Putin. The president insisted "that the poisoning [in the U.K.] ... was largely a European problem and that the allies should take the lead in moving against Russia," according to The Washington Post.
Where Macron is likely to make the least progress with Trump is in coaxing him to rejoin the Paris accord, but the French leader has adjusted to that reality by appealing instead to local U.S. leaders and American companies to help combat climate change. For Macron, Zajac and Haddad write, the Paris agreement "is a new template for a modernized multilateralism that preserves national sovereignty through voluntary commitments [by countries to reduce climate change] and brings together not only states but also the private sector and civil society."
During his welcome to the White House on Tuesday, Macron admitted that he and Trump "do not always agree as to the solutions" for protecting the planet. But he referenced the need for France and the United States to work together in fighting terrorism, halting the proliferation of weapons of mass destruction, and promoting "free and fair trade." And he invoked a higher calling: to jointly "resist the rise of aggressive nationalisms that deny our history and divide the world" and "build a new strong multilateralism that defends pluralism and democracy in the face of ill winds." Trump spoke of the "friendship that binds" the United States to "the proud nation of France." He did not mention multilateralism.