India's Vicious Patriarchy
The gruesome rape and murder of an eight-year-old girl has left many Indians wondering what it will take to stop sexual violence.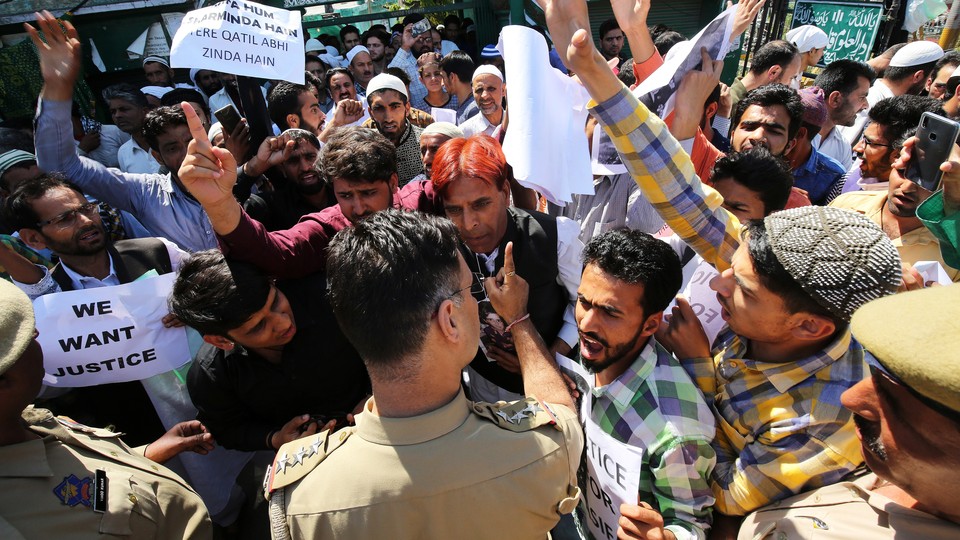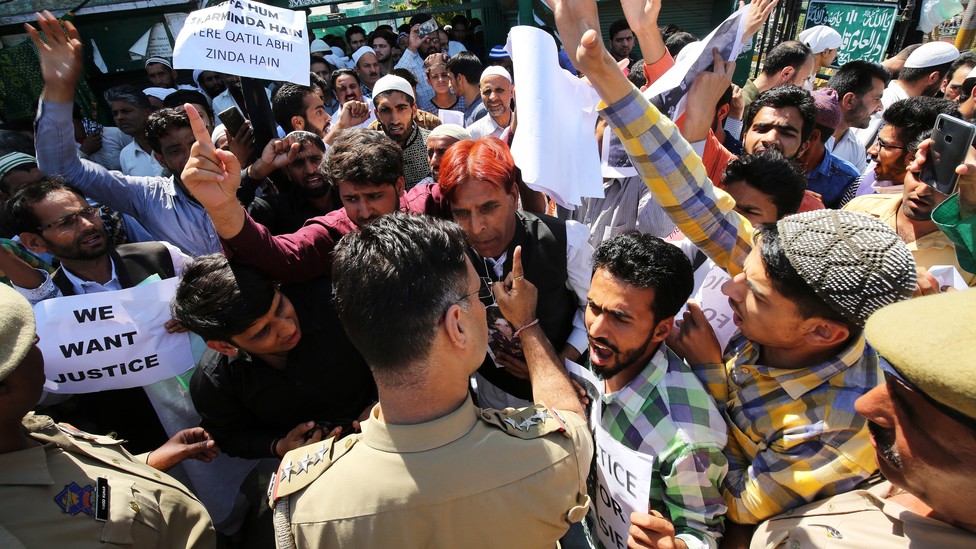 Indian law prohibits the identification of a rape victim by name or appearance without explicit permission from the survivor or their next of kin. Yet for the last three months, the name and face of an eight-year-old child, raped and murdered in the small town of Kathua in January this year, circulated widely in the Indian media.
Perhaps her details were published due to early confusion over the nature of the crime; she had been missing for days before her dead body turned up. Perhaps it simply seemed like an acceptable mistake in the case of someone from a marginal community of nomads, impoverished Muslims with little social clout. Yet the slip resulted in an unforgettable shock for many Indians this month, forced to confront the use of rape as a political crime, and the question of what, if anything, has changed for Indian women despite years of feminist advocacy and anguished protests against sexual violence.
Few outside the region paid close attention to the crime when it was first reported. Stories of sexual violence are common in India's morning papers. If anything, the nationwide upheaval of December 2012, following a murderous sexual assault on a 23-year-old woman in a moving bus in Delhi, led to more such stories making the front page than ever before. More rapes are now reported to the authorities, and more cases fast-tracked through special courts. Some get more media attention than others. Most slip out of public memory soon after breakfast.
But in mid-April, when the police filed the results of the criminal investigation into the girl's death, many Indians did a horrified double-take. Like Alan Kurdi, the three-year-old Syrian refugee whose washed-up corpse made international headlines in 2015, this blameless victim, too, struck a chord with millions. Her messy ponytails and bright purple dress suddenly became inseparable from the gruesome details of her ordeal as revealed in the police report. Some anointed her #IndiasDaughter, a phrase also used in the outpouring of grief and anger that followed the 2012 Delhi rape. The Delhi crime had created not only a political backlash against lax governance and insufficient legal remedies, but a mood of mourning and fury that felt personal to many Indians. This time was different.
This was no isolated act of depravity, the police alleged. The suspects, all Hindu men, were said to have abducted the child in order to create panic in her Muslim tribal community and oust them from the area. One man, the alleged "mastermind," was the custodian of the Hindu temple where she had been held captive in a hidden room. It got worse. The extent of her torture had been covered up by local policemen, two of whom were charged with destroying postmortem evidence. Most strikingly, the scene of the crime, the town of Kathua and its surrounding countryside, was in an uproar—not because residents were upset with the crime, but because they objected to the investigation. Local groups, notably an outfit called the Hindu Ekta Manch (roughly, "Forum for Hindu Unity"), were marching in support of the suspects. The town's lawyers surrounded the courtroom on the day charges were filed, attempting to obstruct the proceedings. Among the protesters were two leaders from India's ruling Bharatiya Janata Party.
The involvement of Hindu fundamentalists, and the impunity with which the BJP's representatives acted, situated the incident in a different kind of continuity from the Delhi rape. Kathua was quickly considered another example, perhaps the ugliest yet, of how the party and its affiliates are deepening divisions between the majority-Hindu population and marginalized communities around the country. Adding fuel to the fire, just before the police filed charges in Kathua, news broke that a man in Uttar Pradesh, India's most populous state, had gone to a police station to report a crime, only to be arrested himself and die mysteriously in police custody. The man had accused a BJP lawmaker of raping his teenage daughter.
Last weekend, many protesters in India's largest cities marched to demand justice for the eight-year-old, chanting "Not In My Name," a slogan used in recent months to protest the lynchings and murders of Muslims and Dalits (formerly India's "untouchable" castes). They needled Prime Minister Narendra Modi—whose election campaign had untiringly paid lip service to the cause of women's safety—for his initial silence in condemning the rape in Kathua, and his refusal to assure the public that his party affiliates would be investigated and put on trial for the rape in Uttar Pradesh.
The outrage has sustained many news cycles in India over this fortnight. Yet to many Indians and human rights activists, this handwringing seems disingenuous, if well-meaning. After all, the Kathua victim, who became "India's daughter" in death, was in fact a vulnerable resident of one of the most heavily militarized zones in the world: Jammu and Kashmir, a state in northern India. Many in the region were outraged at the sight of locals swaggering in support of the accused rapists, invoking the name of the Hindu deity Rama and flying the Indian flag. Yet this perversion of national and religious identity has long been supported on the ground in the region, where muscular Hindu pride cuts across party lines.
Jammu and Kashmir reports the highest number of human-rights abuses in the country. The extreme militarization of the region, critics say, has enabled Indian armed forces as well as local police to target children frequently. It has also helped to instrumentalize sexual violence in the conflict. Kathua is part of Hindu-majority Jammu, where the insurgency and political dissent in the neighboring Muslim-majority Kashmir Valley has resulted in a surge of support for Hindu conservatism. In this wider context, it is, at best, bleakly unsurprising that a policeman and a temple caretaker were among her attackers.
Beyond all this lies the question many have asked in despair: Is there something irreducible about Indian misogyny? After the 2012 rape, protesters agitated for and were partially successful in obtaining stricter laws and procedures to prosecute sexual violence. But even at the time, some feminists saw clearly that criminal procedures would hardly "stop rape," to quote a popular catchphrase. Men do terrible things to women the world over, for personal as well as political reasons. The real difference is that in India, their fearlessness is enabled by something that mere punitive justice cannot uproot from this old and vicious patriarchy.
For decades, Indian women have been fighting for jobs, education, and increased political representation—all good and necessary instruments of progress. Any change in the status quo, where an atmosphere of macho nationalism perpetuates increasing violence within and outside of India's conflict zones, can only be sought by political means. Yet all these are arguably second-order solutions, a shoring up of support for a more fundamental battle to remake the hidebound Indian family, the small but inescapably powerful social unit in which the country's egalitarian constitution and liberal politics hold little sway.
It is here that India's outrageous culture of son-preference enables widespread reproductive control, including but not limited to illegal sex-selective abortions and female infanticide. It is here that Indian courts hesitate to intrude by criminalizing marital rape. And it is here that strictures of caste, religion, and sexuality inhibit women's freedom with fatal consequences. To seek punitive justice for women and girls in such a culture is little more than melodrama. The real task at hand is to shift attitudes toward sexual violence at the level of the family. It's not enough to mourn for rape victims post-facto as India's daughters; it's more important to accept the fact that the rapists are India's sons.