How Cities Defend Against Vehicular Attacks
The deadly incident in Toronto shows the vulnerability of city streets.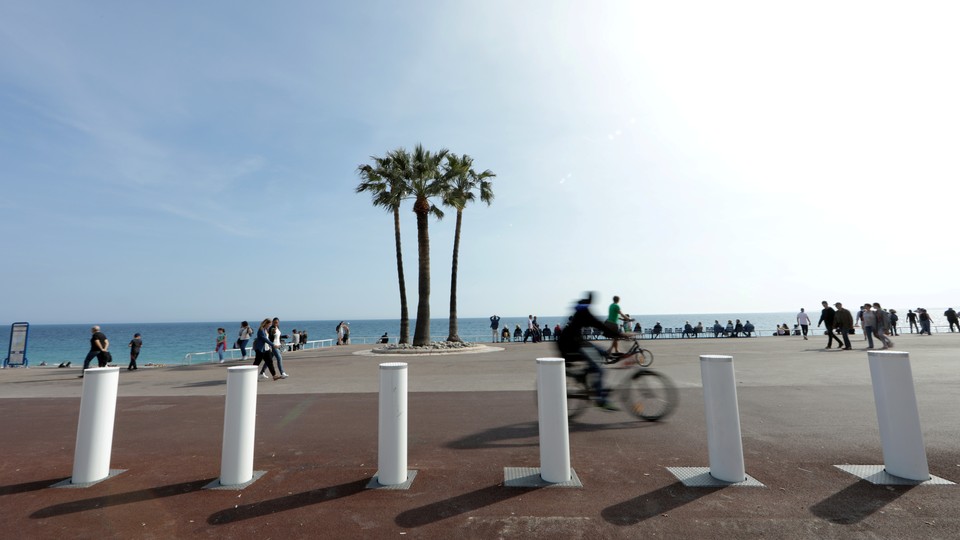 Yonge Street is Toronto's most well-known thoroughfare. With some of the city's busiest intersections, it serves hundreds of thousands of pedestrians and vehicles each day. And like most major streets in big cities, it lacks barriers to divide them from one another.
The vehicular attack Monday on a two-kilometer stretch of Yonge Street, which killed 10 people and injured at least 15 others, exposed the vulnerability of these crowded thoroughfares. When a van repeatedly mounted the sidewalk, plowing through pedestrians as it did on Monday, there was nothing standing in its way strong enough to impede it. Only after approximately 25 minutes did the van come to a stop; its driver was soon arrested. The suspect, 25-year-old Alek Minassian, was charged Tuesday with 10 counts of first-degree murder and 13 counts of attempted murder.
In recent years, this style of attack has become increasingly common around the world. In 2014, Canada suffered one similar to Monday's, when a car struck two members of the Canadian armed forces in Quebec, killing one of them. Vehicular attacks have also occurred in other cities, including Barcelona, Berlin, London, New York, Nice, and Stockholm. And while the motive of the attack in Toronto is still unclear, it prompted a familiar question: Can these kinds of incidents be prevented at all?
Some cities have certainly tried. In the aftermath of the 2016 Bastille Day attack in Nice, in which a lorry killed 86 people watching fireworks on the city's famed Promenade des Anglais, French authorities reinforced the seafront with thick concrete posts and steel cables. In Germany, authorities have installed concrete barriers around the perimeter of the country's Christmas markets and increased security staff to prevent an attack like the one that killed 12 people in Berlin in 2016. And in the aftermath of the vehicular attack on the London Bridge in 2017, in which seven people were killed and 49 others injured, the U.K. installed security barriers on eight of the city's bridges.
These efforts may help, but fortifying cities in ways that prevent such attacks from occurring altogether is considerably more difficult. This is due in part to the terrifyingly simple, yet undeniably destructive, nature of these kinds of attacks, which often involve nothing more than a vehicle and a crowd of people. But it also has to do with the sheer proximity of vehicles and pedestrians. "Cities are places where hundreds of thousands and millions of people reside and where thousands and thousands of vehicles operate, and often only inches apart," Brian Michael Jenkins, a terrorism expert and a senior adviser to the president of the RAND Corporation, told me. "The idea of physical separation between pedestrians and vehicles is extremely difficult."
Some cities have tried creative approaches to security. In Italy, authorities have disguised security barriers using strategically placed oak trees and flower pots. In London, the Arsenal Football Club's Emirates Stadium is fortified with two giant cannons, which represent the club's insignia and act as a barrier to any vehicles trying to enter the stadium. Colorfully decorated concrete blocks have sprung up in parts of Australian cities like Melbourne and Sydney.
But fortifying a street like Yonge Street, which spans 35 miles, is a considerably greater challenge—and, according to Jenkins, an infeasible one: "Realistically, we can't entirely separate pedestrians and vehicles in busy cities—not without completely rebuilding cities."